by: Rev Dr. Stéphanie Noircent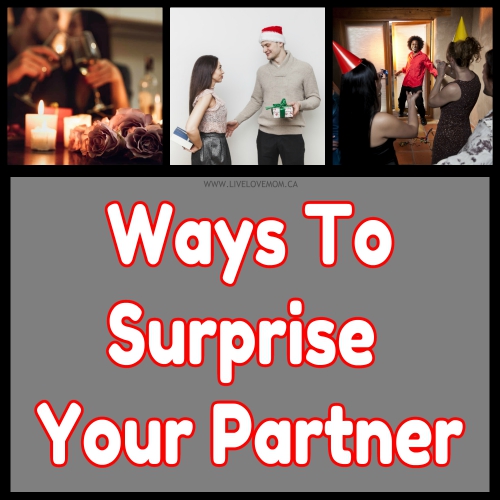 Treat them. Treat them to a dinner at a nice restaurant and foot the bill. It's almost expected nowadays that the man pays all the time. Unless it's something that he feels he must do every time, pay for your meal out together. It's a nice change of pace and he won't have to worry about anything other than enjoying himself.
Gifts. You can give them a surprise gift just because! You can spoil your partner just like they spoil you, even for no reason at all other than you love them, or if you're impatient like me and can't wait until a holiday or special occasion. Be sure to pay attention to your partner; has he been eyeing something at the mall or online that he wants but doesn't buy? Get it for him!
Surprise party. These are great for special occasions. Gather family and friends together and organize a surprise party with decorations, gifts and cake. Be sure that your partner enjoys surprises and they are sure to have a blast. Make sure no one tells him and he will be pleasantly surprised!
Make a romantic dinner. Light some candles and bust out the nice china and fancy napkins and make a nice dinner. Serve it on your dining room table and eat it together. You can make his favorite dish, or even a three-course meal if you're up for it. 
Breakfast in bed. Wake up earlier than your partner and start cooking some breakfast and be as quiet as possible. Then, serve your partner some delicious breakfast in bed! If your partner wakes up in the middle of it, simply set the table and eat it together. Not much of a cook? Run out and get his favorite breakfast from a fast food place or at the grocery store.
Seduce them. Put on some sexy lingerie and turn on the slow music. Dim the lights and sprinkle some rose petals on the bed, and draw a hot bubble bath. Bust out the massage oil and rub away all that tension in your partner's body. Make love together and cuddle in each other's arms.
Getaway. Book your partner a much-anticipated vacation, no matter what your budget is. It can be at a hotel room in town, a rustic little bed and breakfast, or that second honeymoon trip to a tropical location you always wanted to take together. Enlist the help of friends and family to keep you posted on any plans he makes so you know to avoid those specific dates to book your trip. You can always rent a cottage or log cabin somewhere remote and be just the two of you together for a weekend.
Tickets. Is there a sports game, an opera, a movie, a play that your partner really wants to see? Get some tickets and surprise your partner with them. They will be so happy and find it so thoughtful that you thought to surprise them like this. Be sure your partner hasn't already bought the tickets though! Just in case you end up with two pairs of tickets, make it a double-date and invite your best friends!
Got any more ideas? Comment below!
Categories: Life Advice, Relationship Advice, Marriage Tips