By: Rev Dr. Stéphanie Noircent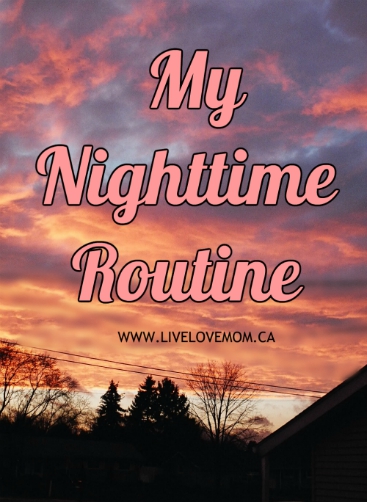 You saw a few weeks ago a post about my morning routine. I've been asked about my evening and night routine as well. Here it is!
Do laundry. Laundry never ends in this house, with my husband changing three times a day and the kids at least twice a day with their day outfits and pyjamas. Just to stay afloat I have to do one or two loads a day. If I skip a day, then I have to do at least three loads. I'll also do some light cleaning as needed during weekdays and do deeper cleans on weekends. Simple things such as wiping counters, sweeping, and dusting.
Pick kids up from school. I leave about 40 to 30 minutes in advance to make sure I get a parking spot by my childrens' school. I either knit or scroll on my phone while I wait while listening to the radio. When the bell rings, I'll go to the fence and wait for my children to come out of school. I help them in the car, buckle them in, and head home.
Help with homework. I check the kids' agendas which indicates any homework they have. I sign permission slips, read notices for me, and get out the kid's materials for homework. I'm also able to check their lunchboxes to make sure they ate well, and dispose of any trash and put away leftovers.
Make dinner. My husband loves to cook so most of the time he is the one that makes dinner. However, I will also cook when I can. The easiest for me is to have a crock-pot going during the day. I would also grill some chicken and boil some veggies, make a pasta dish, whatever my family needs.
Check email. I see if I got emailed for appointments, or statistics for my blog, or anything else that might be pertinent or important. My grandparents still communicate by email as well so I want to make sure I am able to reply messages as soon as I get them.
Say goodnight to friends and family online. I do some online gaming, so I let those people know when I am leaving to go to bed. I let my friends and family know as well and I tell them goodnight. 
Spend time with kids. The kids often ask me to play with them with either barbies or stuffed animals. They also like running around, dancing together, anything we can do together as a family. We take the time to connect.
Close blinds and curtains. Especially in winter, it gets dark very fast. I close blinds and curtains to maintain our privacy. If it's December, I'll switch on the Christmas lights and the Christmas tree lights as well. 
Lock doors & windows. This is not only for our safety, but for our comfort as well. A strong gust of wind has blown out door open before, and we don't want bugs getting in and our dog running out into the street.
Give kids a bath. It can be a shower too, depending on what they prefer. Sometimes they can spend an hour in the bathtub playing with their toys, the kids can be real mermaids. They love the water so much!
Put kids in Pyjamas. After they're all clean and dried off, it's time for pyjamas. They like to pick their favorites and then we put them on. 
Take a shower. It's my turn to get clean! I'll take a shower and wash my face in there at the same time. I'll make sure to condition my hair after washing it so it looks good and feels silky smooth once it dries.
Skin care. Since my face is washed, it's bare and anything can get in there. I usually will then remove blackheads and pop pimples and whiteheads from my face if there are any. Then I'll use an oil cleanser to remove any leftover makeup. I'll use a serum and some eye cream before putting on my night cream. If needed, I'll pluck some stray eyebrow hairs. I'll dry off and put on my pyjamas after this.
Brush teeth. This is a family affair, we all get into the bathroom and brush our teeth.The kids have a stool so they can see themselves into the mirror. We brush, floss, and use mouthwash. I make sure my kids brush properly so their teeth are nice and clean.
Have kids use the bathroom. In case they forget, I remind them they need to use the bathroom before they go to bed. Even when adults don't pee before bed, they can wake up soaked in their own urine. So once this is done, I know it prevents accidents and many loads of laundry.
Cuddle in bed with kiddos. The kids have been co-sleeping for a while now, and I honestly don't mind it. We'll get in my big queen-sized bed and cuddle together and give each other kisses and hugs. Most of the time they just want to play and jump around so my husband does what we call the baby-wrangling. Once they're in bed, I tell my kids how proud I am of them and how they are amazing people. I find it's very important for their sense of self-esteem and self-worth. 
Tell the kids a story or sing them a song. Depending on what they prefer, they will ask me either to sing a song for them or they'll give me a topic for me to tell a story about. I could write thousands of children's books with how often I have made up stories out of thin air for these kids. 
Wait til kids are asleep, put them in their beds. Once the kids are asleep, I let my husband know and he picks them up and moves them to their beds. They often stay asleep so this isn't an issue at all. He closes their doors so the dog doesn't wake them up in case she barks during the night. 
Alone time with husband before he falls asleep. Often we use this time to watch an episode of our favorite television show we can't watch with the kids around, or we'll sit around and talk and cuddle. If we're too exhausted, we'll just cuddle and kiss before bed.
Set my alarm. This is on a school night so I can wake up on time to do it all again and be awake on time to get myself and the kids ready for school and off to school on time.
Check blog. I check on my blog and sometimes write posts before I go to bed, or work on graphics. 
Watch TV episode or movie while cuddling with dog. My dog is very social and loves to be around people. She will jump up next to me and cuddle with me under the blanket I have set on my lap. Often I will do something with my hands while I watch TV, such as knitting or making cards for family.
Bedtime. I tell my dog to go to bed, take my multivitamin, and head to bed. I closed all my internet tabs by now and often put my devices on chargers so they're ready for use during the day. I post on my instagram or schedule a post and then I'm ready to drift off into dreamland.
What does your nightly routine look like? Comment below!
Categories: None