By: Rev Dr. Stéphanie Noircent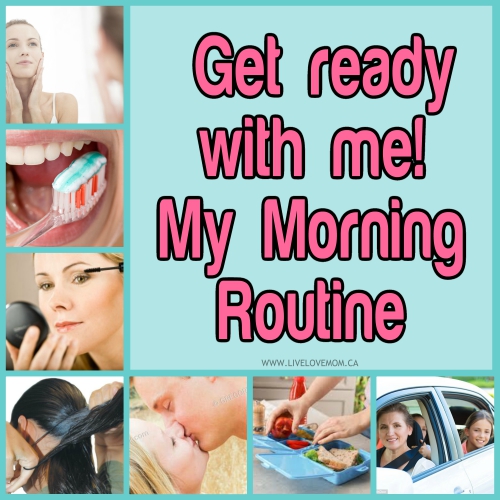 Get ready with me! Here is my morning routine that I try to stick to as much as possible, whenever possible. Of course, sometimes there are appointments thrown in there or it's the summer so the kids have no school. Here is what my morning routine looks like most of the time.
Get dressed. I often just grab what's available and matches with the season. Pants and a long shirt for the winter, shorts and a tank top or T-shirt for spring, a dress for summer. Sometimes I put some thought into it and grab something pretty, especially on a special occasion or if I just want to look good.
Wake kids. Often times my oldest child is already awake, so I will have to wake up my youngest. I try to gently wake her by opening the door and going about my business, but sometimes I also go into her room. I rub her back gently and talk to her softly, and sometimes I crawl into bed with her and give her cuddles and kisses. She is always happy to see me and very affectionate and I love it. My oldest often crawls into bed with me very early in the morning, so I get to cuddle and kiss her and keep her warm before it's time to wake up. Once they are up, I make sure they remember to go to the bathroom and I give them their daily multivitamins.
Skin care. I start by washing my face to get rid of the dirt, grime and oil from my face. I do this by double-cleansing, using a water-based face wash and then an oil-based to make sure all makeup is removed, even waterproof. I put on some serum, and then I put on my day cream for the day. I also use sunscreen, but usually later on in the day. 
Makeup. I have a fairly rapid makeup routine since I am in a rush to get the kids out the door. I use a fiber lash mascara to lengthen my lashes, and sometimes a thickening mascara to make my lashes appear thicker. I then put some eyeliner on the outer upper corners of my eyes to give the illusion of a thicker lashline. I then put some chapstick on and some lip gloss, and I'm done. 
Hair. I brush through it thoroughly and then put it into a simple do. Most of the time I pull it back in either a low or a high ponytail. Sometimes I'll use a half-up half-down style, pulling the top half and tying it back to keep it off of my face. 
Breakfast & Feed kids. My husband often takes care of breakfast, but I do also prepare cereal, french toast, eggs, or a fruit salad for my kids. It depends on what they feel like eating, and also what's available in the fridge at that time. I know my youngest loves strawberries and raspberries, and my oldest loves grapes and apples. My husband and I set the food on plates for them and we all eat breakfast together.
Brush Teeth. Once breakfast has been eaten, it's time to brush our teeth! My husband, my kids and I brush our teeth thoroughly, then floss, then use mouthwash. Sometimes the kids put up a fight and say they don't want to brush their teeth, but this is usually because they have decided they want to drink milk or juice. They would know that it would taste weird after brushing thier teeth.
Dress kids. The kids often pick their own clothes, but most of the time at least one of them is evasive and doesn't want to get dressed. I bring them the clothes if they haven't picked it out already and help them put it on if they haven't done it already. It helps on cold winter mornings if my husband runs the clothes through the drier for a few minutes.
Prepare kid's lunch. My husband has been kind enough to make my kids sandwiches at the same time he makes his. So what I do is that I take my oldest's lunch box and fill it with a portion of fruit, a portion of vegetables, some cheese and a drink. It's often either milk, juice, or drinkable yogurt. I put in a cold pack, zip up the lunchbox, and put it in her backpack. I do the same for my youngest.
Kiss husband. I don't ever want my husband to feel left out and I want to give him a healthy dose of love before he heads out for work. I always kiss him before he heads out. We make a point to kiss every morning. If it's a weekend and he happens to be working and the kids are asleep, he will sneak back into the bedroom to kiss me before he leaves. So cute!
Put outerwear on kids. Whether it's a hat and sunglasses for summer or the full snow gear kit, it's the time when I start bringing the outerwear to my kids and help them put it on if needed. I help them find their favorites if we have time if that's what they request. 
Drive them to school. I get the kids in my van, secure them, and I get in myself, put my seatbelt on, and drive them to school. They often like music to be played so I turn on the radio. If it's snowing out, the kids love to help me clear the van's windshield and windows and mirrors from snow. 
Check emails. When I get home I check my emails to see if there are any messages from my kid's school. Sometimes I do this before headed to school in case there is a snow day, depending on what the weather is like outside. I have started checking my email many times a day since it,s the main way my husband communicates with me during his lunch break.
Work on blog. Either now or later is when I start working on my blog. I write and schedule posts, make graphics, check traffic and moderate comments. 
Eat lunch. I make myself some lunch, often something small and simple. My dog loves following me around everywhere and I'll give her some meat scraps. I also check her water dish and food bowl and change her pee pads as needed.
Run errands. If there are groceries to be done, perscriptions to pick up, or call-backs to be made, then this is when I do it. Sometimes it's also early in the morning, it really depends. But I try to do it before I go pick up the kids from school.
There you have it! That's my morning routine. What's yours?
Categories: Mom Life