By: Rev Dr. Stéphanie Noircent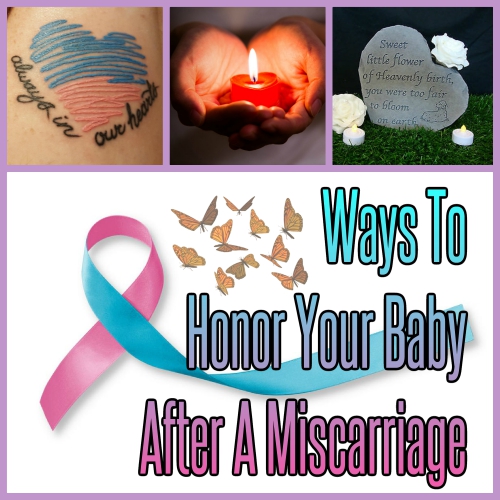 Losing a child, whether your embryo didn't implant at the IVF clinic or they're 70 years old, is the worst thing that can ever happen to anyone and is the worst pain anyone could ever imagine. It goes against the natural order of things. No one should ever have to bury their child. 
Even in 2022, it's still a taboo subject to talk about sometimes. Most people don't know anyone who has said they had a miscarriage, even though 25% of women have had one. It can be hard to know how to grieve or honor your baby's memory. Here are some ideas that should help you mourn. You can choose whichever one you want, no matter how simple it is. 
Light a candle. You can buy a candle and light it with a lighter and send your thoughts to your baby. You can also light one at your local church if you are religious. On National Pregnancy Loss Awareness Day, mothers from all over the world light a candle at 8 pm. You can be one of them too.
Have a memorial. Funeral homes often offer memorial services for a low cost or free of charge for babies lost during pregnancy. You can also host a private one at a park or just with you and your partner. Share in memories of the pregnancy that make you smile, the moment you found out you concieved, and anything else that was a happy time for you. 
Raise money in their honor. You can run a fundraiser or donate to charity in your baby's name. An appropriate charity would also be for survivors of loss, grief counselling, or other children's charities. It's a way to keep your baby's memory alive.
Get a tattoo. You can always get a memorial tattoo for your baby. You can get a miscarriage ribbon, foot prints, their name, their date of birth, a quote, or anything you want. Some mothers want the same tattoo for all of their children, living and passed on, so they get a tattoo of birds sitting on a branch and a baby bird flying away. The baby bird would represent the baby that was miscarried.
Make a memory bear. Whatever clothes you bought for your baby you can have sewn into a memory bear. You can also custom order a bear online and have your baby's name embroidered in it. It's something physical you can hold, kiss and hug. This often helps grieving couples.
Make a time capsule. Put a lock of hair, an ourfit, a rattle, a pair of baby shoes, or anything else you want and place it in a time capsule. You can bury it in your backyard, display it on a shelf or simply keep it nearby.
Get a plaque. You can order a custom memorial plaque for your garden. You can also order a tombstone or urn if your baby was stillborn or died young. This way you can bury your baby or keep their remains close if they were cremated.
Name your baby. It can help to have something to call your baby by. If you don't know the sex, you can always choose a gender-neutral name such as Riley, Dakota, Jordan, Leslie, Angel, Ashley or Rene. 
Lay them to rest. There is an organization called Memorial for the Unborn you can look up. They offer certificates of life, name plates, and more. You can have a place to lay flowers and remember your baby. There are about 18 locations throughout the states. Keep in mind that these places are pro-life, however. If you're outside of the states, you can always start one of your own if that's possible. 
Start a charity. If you want to volunteer your time, you can always start your own non-profit organization. A friend of mine crocheted baby headbands and with every sale, she would donate one to a children's cancer ward in a hospital. Another example is Angel Whispers, who creates angel baby birth certificate keepsakes for grieving parents. You can also just donate the baby items you had gathered for your baby to the needy so less fortunate parents could use the items.
Name something after them. Whether it's your boat, a street, a building or your first living child, you can always name something or someone after them. You'll have a touching story to tell if people ask where the name came from.
Talk about them. It's the best way to keep their memory alive. When parents are asked if they would get rid of the pain they feel from the loss, most of the time they say no. Why? It's all they have left of their child. Most mothers love talking about their babies, it brings them a sense of peace. So talk about your baby.
Plant a tree. A tree planted in their honor is a great idea, it's something you can watch grow like your child would have grown. It can give you something to nurture and take care of like you would have with your baby.
Got any more ideas? Comment below.
Categories: Pregnancy, Birth, Life Advice