By: Rev Dr. Stéphanie Noircent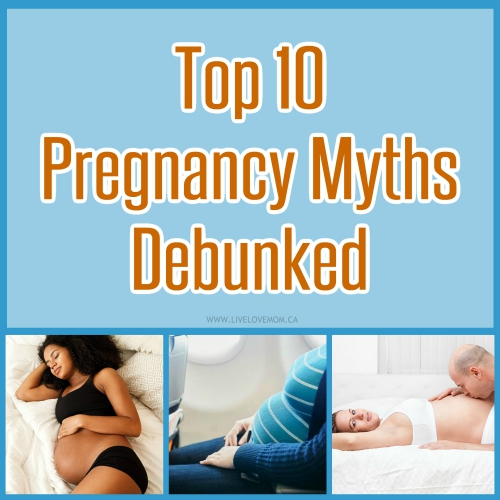 There are plenty of old wives tales circulating about. Well-meaning people who swear by them often give these myths as advice for pregnant women. However, is there any truth to them? Here the top pregnancy myths are examined for any evidence.
1. ''Sex during pregnancy will poke the baby.''
Intercourse occurs in the vagina, and your baby is in your uterus. Between the uterus and the vagina is your cervix, which remains firmly closed throughout your pregnancy. It is impossible for a penis or toy to penetrate the cervix. The fetus is perfectly protected in the uterus and surrounded by the amniotic sac filled with amniotic fluid. Barring instructions from your doctor or midwife stating otherwise, you can have sex during pregnancy.
2. ''Pregnant women need to eat twice as much.''
While a pregnant woman of normal weight does need to consume more calories, she should not eat twice the amount of food she ate before she concieved. She should only consume about 300 more calories than usual, the equivilent of an extra glass of milk and an apple. The average non-pregnant woman eats about 1,800 calories a day. She should eat 300 extra calories per day, per fetus. If she is pregnant with sextuplets, then this myth would hold true: she would need to eat 3600 calories a day. However, women who are overweight or obese should eat less than 300 extra calories. Be sure to talk to your doctor who may suggest a referral to a nutritionist to be sure you get all the nutrition you need with the food you do eat.
3. ''Dying your hair can hurt your baby.''
It is thought that the chemicals seep through the scalp, into a pregnant woman's bloodstream, and absorbed by the baby which poisons the fetus. This is completely false. There is no evidence to suggest this is even a possibility. It's recommended women in general dye their hair in a well-ventilated area, even those who aren't pregnant. 
4. ''Cesarians are mandatory for breech births.''
Plenty of breech babies were born naturally before cesarians were even invented. A version can be performed to put the fetus in the proper position for birth. If this doesn't work or isn't possible, you can always go with a provider that has experience with a breech birth, or knows exactly what to do when faced with one. A breech birth is not an emergency by itself. Although many providers in the states do opt for a cesarian when faced with a patient with a breech fetus, it's not mandatory at all.
5. ''Breastfeeding while pregnant will cause you to have a premature baby.''
It is true that breastfeeding contracts the uterus, however it will not cause you to go into labor prematurally. Your body is already used to your uterus contracting many times a day, so it won't take the contractions as a sign that it's time to go into labor. Feel free to breastfeed as often and as much as you want during your pregnancy, unless told differently by a medical professional. Breastfeeding does not mean you will have a premature baby and there is no evidence to suggest that this myth is true.
6. ''It's okay to have a glass of wine while pregnant.''
This is false. It doesn't matter if your grandmother did it and your parent turned out ''fine''. It's simply not worth the risk. FAS, also known as Fetal Alcohol Syndrome, is a very real disorder that can be prevented. Pregnant women should steer clear of alcohol throughout their pregnancy.
7. ''Pregnant women shouldn't drink any coffee.''
Women who are pregnant aren't required to completely give up on coffee during their pregnancy. They should take it easy, especially during the first trimester since high caffeine intake can increase the risk of miscarriage. It's said that you can safely have one cup of coffee a day, especially during the first trimester. You can increase the amount as your pregnancy advances, just don't go crazy.
8. ''Expectant mothers should get rid of their cats.''
Please don't do this, it can't be further from the truth. The only concern is the risk of toxoplasmosis which can be contracted by touching infected feces of cats in the litter. This can easily be avoided by changing the litter with gloves, or having your partner change the litter. If you've had cats for years, you've probably already been exposed to it and developped antibodies against it. You shouldn't garden without gloves either, because outdoor cats can and will poop in gardens. You should also wash these vegetables you harvest so you don't get the infection. Keep your cats and love on them. Don't ever abandon your cats once you get pregnant.
9. ''Pregnant women shouldn't get on an airplane.''
This is false. As long as pregnant women stay hydrated and get up every hour or so to pace the aisle, there is no danger in pregnant women flying. If you have a history of blood clots in your family or you personally do, wear some support hose. There are some myths saying that the pressure in the cabin will cause your water to break, but this is simply not true. The metal detectors also do not carry nearly enough radiation to harm you or your fetus.
10. ''Expectant mothers should only sleep on their left side.''
There is no truth to this at all. This myth stems from pregnant women sleeping on their backs can feel nauseous or light-headed due to the weight on a vein that brings blood back to the heart and brain. However, often women just turn on their own in their sleep, so it isn't really an issue. You don't want to scare pregnant women when they wake up on their belly, to wonder if their baby is still alive. They should sleep how they are comfortable. 
Have you heard of any ot these myths? Comment below!
Categories: None