By: Rev Dr. Stéphanie Noircent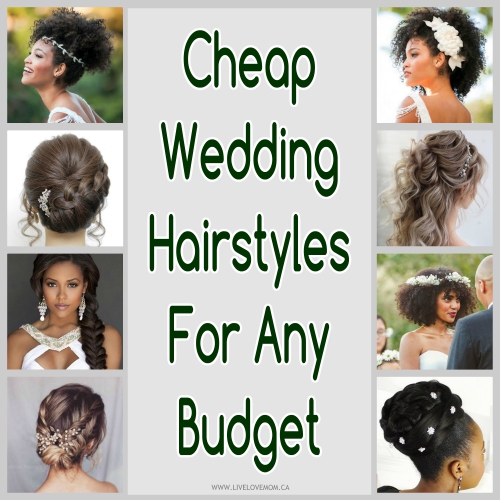 Who doesn't want their hair to look gorgeous on their wedding day? However, not everyone has the budget to pay a fancy hairstylist hundreds of dollars just to place their hair pretty. Here is how you can get the hairstyle of your dreams without losing a large chunk of your wedding fund.
Updos
Here are some of the best updos for weddings that are simple to do.
French twist. It's a fancy twist on the regular bun. Look it up in google images and show it to your hairdresser. You can also pin a gorgeous hair piece.
Braided bun. Divide your hair into two sections down the middle of your scalp. French braid each side until you run out of hair, and tie it off. Twist the braid into a bun and pin it up.
Drape. Do a backwards french braid on your hair and tie it off. Then, tuck the braid underneath itself and pin it in place.
Braid. You can braid your hair in corn rows, have a regular loose braid, or have pigtailed braids. Add some flowers or barettes to complete the look.
French braid. French braid your hair either in one or two sections and add some flowers in your braids for a gorgeous look.
Fishtail braid. Look up youtube tutorials on how to do a fishtail braid. Keep practicing until you get it right and you can wear it on your wedding day.
Down dos
Rather have your hair loose on your wedding day? Here are some examples of beautiful down dos for your wedding day.
Half up half down. Take the top half of your hair and tie it back, and there you have a half-up and half-down hairdo. You can also braid the top section or twist it into a bun.
Braided crown. Section off the top half of your hair, then divide it into halves. French braid each half and tie them together in the middle in the back of your head and you have a braided crown.
Curled. You can get a perm for your hair or you can curl it with a curling iron for your day. Use some hairspray to keep it fixed.
Crimped. You can crimp your hair or get the loosest perm you can get. You can add a flower in your hair or a nice headdress.
Straight. You can relax your hair or straighten it to look sleek and elegant on your wedding day.
Sideswept. Pin your hair up with either hair pins or a nice hair piece on one side of your head. You can pin it up above the ear to show off some earrings you're wearing on your special day.
Once you have your wedding hairstyle picked out, print out a photo and head to a hairstylist school. See if any students are willing to do your hair for your wedding. They will charge a fraction of the prize that others would.
See if you know someone who is good at doing hair. Show them the photo of your hairstyle and see if they can give it a whirl. If they aren't sure, go see them before hand so they can do a practice run.
Categories: Wedding, Events and Parties, Beauty