By: Rev Dr. Stéphanie Noircent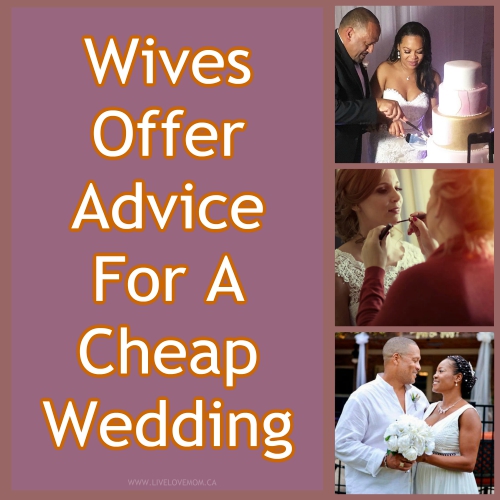 Are you unsure on where you can cut the costs of a wedding? Are you confused as to how you can have an affordable wedding? Are you looking for advice on how to keep your low-budget happy? Real wives offer real advice about how they kept their wedding cost low.
silverchick_8 says:
We are making our own invitations.. We need over 100 so we went to Wal-Mart (they have really cute ones, mine has daisies on them!) and we are printing them out ourselves. That will save you SOOO much money.. I want just a real simple bouquet with daisies so I'm getting them from a grocery store instead of a florist… Also, get creative w/ your centerpieces and favors.. All of that adds up!!
We aren't doing this, but I know of people that ask their guest to bring a covered dish instead of a gift! So that would cover your food cost. Good luck!
Leah says:
If you want a small intimate wedding you can definitely do it without paying a ton of money. Here are some ideas:
Consider having a backyard bbq after the wedding instead of renting a huge hall.
Ask family members or friends to help you out on things like decorations and photos – that can save a lot of money.
Visit Hobby Lobby or a similar store in your area. They have tons of wedding and bridal stuff at a fraction of the cost.
Get original. You know you don't need a chocolate fountain. Maybe you know someone who makes fabulous chocolate cupcakes. This would give a more intimate and personal touch than the $700 fountain.
iloveweddings says:
Hi and congratulations on your upcoming wedding! I love small, intimate weddings. They are my absolute favorite. Yes, I have LOTS of ideas for you….
 You are already on the way to a "budget" wedding…(I prefer the word "budget" not "cheap"!) by knowing you don't want anything elaborate.
 ~ You won't have bridesmaids or groomsmen….so you will save lots right there (stress, and money!)
 Church:
~ I would "decorate" the church with some flowers on the altar. Go to a dollar store, Walmart or a second hand store like Goodwill and buy 2 large vases . Go to Walmart or Costco and get 2 dozen roses – $10/dozen. Arrange the roses in the vases and place them on each side of the altar. Or…depending on where you live and when your wedding is, maybe get a couple of flowering plants. That would look nice also. I definitely would "decorate" the church a little with some flowers on the altar.
 ~ Involve your family and friends in your wedding if you want….have them do a reading or read a poem.
 ~ Ask each of the guests to say a few words about the couple, or ask them to write a few things down ahead of time, and assemble them into a document for one person to read aloud.
 ~ Make your wedding program more substantial, more of a booklet and keepsake. Include messages to each of the guests and explanations of why you chose your flowers, readings, colors, music, etc. You can name every person who will attend the wedding individually in the program, commenting about them something that is special to you. For example:
"To Uncle Joe and Aunt Thelma, we thank you so much for the enthusiasm you brought to this day. We hope to capture the passion for life that you have shared in your 35 years together."
 ~ Music for ceremony: I would definitely want music, no matter how small it is! What about a guitar player? Violin soloist?
 ~ Get a small bouquet for your and a boutonniere for your groom.
 What I would suggest would be to have your church ceremony and then you have a couple of options for the reception:
1. Have something in the church fellowship hall if one is available.
2. Have a dinner at someone's home or backyard.
3. Reserve a private room at a nice restaurant.
 ~ I like the idea of the private room at a restaurant the best!
~ Talk with the restaurant manager to see what you can set up.
~ Have nice table linens (most nice restaurants have these anyway).
~ Perhaps choose 4 or 5 items from the menu…and then make up your own menus (without prices), print them off on nice paper (Walmart or Dollar Store) and place them at everyone's spot.
~ I don't know how many people you are having or how many tables you will be having, but I would definitely do a nice flower arrangement on each table. It doesn't have to be elaborate….a few roses (or another flower that you like…tulips? gerbera daisies?) in a small vase. Place it on a mirror tile and put a few votives next to it. This looks very elegant and doesn't cost much. If you are having roses, you can always sprinkle a few extra rose petals around.
 ~ I would definitely try to have some music ….an ipod? Check with the restaurant…but it would be nice to have some soft music playing.
 ~ I am not one usually for "favors", but just to make your tables look even more elegant, you can always buy the little frame/place card holder. These are available at Dollar Tree and Walmart. It would be nice to set up place cards for your guests. And then this also serves as a "favor." Just an idea.
Don't forget the cake! Go to a bakery in a grocery store…much cheaper than a regular bakery. Or, maybe the restaurant can supply one.
Remember a "budget" wedding is not a "cheap" wedding. There is a difference! You can have a beautiful, elegant wedding on a budget.
 Good luck and I hope you have a beautiful day and a happy marriage!
LOVE BEING A MOMMY says:
Well, without bridesmaids you cut down a lot and without a lot of people you cut down even more. I have to honestly say that the biggest expense is food for all the people…even 10-15/ person is costly if you have 150 people. That'll also save you on flowers (if you have one or two or no bridesmaids). you have to also consider if you'll have a dj or band, where your reception will be and things like that. A park venue is pretty inexpensive. Actually the most expensive thing is your reception. If you're having it in a church try to have in close to a holiday…the church may already be decorated. So yea…that's just some. I have an awesome book that I got for $1 on amazon.com. Its old but it has big money savers!
Mac says:
Make your own invites
Find a cute cheap dress – David's Bridal has those $99 gown sales
No alcohol or bring your own
Just have a little light dinner for the reception
Our church didn't charge us a dime, b/c we were attending there on Sunday's and for counseling – then we rented out the Community Center for $50 for the reception. It was a nice, small wedding, maybe 75 people or so.
Have a family member or friend take pictures
emmiegsmom says:
Their are many ways to keep a wedding inexpensive but usually the most expensive thing is the reception or the "food". Have you decided what you want to do as far as that goes? You said you dont really want any bridesmaids but that doesnt really cost any money. You have to decide about flowers, the cake, photography, videography, the transportation or limo, the site of the reception, the food, the dj or band. I got married in a catholic church and we had to make a "donation"of $500 to the church and $250 to the organist. A gown you can get pretty inexpensively. I know that David's Bridal are always having $99 gown sales going on. But then you have to consider your veil and your shoes? What about your hair and your makeup? You can definately do that yourself or a friend can do it to save money. You have to break down all the aspects of the wedding and decide exactly what is important to you and what isnt. The things that are important to have, then just work them out in a way that will be affordable for you. For example: you could have the reception in your familys backyard and keep the guests at a minimum, you could ask a relative or a friend to take pictures instead of hiring a photographer, the same as with a videographer. I also made out own invitations for the wedding. I got the plain invitations and worded them as Iiked, printed them out and decorated them and addressed them myself. That definately saved me about $300 doing it myself. I also made my own favors, almond joy bundles and candles wrapped in lace with ribbons in the bridesmaids dress colors. You can definately do it if you put your mind to it. Good luck!
#2 in the oven says:
dresses- David's bridal has lots inexpensive. even better Target sells some online. seriously.
Invite the people you want there really. Do invitations yourself. You can get a kit at Michael's or AC Moore and use a coupon from Sunday paper for like 40% off. You just print them using your computer. I did and it looks great. I bought a stamp and wax that I sealed the envelopes with, and made them look a little unique.
Why not go to a really nice restaurant instead of reception. Find a local non wedding baker. most likely they can do a simple two or three tier cake. know anyone that always seem to have good pictures? ask them to take the wedding pictures. be inventive and positive. I had a wedding with 150 guests for under $3K. It is possible. We catered it ourselves with food from Sams club. Hired a friend to be the buffet attendant. simple flowers or do the flowers yourself.
Lily says:
Im not married yet, but im planning a wedding and yes they are so expensive. But you have already eliminated so much of your costs by not having a bridal party and having a small intimate ceremony. The one thing im not really worried about is my dress. I didnt get one yet, but my friend just got hers for $99 at Davids Bridal. Its plain and simple, but she loves it. I have found dresses I liked for between 200-400 which i dont think is bad for a wedding dress. I am getting married in my fiancee church and the only thing we have to pay is 100 for the preacher and 100 for the organist. Good Luck!
laseter says:
as quickly as we've been given married we had not something! heavily! We had our wedding ceremony exterior in a beneficial little corner surrounded by using timber and flours out in the midst of the woods. It become an previous living house that had fallen down years earlier and the flowers have been nevertheless there. It become purely close kin and decide acquaintances. Afterwards we had a huge cookout at our abode and invited each and all the acquaintances and kin that we knew to cookout burgers and canines on the grill. so some distance as a photographer is going, it form of feels there is one in each and every kin. i'm beneficial you ought to locate one close that could supply you a coupon or possibly even barter with you for his or her centers. you're arranged to get the cake this way as nicely. The preacher would or won't cost based. there are a number of value reducing measures you could take with somewhat simple experience and a thrifty strategies-set. Congratulations and robust success!
Angie says:
Four months ago, I was the same as you. I wanted cheap and simple. The more you look at stuff though the more you realize, no matter what you are going to spend some good cash. Depending on how many guests. We are having the most simple wedding possible and we are up to 4000 with 150 guests. I heard that now is the time to shop for dresses, since it's their off season they are at the lowest prices. As for everything else, try online stores for things as well as in your town, sometimes they have good bargins.
Good luck.
Vanessa says:
Why don't you buy a second hand dress, or order one from target…
The fees will be minimal to get the preacher at your church to marry you in the sanctuary… maybe a couple hundred dollars.
Follow-up the ceremony with a simple cake and punch reception. If you do not want to pay for a designer cake, you can serve cupcakes, or get a local bakery at your grocery store (Sams club or costco are good too) to bake a cake for you. At the reception you can have punch, coffee, cake, and possibly some nuts, mints, and a veggie tray/cold cuts, fruit, etc. These are all things that a local grocery store could cater for you.
Best wishes!
DJtraper29 says:
For the dress you should go to bridal shops in your area and look for an off the rack dress. You can get them really cheap. I was going to get married in December and I bought a beautiful dress off the rack for $200.00 it has a long train and lots of detail, the only problem is that I am no longer getting married in December I am getting married in June and having an outdoor wedding so a dress with a long train is out of the picture. I am actually looking to sell the dress that I bought if you are interested email me and we can work something out. My other suggestion is to look at bridesmaid dresses and see if one will work for you, a lot of them come in white or ivory. I found a Jordan Fashion dress that I will be wearing for my wedding, it is a bridesmaid dress but there is no reason it cant be a wedding dress for me.
nova_queen_28 says:
The most expensive part is going to be the food. Right off the bat, fewer guests to feed means less expense.
Do a brunch of afternoon reception with snacks only and you're saving even more money.
Avoid alcohol and you'll save more.
Jo-Jo says:
A good tip I can offer from my own wedding is try to find a place where you can have both ceremony and reception at the same location. [I had mine in the same room] This way you won't have to pay for two separate locations and you can get right down to eating after the ceremony.
*~*Jon-Jon's Mommy!!*~* says:
i'm the opposite of that but what i am finding is that my budget keeps getting bigger by the day with unexpected expenses. one way to cut cost would be to get married after the typical wedding season- which lasts from june til october. i'm getting married in november so i've been able to negoiate some deals that way. also you can have someone you trust and who's food you love cater the event. you can not have any bridesmaids or flower girls.
Missy Me says:
MANY WAYS TO SAVE!!!
www.orientaltrading.com – favors, bridal party gifts & needs, as well as wedding & reception needs
Reception – Afternoon reception is cheaper than a dinner gathering; cash bar (with a wine or champaign toast ) is cheaper than open bar; family member to dj; find a good family member to be your photographer.
Utopia says:
Vegas!
Tater says:
Well there's always David's Bridal
Do you have any wedding advice to give to future brides and grooms about cost-cutting wedding tips? Comment below!
Categories: Wedding, Events and Parties