By: Rev. Dr. Stéphanie Noircent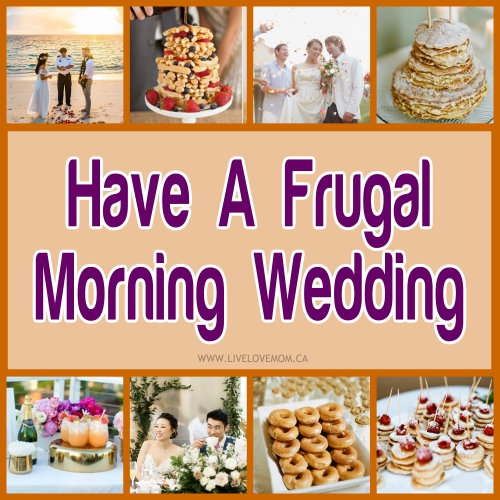 It's always been cheaper to have a wedding in the morning. Lots of weddings are booked for the afternoon and evenings, so morning spots are wide open. You don't have to have a sit-down dinner, you can serve wonderful fresh baked goods, sweets and ripe fruit. Not sure how to get started? Here are some tips and ideas on how to throw a frugal morning wedding reception.
Meals. You can serve breakfast or brunch. You can make pancakes in bulk, french toast galore, pile on the sweets with doughnuts and danishes, waffles with all of your favorite fruits, potato skins, sausage, bacon, eggs, omelettes, and more! Let your imagination run wild.
Cake. You can get creative with your wedding cake. You can have a pancake cake, waffle cake, french toast cake, muffin cake, donut cake, and whatever else you can think of!
Drinks. So many drink ideas! Serve mimosas, sparkling juice, even smoothies! You can even have tea, coffee, lemonade, fruit juices, milk, and whatever else your heart fancies.
Decor. With the bright light of the outdoors, you won't need any artificial lighting. It's common to decorate with pastel colors like you would if you were going to a tea party. Add lots of flowers and you can't go wrong. To save money on blooms, buy in-season, or silk at the dollar store.
Do you have any advice to offer? Comment below!
Categories: Wedding, Events and Parties