By: Rev Dr. Stéphanie Noircent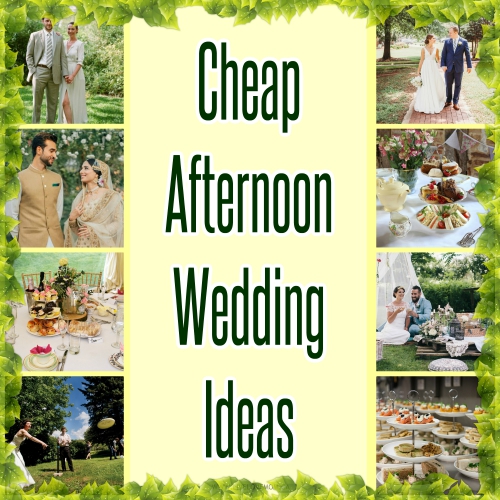 Not a morning person? Don't want to spend an extra thousand just to have a sit-down dinner reception? A lunch wedding is right for you!
Main Menu. Lunch menu will always cost less than a dinner menu. You can have so many different options for your wedding reception when it comes to food. Here are a few ideas:
Cocktail hour wedding
Barbecue wedding
Picnic wedding
Cookout wedding
Hors d'oeuvres wedding
Cake and punch wedding
Potluck wedding
Guest list. Limit your guest list to your very closest friends and family. This will significantly lower the amount of money you will have to spend for seating, food and drinks, even the size of your wedding cake! Who wants to invite a 4th cousin twice removed that you've never met, anyways?
Cake. You can have the cutest little 1 to 2 tier cake for your wedding. You can have it decorated with fondant, flowers, fresh fruit, or whatever else you want! This allows you to have the wedding cake of your dreams without skimping on the details.
Decor. When in doubt, go to the dollar store. They even have a party section that includes weddings! You'd be amazed at what you can find for such a cheap price for your wedding. Did someone you know have a wedding recently, and have no idea what to do with her leftover decor? Offer to rid her of it and recycle at your own wedding.
Flowers. This is also a great idea for the dollar store for silk flowers. Need to have real blooms? If you are a year or more before your wedding, plant your favorite blooms in your own garden. You can pluck your beautiful home-grown blossoms on the day of your wedding and arrange your very own beautiful bouquet! Got just a few months left? Go to a floral shop and never mention the word wedding to avoid inflation.
Recycle. Use the maid of honor's bouquets as centerpieces for the reception. Use the aisle runners as chair back decorations at the reception. Use the chairs at the reception for chairs around the tables at the reception. Save time, resources and money with a little recycling. Have a bird cage lying around from a bird you used to have? Use it as a decoration. Have some empty wine bottles you keep forgetting to recycle? Spray-paint them and put a flower in there, and voila; beautiful centerpiece!
Got any more wedding ideas to share for a gorgeous afternoon wedding? Comment below!
Categories: Wedding, Events and Parties