by: Rev Dr. Stéphanie Noircent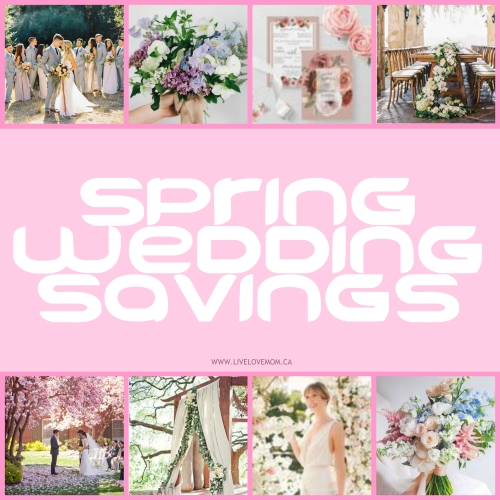 The days are longer, the nights are shortened. The snow melts, and the promise of rebirth and new life bears fruit. The buds appear in the trees, the flowers grow under the trees, the air is warm and welcoming. It's a good time to tie the knot with your soul mate.
With melted snow, it can be a possibility to have a wedding and a reception outside. Discover your options for sites, whether exterior or interior. This season is scheduled out of season for weddings, so the discounts will be abundant for anything related to the wedding, or at least the prices will not be inflated.
Do you have really helpful parents? Ask them to present instead of a gift. They can help set up tables and chairs, place decorations, even distribute wedding programs. This will save you hundreds on hiring others for work, and you will save time in doing it yourself.
Do you have talented friends? Ask them to help you with everything you need instead of getting a gift. Ask your makeup artist to make up your cosmetic hairdresser your hair and your neighbor decorator to make your wedding cake. Even better if you know someone who can make your nails, even pluck your eyebrows or wax your upper lip for the occasion.
Know the people that recently has tied the knot? Ask them if they have any marriage remnants they offer. All of the decoration, chairs and extra tables, even silk flowers or centerpieces. Get their second hand of dollars worth. Plus, your friends will be grateful for the space, and happy with their items will help you end up in the trash.
Why get a wedding cake at 7 levels when 4 levels will end up in your fridge anyway. Get a detailed cupcake to cut in front of the guests, then take it to the back in the kitchen to be sliced. Have a leaf cake waiting in the back to cut extra slices if your cupcake can not serve all your guests. You can even get a false-layered cake that has a real coat, cut this diaper, then take it back and serve as slices of grocery leaf cake. Nobody needs to know!
Why waste hundreds of fancy invitations that always ends up in garbage anyway? You can invite guests by email instead. For informal for you? Create a facebook event or wedding site. You still save on paper, but still get that personal touch, and you can design your own event or website for free!
Pluck fresh flowers in a meadow for free. You will have fresh wildflowers for the bouquets, and also spare you a trip to the florist. You can even plant and grow yours, then re-plant the bulbs for a long reminder of your special day!
Do you have other tips and tricks to save a lot of money for a spring wedding? Comments below!
Categories: Wedding, Events and Parties