by: Rev Dr. Stéphanie Noircent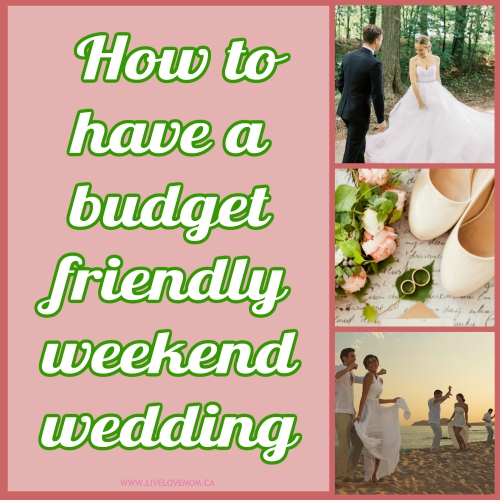 Anyone can dream of having their special day last longer than a mere 24 hours. Many couples are opting for weekend weddings, 2-day or even 3-day weddings. Is it your dream to celebrate your vows for the whole weekend? Are you worried making it happen will inch you towards bankrupcy? Look no further! Here are some life-saving cost-cutting tips to throw the wedding weekend of your dreams while saving thousands of dollars in the process!
First, what is a weekend wedding? A weekend wedding often consists of the following timeline:
-Friday dinner
-Saturday breakfast
-Saturday activity with a lunch break
-Saturday afternoon ceremony
-Saturday wedding dinner
-Sunday breakfast/brunch
Fridays dinner is often the rehearsal dinner. You cam rehearse the wedding for an hour or two and then have a dinner and toast with the wedding party.
Saturday can be a brunch or breakfast for the guests. You can have lawn games at an outdoor wedding, which are easily set up and an be bough at dollar stores or discount stores. Want an indoor wedding? Have it somewhere known for an activity, such as a bowling alley, movie theatre or sports arena. Entertainment for your guests won't be hard to come by.
Have the wedding activities nearby, if not in the same venue. This will save your guests from traveling a lot, which an be ime consuming and frustrating.
If you want everyone to attend your friday dinner, it's nice if you limit your guest list to little more than the wedding party. It will be MUCH less expensive as well!
Opt for cheaper food options, such as buffet meals, potato bar, pasta bar, even belly-filling hors d'oeuvres. This will cut down on the staff you need at your wedding as well as cost much less in food. Want to save even more? Make one or most of the meals potlucks. You can even have a BYOB wedding and save on alcohol or a bar altogether.
Make your wedding cake according to the guest list and not outrageously big that will leave you with too many leftovers. Don't get a 5 tier cake for only 25 guests.
Ask your friend to officiate. They can become legally ordained online easily. Just be sure they check their state marriage laws to assure their clergy standing.
Don't pay for other's formalwear. Bridesmaids dresses are crazy expensive. Get decent dresses at Sears for much less, or have your party choose and buy their own. Have the groomsmen rent their tuxes in lieu of a gift, or just wear a nice dress shirt with trousers and a bowtie.
Got more weekend wedding advice? Comment below!
Categories: Wedding, Events and Parties