by: Rev Dr. Stéphanie Noircent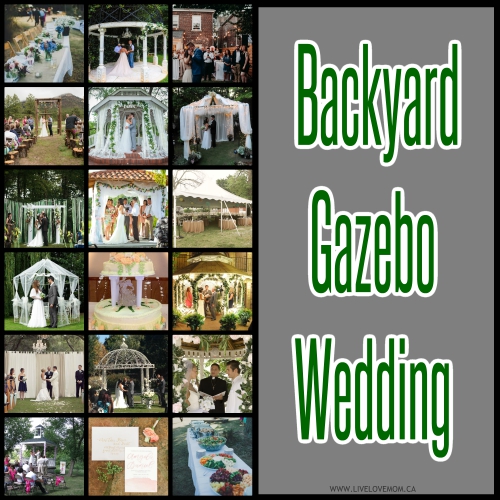 Spring is coming up, and therefore wedding season is beginning, and having a wedding can be expensive. The venue itself can easily cost your entire budget. Why not save thousands of dollars by having a charming backyard gazebo wedding? Why get a big venue when you can save thousands of dollars by getting married in your own backyard?
Now, if you're not a homeowner, don't falter. Ask a family member or a friend if you can get married in their backyard! Imagine all the possibilities for food; brunch with mimosas and fresh fruit and waffles; mid-afternoon reception with cocktail party food assortments of cheese, meats, grapes and wine; a festive evening buffet with a salad bar. The possibilities are endless!
Backyard. Many backyards can have eyesores, like if you live next to or near a commercial building, the neighbors have some unsightly decorations in their own yard, or your neighbor's house is obviously worse for wear. There are a few ways you can keep your backyard enclosed and private. Consider getting a tall wooden fence to maintain privacy and focus on your event. If you're planning years ahead of time, you can also plant hedges for a privacy screen along the border of your yard for a natural, eco-friendly touch. In a pinch? Get posts and attach clotheslines to them, or onto existing trees or fences, and tie streamers! You can also get inexpensive curtains to go on the clotheslines for a more opaque backdrop. It's a great way to keep the focus on the ceremony, and you can easily replace your current curtains with your brand new ones afterwards for a lasting reminder of your special day.
Backdrop. Lots of weddings have a specific backdrop just for where they get married. Others also have backdrops specifically for photo-ops, others at the bride and groom's table for the sit-down meal. On board with this idea? Why not! The cheapest option is to tie paper streamers on a clothes line. You can pick different hues that match your color scheme as well as different shades. Want other ideas? Here are some more.
The Gazebo. If you or your friends don't have a gazebo, you can either get a tent for the outdoors, rent a canopy, or even buy or borrow a temporary gazebo. You can even just use a simple archway in a pinch. Gazebos are so elegant that you can often leave them undecorated. An enclosed gazebo is ideal for winter weddings, during the rainy season, or nighttime weddings. They can help mask an ugly backdrop in a backyard in the wedding photos.
Furniture. You can easily pull out foldable chairs and tables. Use white tablecloths to help mask the fact that the tables are foldable, and add a touch of elegance to the party. Want to go all out? Get chair covers as well. It'll also prevent your chairs from getting stained with food or drinks during the reception.
Food. You can hire a restaurant to set up in the backyard to feed the guests. You can put your own drinks or food in an outdoor cooler so it's in hand's reach and easily accessible. You can also hire a food truck to hang out in your backyard and feed the guests on the go. You can also set up a buffet table and lay out all the food the guests could ever want. Want to save even more money? Have your wedding right after mealtime, so all you'll have to serve is snacks and hors d'oeuvres!
Flowers. You can never go wrong with flowers! Grow your own blooms by planting them in your backyard or front yard so they're ready to be picked by the time your wedding day rolls around. You can also get some silk floral beauties at your local dollar store. Dead-set on getting flowers from a florist? Tell them it's for an anniversary party or a birthday party. Never utter the word wedding, or they will double or triple the price.
Decor. Tulle and anything white will look elegant in the backyard. Get creative; paper lanterns, white Christmas lights, banners, and more! You can even add little accents with white bird cages and rose petals, or lanterns with candles. Loop white streamers around branches of your mature trees. Hang paper hearts from the roof of your gazebo. Whatever your heart desires, make it happen!
Cake. Did you know you can even have a gazebo-themed wedding cake? Get a cake stand online or at a second-hand store and make a small cake look huge and elegant. Why not make a statement that highlights your wedding day? Also; if you know anyone that bakes well in your family or friends circle, ask them to make your cake in lieu of a gift. You will save hundreds of dollars this way! Feeling crafty? Get a cake decorating kit from Michael's and practice, practice, practice! You may be able to make your own wedding cake when the time comes!
Photographer. It's important not to skimp in this aspect, since a great photographer and camera can turn drab into fab. A good way to save money but keep the quality is to see if friends, family or a friend of a friend can be the photographer at your wedding. Some cameras are expensive, but take amazing photos almost no matter what. Know someone artistic that's interested in photography? Look at their snaps and ask what type of camera they have. They can even take informative free classes online. Can't afford a professional? Go to your local art school and hire a photography student. They will be thrilled to add to their portfolio and will charge you a fraction of the price.
Invitations. To save money, you can always make e-invites or make your own wedding website to invite guests. If you're more traditional, you can always DIY. Open up Microsoft Powerpoint and copy-paste a blank wedding invitation template from google images. Select the font and colors that you want and go from there! Print them out at home on fancy paper or go to your local Staples to have them printed. Cheap, easy and time-saving.
Backyard gazebo weddings are charming, down-to-earth and endearing. They are perfect for intimate weddings, since almost every home owner has at least a small front or backyard. They can be fancy and cost thousands of dollars, or they can be simple and cost just a few hundred dollars. Remember, at the end of the day you are just as much married as the couple that spent six figures on their wedding.
Did you like our ideas? Got more advice on backyard gazebo weddings? Do you have questions or concerns? Comment below!
Categories: Wedding, Events and Parties