by: Rev Dr. Stéphanie Noircent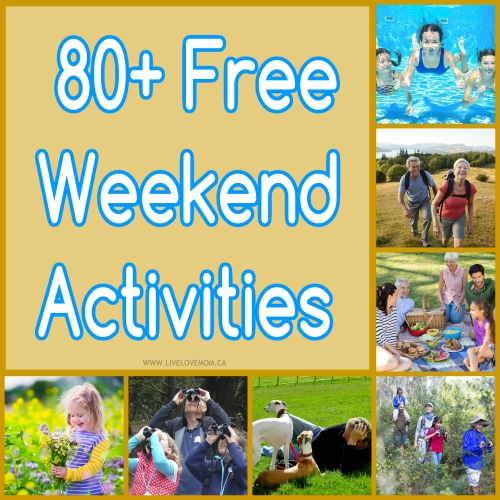 1. Park. Take your kids out to a park nearby and watch them play. You can even join them and swing next to them or chase them around the playground.
2. Picnic. Pack a nice homemade lunch, even just sandwiches, and eat on a blanket outside with your family. Most parks also have picnic benches you can use to eat on.
3. Pool. Plenty of neighborhoods have free community pools. Grab your family and your bathing suits with some sunscreen and towels and you're good to go.
4, Water park. Some neighborhoods also have parks that spray water so kids can cool down in the summer. 
5. Dog park. Bring the family dog along and go to the dog park. You can pet dogs and interact with fellow dog owners.
6. Pick flowers. Find an empty field full of wildflowers and pick them together as a family. You can fill vases with them at home, tie them in ribbon and offer them to neighbors, friends and family. 
7. Nature Park. Many nature parks are free, even some national parks. Go for a walk and enjoy the natural beauty. Nature reserves and nature preservations are also free to explore and protect species of animals as well.
8. Hiking. Go to your closest hill or mountain and go for a hike. Go as high up as you safely can and enjoy the breath-taking view.
9. Watch the sunset. Whether the sunset or sunrise, cuddle together under a blanket on the porch drinking some hot chocolate and watch the sky be painted with the most vivid and gorgeous colors.
10. Bird-Watching. Whip out those binoculars and watch birds. Try to identify or guess which types of birds they are. Even visually impaired people can participate by listening to the chirping and bird calls and try to guess which type of bird it belongs to.
11. Play games. Bust out the dusty board games or card deck that you haven't used in a while. You can also take out puzzles and do them together.
12. Volunteer. It can be as simple as babysitting for friends or family who need a break, or as big as volunteering in a soup kitchen or pet shelter. You can also organize a neighborhood cleanup. You can also organize a talent show to perform for at a local nursing home. 
13. Donate. Go through your clothes and your children's old toys that they never use and pack them up. You can donate them as hand-me-downs to family and friends, or to a discount store.
14. Scavenger hunt. Make a list of items and have a scavenger hunt. You can do one while driving and stopping to find things on the side of the road, or you can do it in one single area.
15. See the lights. If it's around November and December, drive around and look at the Christmas lights. If it's October, look at the Halloween decorations.
16. Potluck party. Throw a potluck party and invite your friends, family and neighbors. You can share in food, drinks, laughter and games and have a grand old time.
17. Go camping in your backyard. Have a campfire, roast marshmallows and hot dogs, and have some singalongs. Pitch a tent if you own one and sleep under the stars.
18. Have a bonfire. Got any old wood that needs to go? Burn it in a bonfire and enjoy the blazing warmth that comes with it.
19. Try a new recipe. There are websites that come up with recipes according to what you have in your fridge and cupboard already. Type in the ingredients you have and you'll find some yummy recipes waiting to be made!
20. Pick fruit. People who own fruit trees in their backyard often have an over-production problem. Some will offer to let the public pick fruit for free. You can also go over to your friends or family's places where they have fruit trees or bushes and pick there.
21. Forage. Look up edible plants and weeds that are common and teach your kids about them. Dandelion and clover are two examples.
22. Plant indentification. Teach yourself and your family how to identify different plants, especially the harmful ones. You don't want anyone getting poison ivy by accident!
23. Bake. If you have the ingredients, bake something sweet. You can make cookies, brownies, cake, cupcakes, muffins or pie and you can make it all together.
24. Have a play date. Invite your friends or family over that have kids of their own as well. Let the kids play and have some much-needed catching up and adult conversation.
25. Fish. If you already own fishing gear, go to a local river, pond or lake and fish. Public water bodies are free. Just make sure you have a fishing permit or license if that's required in your area.
26. Visit the beach. Grab some towels, bathing suits, sunscreen, sunglasses and hats and you are good to go. You can bring some plastic buckets and mini-shovels if you have them so the kids can make sand castles.
27. Have a movie marathon. Choose a series of movies, pop some popcorn and cuddle up with your family so you can all watch them together.
28. Star-gaze. If you have a telescope, star-gaze as a family and identify constellations and planets. There are also shooting stars in August, so be sure to look out for them. Even without a telescope, put a blanket on the ground with some pillows and look up at the sky.
29. Ride your bikes. Go cycling down the neighborhood together. You can drive somewhere so you can bike in a scenic location such as by a body of water.
30. Sign up for an online class. Some are just for fun, while others can actually improve your resume. Harvard even offers free online classes, so go sign up now!
31. Visit the Fire Station. Call ahead of time and schedule a tour. Your kids will love sitting in the fire truck and seeing what goes on behind the scenes.
32. Plant a garden. Whether you have land or some spare flower pots, plant some flowers, shrubs, trees, vegetables or fruit. Watch them grow year after year and teach your kids how to grow their own food.
33. Dance like no one's watching. There are plenty of bars and clubs that don't have a cover fee. Go out with your friends and have a girl's night and dance to your heart's content!
34. Play charades. Invite your neighbors, friends or family over and play charades. Guess what the other person is acting out!
35. Write a letter. Whether you want to send a letter to the military overseas, a friend or family member, do so. There are even penpal websites where kids ask to have another child to write in another country or state. This is free if you already have stamps lying around, if not then send an email.
36. Visit your city's website. They often list attractions and upcoming events, most of which are free.
37. Go to the library. You can check out books for free as long as you return them on time, and some even let you rent a few movies for free as well.
38. Watch a local game. Some practice games of college or high school football or baseball is free, so stop by and cheer them on.
39. Give podcasts a listen. Look up podcasts on your favorite subjects and find some that you are interested in. You'll have something to pass the time and you can even play it while you wait out traffick on weekdays.
40. Listen to an audiobook. You get a free audio book a month on kindle and you can listen to them for hours so you can keep your hands free.
41. Introduce yourself. Talk and get to know your neighbors. You just might make some new friends!
42. Teach yourself something. Learn to play an instrument, to knit, crochet, or another skill. You can even learn a new language on free apps like FreeRice or DuoLingo. You can learn oregami, a new dance from an online tutorial, or how to quilt. The possibilities are endless!
43. Take pictures. Memories are the best things to look back on. Take photos of places you visit, your kids playing, or a couple's selfie. Always take pictures.
44. Museum. I've heard of some museums being free, or having free days. Call and inquire about them, or visit museum's websites to see when those days are.
45. Zoo. I read that some zoos offer free days as well, or ''open to the public'' you just need to ask around and do your research.
46. Play a sport. Get your kids together and play a sport together. It can be football, soccer, kickball, or anything you want.
47. Make a time capsule. Find a shoebox and gather items you think will be fun to see years from now. Tape it up and bury it, or hide it somewhere you'll remember to check in a few years.
48. Look at photo albums. Sit down with your family and show your kids their baby pictures. You can look at memories together from when you and your partner first got together, your wedding album, anything really.
49. Host a film festival. Sort of like a potluck, but everyone brings their favorite movie instead. 
50. Try yoga. Use something as simple as a bathroom mat, and look at a Youtube tutorial video and strike some posts. Remember to breathe slowly to keep yourself nice and calm and relaxed.
51. Build some paper airplanes. Teach your kids how to make paper airplanes and fly them together indoors.
52. Make paper snowflakes. You can print out different types of designs from online and cut them out with your family. Tape them to windows or to string and to the cieling for some free decorations.
53. Read a book. Develop a love of literature in your child and have them pick up a book and read it. You can read one to them, or have them read one to you. 
54. Make a blanket fort. Use everything you can find; pillows, blankets, chairs, couch cushions and more! Make a big fort together and crawl in there together. You can also let your kids play around in it for a while so you can curl up with your favorite novel for a bit.
55. Call someone. Call your friend or a family member and check up on them. Reach out to everyone and catch up and talk about anything. They will greatly appreciate it.
56. Have a yard sale. Gather some items you are no longer using and sell them at a yard sale. 
57. Make cards. Grab some paper, markers and crayons and make some cards with your kids. Send them for birthdays, well-wishes or holidays. They're much more special when they are hand-made.
58. Take a nap. Get some rest and nap while your children nap. You'll feel refreshed, energized, and ready to run after those kiddos again once they wake up.
59. Make a family tree. You can do some light research on your genealogy and find out where you and your kids came from. You can do your spouse's as well so your kids will have a full picture of their ancestry. You might discover some surprising things!
60. Turn on the sprinklers. Put on your bathing suits and run around the back and front yard and cool off on those hot summer days.
61. Try meditation. Teach it to your children as well and see if this is something you all enjoy together.
62. Go to a religious service. Whether you go to church, temple or anywhere else, it's free and full of community and faith.
63. Exercise. If you and your spouse start exercising together, the kids are sure to join in. Use your own body weight as resistance, such as push-ups, sit-ups, squats and lunges.
64. Blow some bubbles. Some soapy water is all you need! If you already have some in the house, even better! Go outside and blow some bubbles and watch your kids go crazy running around after them.
65. Write it down. Find a notebook you haven't used yet and start a journal. You can also make one online such as a private blog or just a file you keep on your computer. It can be just to keep track of what you do each day, or you can write down thoughts and reflections. 
66. Massage night. After the kids are asleep, your partner can give you a massage. In return, you can give them a massage as well. This is a great way to unwind and connect as a couple.
67. Join a book club. They often have some in your local library, and if they don't, you can always start one of your own.
68. Watch TV. You can start a new tv series and watch it together as a family, or just you and your partner once the kids are asleep.
69. Make a castle. Grab some leftover cardboard and empty toilet paper rolls and make a castle out of cardboard with the kids.
70. Video game console. Nintendo 64, game cube, Playstation 1, Playstation 2, Xbox; they're all incredibly old. If you still have one, take it out and play your favorite game. You can also teach your kids how to play as well.
71. Make snow angels. Lay in the snow and make some snow angels with your kids! You can fondly look at them in the morning while you drink your coffee.
72. Snowball fight. Make some snowballs and throw them at each other! You can even build walls out of snow to hide behind and duck attacks from the other end of the yard.
73. Pillow fight. Grab some pillows, jump on the bed and whack each other. This is sure to make everyone laugh and have a great time!
74. Water gun fight. Grab some water guns and have fun getting wet to cool off in the summer heat!
75. Catch fireflies. Go out at night with some jars and catch some fireflies. Watch them glow in the jars and enjoy their beauty and take some pictures. Remember to release them soon after.
76. Start an ant farm. Grab a jar and fill it up with sand and then place a few ants inside. Wait a few hours or days and you will see the ants start to dig tunnels. This is a great educational oppurtunity for your kids too. Remember to set them free afterwards!
77. Attend a festival. Medieval festivals are free, all you need to do is walk around and enjoy the sights and smells. You can even dress up for the occasion.
78. Watch a parade. Often there are free parades such as on independence day or christmas. They are always free, even in neighboring towns. Go as a family, and bring folding chairs so you can sit up front and rest your legs.
79. Make impromptu costumes. Grab some sheets and use them as capes, use underwear as hats, or whatever you want! The more creative, the better!
80. Build an ingloo. Grab some of the snow outside and start packing it together to make bricks. Bonus if you already have a plastic playhouse outside, just put snow around it to make it look like an igloo.
81. Start an art project. Pick up some egg cartons, empty paper towel rolls, and cereal boxes and make an art project out of it. 
82. Make a snowman. Big or small, make a snowman together as a family. Grab some branches, a carrot and some buttons to make the face, arms and nose. Add a scarf and a hat and you're done! 
83. Go sledding. Grab a sled if you have one and go to a hill. Sled with your kids and have a blast!
Got any more ideas? Comment below!
Categories: Family Time, Parenting Tips, Mom Tips