by: Rev. Dr. Stéphanie Noircent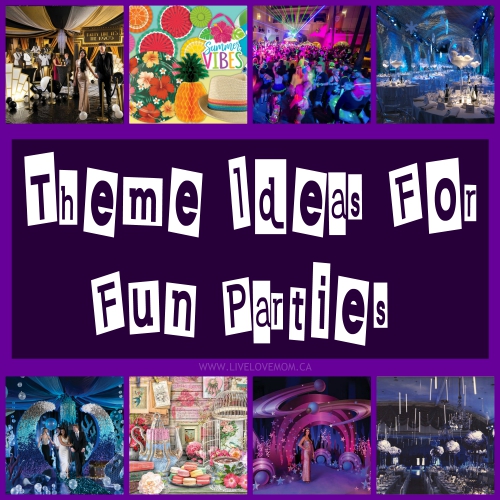 Want to throw a party but don't know which theme to use? Here are some theme ideas for fun parties you can use!
Winter Wonderland. Decorate with some paper snowflakes, pine trees and pine cones. The main colors used are often light blue, white and silver. You can even get food with frosting this color like cakes, cupcakes and cookies to match the theme. You can play winter songs and even have a dry ice machine.
Out of this World. This is an outer space theme and the main colors are violet, silver and black. You can print out pictures of planets and hang them from the cieling as decorations and use dark purple table cloths.
Roaring 1920s. Bring back the swing dancing and decorate in gold, white, black and silver. This theme is becoming more and more popular since people love to dress pin-up. 
1980s. Poofy hair-dos and oldies blasting on the radio makes you want to throw an 80's themed party! Neon colors often come with this theme as color clash was common in outfits in this era. Bonus if you can whip out some vintage wear like bell-bottomed pants!
Feel the Heat. Summer theme with little umbrellas in drinks, floral and fruit decorations. Even the dollar store has items for sale for this theme. This is a perfect theme to go with a pool party. 
Rave. People can wear things with bright lights and techno-themed. The dollar store also sells head gear and accessories with blinking lights that change colors, so you can be dressed the part for cheap!
Movie. It can be a Harry Potter theme, Star Wars, or any other popular movie or movie that you enjoy. 
Tv show. Star Trek, or kids shows like Dora the Explorer for kids are some good examples.
Murder Mystery. Dress up like the old times and enjoy a murder mystery party. This theme is for those who love mystery books and movies.
Under the sea. With an ocean theme, you can use some beach decorations with sand, seashells, and twine. 
Princess. A traditional party theme for birthdays of young girls, this is the perfect excuse to pull out that princess costume and wear it at the party. You can even hire princess impersonators. 
Superhero. Popular for the birthdays of young boys, invite friends over and dress up as your favorite superheros. You can also hire an animator dressed as a favorite superhero.
Costume. A costume party is popular for halloween, but is also a great occasion for cosplayers alike to wear their costumes to a party.
Got more party theme ideas? Comment below!
Categories: Events and Parties