by: Rev Dr. Stéphanie McEndree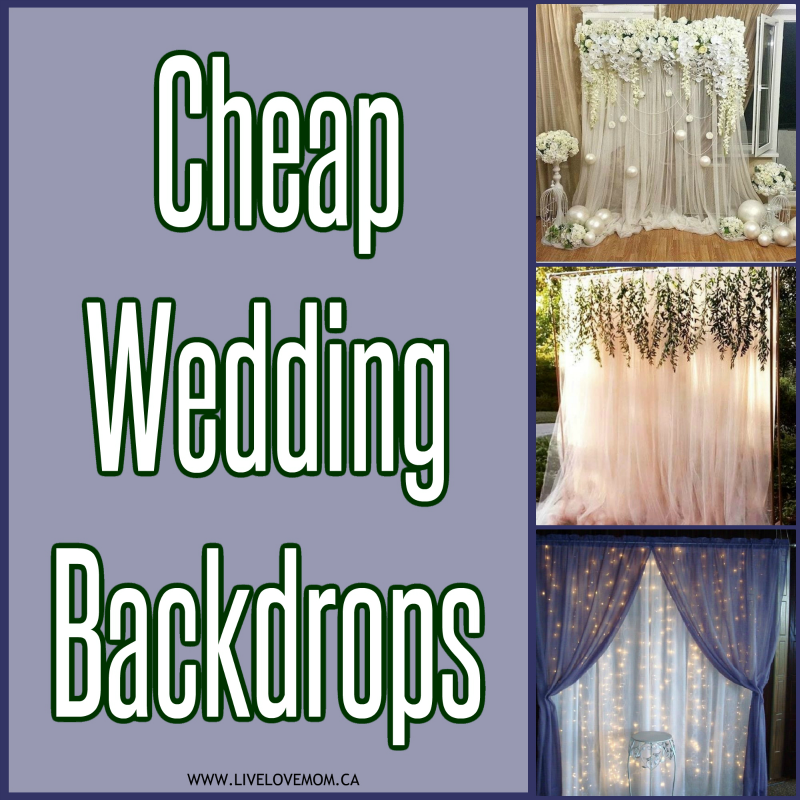 Wedding backdrops can be hard to come by when you're on a budget. Just like photo shoot backdrops, they can range for several hundred dollars. Even store that sell pre-made wedding backdrops often charge a ridiculous price. So, how can you find or make a wedding backdrop the frugal way? Here's how!
Fabric. Go to your local fabric store or a second-hand store and buy the fabric of your choice, ideally in your wedding colors. You can chose a single color, or many colors. Cut them into straight strips. Then, tie them to a curtain pole for the indoors, and a clothesline for the outdoors. Bunch the strips as close together as you want them so they look good, and put them in a pattern if you want. Then, hang the pole on hooks in the wall, or tie the clothesline to poles or trees outside. Voila!
Ribbon. It's fantastic in that it's widely available, has many different textures, designs and colors, and that it's cheap. Visit your local dollar store, craft store, even your Walmart and choose the colors and designs you wish to use for your backdrop. Make them as long as you want them and hold them side by side to make sure they're the same length, if that's what you're going for. Once you have all the ribbon you'll need, tie each end to curtain poles, plastic tubing, or a clothesline. Hang wherever you wish, and enjoy!
Streamers. Go for the tried and true and go to your local party store or dollar store. Grab all the streamers you want for your backdrop. Ombre is popular, so grab a few shades of the same color. Streamers often come in packs of several yards per roll, so you will have plenty for whichever project you come up with. Depending on what you're going for, you can braid the streamers, or just let them hang. Cut them to the desired length, sort them into a pattern of color, and tie them to poles, rods, rope or string. Admire your work!
Tulle. A great choice for weddings and for ballet lovers, tulle makes for a gorgeous wedding backdrop. Simply find a large sheet for you to use, drape it over a rod, pole or clothesline, and fix with pins. Can't find tulle? Use sheer curtains on a curtain pole.
Curtains. White fabric curtains are the most popular for this sort of simple, yet elegant backdrop. If you're having an indoor wedding, simply stand in front of a curtained window. Be sure the curtains are opaque to avoid a silhouette effect, or transparent if that's what you're looking for. Want a larger backdrop? Put curtains on extra long curtain poles, or clothesline. Support them accordingly, and you're done! Remember to keep in mind that white stains the easiest, so if you have lots of children attending your wedding, white may not be the best color choice.
Crystal curtains. Go to your local dollar store and get strings of beads and pearls. You can even buy craft bracelet kits and make your own custom designs. Hang them off poles fixed to the wall for a gorgeous backdrop!
Fairy lights. Re-use your white holiday lights and combine them with curtains or tulle for a magical backdrop.
Paper butterflies. Buy construction paper and print out an outline of a butterfly on thick paper. Cut it out, then trace the outline on the construction paper. Afterwards, cut out all the shapes. Then, take a white thread and needle and sew the thread through each butterfly until you've reached your desired length. Hang overhead on a chandelier, poles, or clothesline.
Paper flowers. Either with tissue paper or coffee filters, make gorgeous paper flowers and glue them to a wooden plank you can stand up to make a unique backdrop.
Wax paper. Got lots of wax paper cone-shaped cups you're not doing anything with? Take a needle and thread and make strings worth of hanging garlands for your backdrop.
Coffee filters. Dip-dye coffee filters in food coloring and let dry. Then, thread a thread through each filter with a needle and create your very own wedding backdrop.
Paper hearts. You can cut out paper hearts from either white paper or come construction paper for color. You can glue or tape them with some string and hang them up on the cieling. They will look very cute as a backdrop.
Paper snowflakes. Cut out snowflakes out of white sheet paper and tape them in the windows. You can also hang them from the cieling as a sort of winter wonderland. These are great as decorations during winter holidays and themes birthday parties so you can easily reuse them.
Greenery. Hang greenery from a large flower put from the ceiling. It can be vines or long branches of willows. Get creative!
Christmas Garlands. Everyone uses garlands to wrap around their tree. They may even make their own wreath by wrapping faux pine tree branches around in a circle. Recycle these items by placing them in an upside down U shape for an eye-catching backdrop.


Got more ideas? Comment below!
Categories: Wedding, Events and Parties