by: Rev Dr. Stéphanie McEndree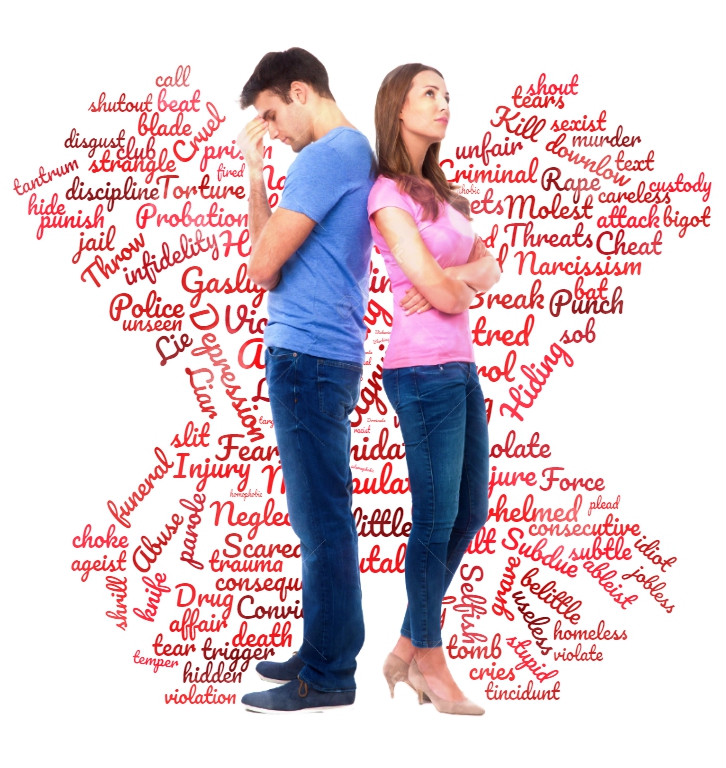 Whether you are reading this because you want to know whether you are in an abusive relationship or not, it's always good to be informed and aware. Feel free to link this to your loved one if you've noticed some disturbing behavior from their partner. Remember, your health and wellbeing comes before anyone else's. If you are being harmed or are unhappy in any way, you have every right to leave that situation no matter what. You are a free person and no one can force you to do things you don't want to do. 
Here are the different types of abuse listed by category.
Financial abuse can rear it's ugly head in many different forms. If you have an income, whether it's welfare or from working, there are ways your partner can use this to abuse you. The partner may demand to know your bank card number and pin, and change it without your consent. They may demand your online banking password and change that as well. Spending your money without your consent is also financial abuse, and so is stealing your money. What some partners will do is keep their victim's money for themselves. Sometimes, the abuser will give their victims an ''allowance'' off of the victim's own salary. More often than not, this amount is barely enough, or not enough, to cover the very basic expenses of life. Abusers use money to control their victims and to keep them from leaving. 
If you don't have an income, your abuser will withhold money from you. They will refuse to spend money on food for you, or to share what they bought with you, such as hygeine products, clothes or food. When you are married, you are considered under your spouses's charge and care, and it is expected that they provide for your needs. They accepted that fact when they married you, there is no excuse to cause such gross neglect. Abusers even do this to their children, confiscating their earnings, stealing their money or withholding them from the basic neccessities of life. It's cruel and is absolutely abuse.
Physical Abuse is the most commonly recognized form of abuse. Abusers will strike, punch, hit, kick, shove, push, or throw their victims. They can go even further and stab, strangle, or break limbs. They can attack and beat their victims, their children, or their pets, even their family members or friends. This is the abuser wanting to exert control over their victims. They want to scare their victims so they are too afraid to leave. The abusers want their victims to do exactly what they tell them to, and use threats and violence to get their way. 
Physical abusers are getting smarter. They assault their victims in places that is usually hidden with clothing. If their victims often wear bikinis, they will strike their victim's buttocks and demand that their victim wear a full buttocks-covering for a bikini bottom. They can stab or punch in the head which is hidden under the hair. They can bite, scratch, twist, pinch, poke, or do anything that is harmful to their victim. To keep their victim with them, they will apologize and offer gifts and say they will change and go to anger management or therapy. This is all lies and when their partner takes them back, they begin the assault again. The cycle continues. Abusers go so far as to kill their victims, and beatings get worse one after another. It causes lifelong damage and even paralysis.
Mental Abuse often consists of gas-lighting, accusations, lying, deflective, defensive behavior. People nowadays call this ''mind games''. Abusers will often put their victims through a series of ''tests'' to prove their love, devotion or loyalty to their abuser. Abusers do this to make themselves feel superior to their victims. They can also invent scenarios they say happened, or will happen, when it never did. They can put you in a false sense of danger, such as lying about being in a gang and that a rival gang has a price on the abuser's head. The abuser can threaten that their friends or family would harm their victim. They yell at their victim in front of everyone, wanting to create a reputation that their victim is not a good partner. They threaten to ruin their victim's reputation and spread rumors about them. They get a thrill out of watching the mental anguish this causes their victim. They want their victim to seem like the ''bad guy'', and the abuser wants pity and sympathy from others. This may be a way to destroy their victim's confidence so that it makes the victim believe that police would never believe that the abuser is abusive or did anything bad. 
Psychological Abuse is one of the unseen forms of abuse. It often consists of threats or any attempts to frighten, isolate or control the victim. It's also called emotional abuse or verbal abuse. This includes verbal aggression, intimidation, manipulation, and humiliation. Most of the time, this form of abuse unfolds as a pattern of behavior over time who's aim is to destroy another person's sense of dignity, identity, self esteem and self worth. Victims often end up with anxiety disorders as they are subjected to this trauma.
Often the abuser belittles and insults their victim. They say these insults often so that the victim will start believing them. They say that no one else will ever love the victim, or that they are not worthy or deserving of love, or anything else that they need or want. It's truly soul-crushing.
Spiritual Abuse, also known as religious abuse, is when an abuser prevents his victim from practicing their religion. The abuser stops the victim from going to their place of worship or speak with any members of their clergy. They will mock the religion and it's customs and practices to make their victim feel ashamed to do anything spiritual or religious in front of the abuser, or at all. The abuser will impose their beliefs on the victim and may force the victim to participate in the abuser's own religion or spirituality, knowing full well the victim doesn't believe in it. They can prevent their victim from speaking about their religion or spirituality, performing prayers or rituals, and even force-feed their victims when they are practicing religious fasting. They can sabotage their victim's plans to go on a pilgrimmage, visit a holy place or even attend their confirmation, baptism or ba(r) mitzvah. Abusers know that worshippers can claim sanctuary or go to a faith-run shelter if they want to flee the relationship. This is their way of cutting off their victims' ties to further trap them into a relationship with the abuser.
Freedom of religion is a basic human right. To be deprived of one of the basic ways one can express themselves and devotion to their dieties or ancestors is horrible. If you recognize anything in this text, you are being abused.
Cultural Abuse is when an abuser prevents their victim from participating in their own culture. For example, Native American children were forced to wear colonist's clothing and not permitted to paint their faces, speak their native language and their hair was cut short despite the cultural significance of their long hair. Even to this day, people demand that immigrants speak the nation's official language in public, and not their own native tongue. Abusers will also prevent victims from celebrating cultural holidays such as Cinco de Mayo, Dio de los Muertos, Mardi Gras, St. Patrick's Day, or anything else that is important to the victim. Abusers will do everything to prevent their victims from getting tribal tattoos as pacific islanders do, to get piercings like certain tribes do, or even very modern and basic things like breastfeeding and baby-wearing the victim's own child. 
Often cultural abusers will force people who are not of their own culture to assimilate. They will try to wipe out their victim's culture and heritage and prevent the victims from repeating this. If they have children together, the abuser may even lie to children saying their victim parent does not come from that place, and prevent that parent from reciting cultural tales, songs or rites. 
Sexual Abuse can come in many forms. The abuser sexually abuses their victim when they sexually harrass their victim, molest, rape, or traffick them. This includes genital mutilation such as amputating the clitoris, sewing the vagina shut, castrating or amputation of the penis and forced sterilization or pregnancy and birth. This is one of the most sadistic forms of abuse. Centuries ago when people were forced into slavery, the abusers would force their victims to have sex with each other, even their own family members in order to cause pregnancies to make more victims of slavery. It's where the term ''mother-fucker'' comes from.
The abuser can also purposefully withhold sex from their partner as a form of punishment, reprimand, discipline, or a way to control their victim. This is often a form of manipulation to get their victim to do what the abuser wants. The abuser may also spread false information and rumors about the victim's sexual talents or body to ensure no one else will desire their victim. Abusers can also infect victims with STIs on purpose to trap that person. They can also lie about their own sexual health in order to more easily infect their victim. Abusers can also wear a condom during sex, but then secretly remove it without the other person's knowledge or consent. All of these and more are forms of sexual abuse.
Do any of these behaviors or actions sound familiar? Then, unfortulately you are in an abusive relationship. Pack a few things and get out of there as soon as you can. You deserve better, and you are worth more, and you are loved.
Categories: Life Advice, Relationship Advice, Issues