by: Rev Dr. Stéphanie McEndree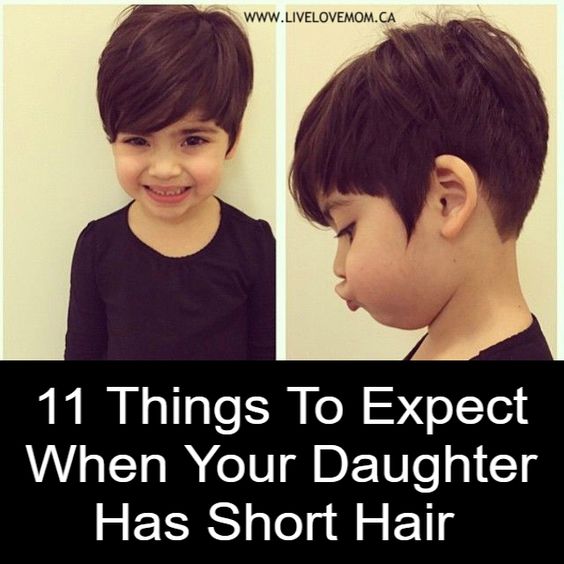 Recently, my 4-year-old daughter told me that she wanted short hair. I wasn't sure if she was serious, but she kept insisting. I showed her different short hairstyles and she chose one. ''Mom this one! This one! Please, cut my hair up to here, please please please!''
Other than a trim and her dad giving her bangs, she's never had a haircut. I looked at her long and beautiful, golden curls and felt some sadness. I didn't want to let them go. I had been told before, once they are cut they may never grow back again. The moment was fleeting, and I realized that this is her hair on her head, and she should be able to make decisions about her own body (that aren't life and death). So you know what? I told her yes.
We headed upstairs and I have a professional hair-cutting kit and I put the smock around her and sat her on a dining room chair in the bathroom where there is a full-length mirror. She grinned ear-to-ear and giggled, she said ''I'm so excited!'' I kept asking her if she was sure, and she kept saying yes. So I combed her hair, pinned up different sections, and cut the back layer to the length she wanted. She saw her hair fall on the floor and squealed in delight. ''I can stop if you want. Are you sure? Do you still want me to do this?'' I asked. ''Yes mom stop saying that and cut my hair!'' So section by section I cut it until it was the length she wanted.
She looked at herself in the mirror and grinned so much her cheeks started to hurt. She said, ''Mom I am so beautiful, I look like a princess!'' I told her yes you are. She absolutely loved her haircut and still does. I'll never forget how happy a simple haircut made her.
I didn't expect it to look so gorgeous on her, but it does! Her face shape is perfect for it, and her thick hair frames her face well and there is even a part that curls still by her ear. She says she loves braids so I've braided the hair out of her face in a short one and she is just as happy as when I braided her long hair. 
1. Mistaken for a boy
''His hair is getting a little long, it's time for a haircut,'' I heard a stranger say. That day she was wearing an orange shirt and tan shorts (gender-neutral). I'm glad she didn't hear it, or she must have thought it wasn't about her.

''Why is he in a dress?'' Well first off there is nothing wrong with a boy in a dress, secondly why do you care what a stranger is wearing, and thirdly short hair doesn't mean boy.
I was surprised I was getting these remarks because her hair really isn't that short.


2. Hoping she doesn't hear the comments
The last thing I want is my little girl to be hurt or confused. I am thankful she has a happy-go-lucky attitude and if she does hear, she corrects the person. ''I'm not a little boy, I'm a big girl!'' 
Another mom asked me if I cut her hair because my daughter had lice. I informed her that you don't need to cut hair to help with lice anymore, and no, my child has never had lice. 
3. Having the other parent freak out
If you're a single parent, the other parent might freak out. Girl's hair is seen as a precious sign of femininity and I have no idea why, but parents often never cut their kid's hair other than a little trim, even if their daughters beg them to. Some girls have to wait until they are 18 years old before they cut their hair, or they get it cut by a friend, or they do it themselves. 
I remember the first time I cut a bit of my own hair off, my mother started crying when I showed her the hair I had cut off. My 6 year old had cut a little bit of her hair off and she expected me to freak out but I didn't. I told her it was her hair and it was fine. Her father however...he told her and my 4 year old that they need his permission to cut their hair. I told them privately that this isn't true, it's their hair and they can decide whether they want to cut it or not.
Even my husband looked at my daughter before she cut her hair and said ''please don't cut your hair, I like long hair.'' To which I looked at him and replied ''Then grow your hair long, your preference doesn't matter on someone else's hair.'' Men are taught to value feminine aspects at a young age such as dresses, skirts, pastel colors, long hair, lipstick, everything that people would call ''girly girl'' stuff. It can take years to unlearn these things. So with a little help I taught some people that they should never pressure my kids to keep their appearance a certain way to please someone else. No one ever asks this of boys and I won't have it.
4. Adults may not be so nice
''Why would you cut your hair?'' and I've heard ''Did you cut her hair as a form of punishment?'' and also ''Did you force her to cut her hair?'' Of course the answer is no on the last two counts and the first, well it's nobody's business but my daughter's. 
5. Grandparents will react
''Her hair is always in her face! Why did you cut it so short that she can't wear a ponytail?' How are you supposed to do her hair? Now I can't braid her hair anymore or make cute pigtails!'' Well her hair isn't anyone's plaything or possession. I stand by my daughter's decision to have her hair cut in the length she desired.
6. People you don't know will think you're crazy
Strangers will comment things saying I am trying to force masculinity onto her, or that I wanted a boy so I cut her hair and make her wear boy's clothes. Some have said I am blind and can't tell my kids apart so I had to cut the hair of one of them. Others will cite articles where parents or teachers abusively cut a girl's hair as a punishment and accuse me of doing the same. They will say I want to make her appear younger because I can't accept the fact that she's no longer a baby. It's really horrible how seriously people take a haircut.
7. Her hair will be talked about everywhere
There are positive comments out there of course. ''What gorgeous thick hair she has!'' ''What a beautiful bob!'' and she has been compared to Ruby Rose on the set of OITNB. She will also put on a crown and a princess dress and say that she is a beautiful princess and no one dares say otherwise.
8. Her hair has been a teacher
I feel like this was a very important step in teaching her about consent. I always tell my girls that their bodies are theirs, and they get to decide for their bodies. She had decided to cut her hair, and I did it. When she was younger she wanted her ears pierced (later changed her mind so we took them out), so we did it. I won't change anything about her appearance unless she asks. I remember people giving me and my friends a real hard time about them getting their hair cut, and quite frankly it's ridiculous. It's dead protein strands attached to a scalp, and it always grows back.
I also think that this helps teach her about gender roles and how they are fluid. Girls aren't required to have long hair, and boys aren't required to have short hair. We are fortunate to have members in my family where the ladies have short hair and my brother has longer hair, I want her to know that it's okay to be herself and not worry about the little box of femininity society try to trap her in.
9. Kids may say mean things
She hasn't been to school yet at her age, but it's bound to happen. There is a child in her daycare who has hair on the longer side and she was told that she looks like him. But not once did she tell me she wants to grow it back. She did come home crying from daycare once when she told me that a kid told her she wasn't pretty. I gave her a big hug and I told her that this kid is wrong. She said her daycare teacher heard what the boy said and he was reprimanded. Parents, teach your kids to be nice and not to be bullies, especially at such a young age. Thankfully I am always able to console her, and her teacher and friends and family boosted her confidence again by telling her how beautiful she is.
10. You need to be creative with hairstyles
Longer hair is easier: wash it, brush it, put it in pigtails, a bun, a ponytail or a braid and you're done for the day. Not with short hair! You need to pull back the hair from her face and secure it with a hairband. You can braid this as well so your daughter can have some braids. You can also do small pigtails. If some hair still falls in her face or her hair is too short to be kept back in ponytails, you can always add barettes to keep her hair away, or hair clips or bobby pins. You can also put on a headband or a bandana. There are still lots of possibilities and let your child choose as well.
11. You may need to brush her hair more often
The first time I cut my hair as a child, my mother told me that I would need to brush it more often. I'm not sure if this is true or not, but just in case it is I've listed it here. Since the hair can't be tied back in one long braid, it will move around a lot more as your daughter runs around, so it will get messy faster. You may have to comb or brush her hair accordingly. However, I have found that personally with my daughter, brushing once a day is fine and she hardly gets any knots. It depends on the length.
All in all, hair is just hair! Let your child choose which hairstyle they want. If they ever don't like it, their hair will always grow back!
Categories: Mom Tips, Parenting Tips, Current Events