by: Dr. Stéphanie McEndree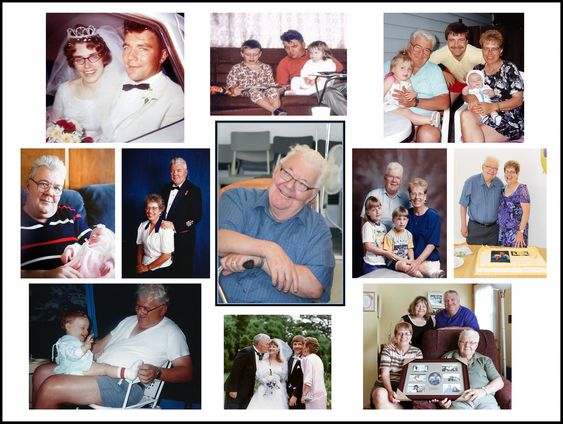 Dear Grandpa,
I can't believe you're gone. I was sure we would have at least a few more years together. I wasn't told that you were in pain, or that your health was declining. I wish I had been informed sooner, before it became too late. I was told before you went, you had no more pain. I am glad that you were able to pass away with your dignity intact, and that you are no longer suffering. You never wanted to be in a nursing home, so I am relieved you never had to go in one. You were able to stay home with your wife and close to your loved ones. 
I am very thankful that you came to my wedding. My brother and myself, and my girls were able to see you one last time before you passed away. My brother hadn't seen you in three years before then so it was especially important. You got to meet his girlfriend of now seven years. I am glad that I went to visit you April of last year. We got to spend a week in your home where my girls brought you great joy. My oldest particularly enjoyed your company, and would cuddle and hug you a lot. We all sat together during mealtimes and ate well. 
Not many men live to meet their great-grandchildren, and I am so happy you met yours. I never had the pleasure of meeting any of my great-grandfathers, and here both my kids met both of theirs through me. It truly is a blessing. You were there for the most important milestones of my life; my children's blessings, and of course my wedding. You got to meet my kids when they were babies, and got to watch them grow up to school age. That certainly is something.
I remember you fondly. My brother and I would play in your basement when we were just kids. As we grew up, we got to spend more time with you. I would cook with Grandma and my brother would accompany you in your wood-working. I'd knit with my grandma and you'd play outside with my brother. We were always well fed, loved and pampered when we went to your home. We got to spend time with my aunt Trina and all her dogs. You even came to visit us during different holidays. It was very special having grandparents who not only spoke english, but who were so active in our lives. There wasn't a birthday or Christmas that went by without us getting a card from you and Grandma, even as adults. 
When I visited you in PEI, you told me your life story. I wanted to share that with the family now, and I can tell you that I won't ever forget it. You were a strong and brave man, and you loved your family the best you knew how. We will always remember you and keep you close in our hearts. We love you, Grandpa. We attended your funeral and there was no dry eye, not even my kids. They understand now that you're gone and you aren't coming back. They also know that you are watching over them now. Rest well, Grandpa. Rest in peace.
You were born the day after Christmas in 1939 to Alexandre Hallis and Marie Marguerite Baker, in Montreal. You were their first child, and you would later have six brothers and sisters. The youngest of your siblings was born when you were 9 years old. Your family lived in Longueuil, and you were particularly close to your Aunt Rosie. When you were about 15 years old, you were given to an all-boys orphanage. Your mother was deemed mentally unfit to care for her children, and your dad was working. Your siblings were also put in orphanages. You spent your teenage years in that orphanage, and you were able to visit your family for Christmas. They always gifted you clothes, since toys were not allowed to be brought back with you to the orphanage. You got to spend holidays with them. The orphanage wasn't easy, as the boys would cause fights and there were bullies there as well. At 16 years old, you finally got out of the orphanage. Orphanages were being abolished and a foster care system was set up, and you had nowhere to go. You told me that your younger brother Georges was taken from your parents and placed with a foster home at that time. You said he was the only one never to have been put in an orphanage, and you suspect he was abused. You signed up after new year's in January, in the military by telling them you were 18 years old. You chose the Air Force, and started out as a Private. Finally you could start your career, and you had a place to go. In your 20s, you were stationed in Prince Edward Island, where you met my grandmother. You were married in August when you were 23 years old and settled on the island with your wife. The next year, you had my dad. My grandma got pregnant twice more but unfortunately miscarried. She was told by the doctors that she would never have any more children. You moved to Bagotville since you were assigned to the base there, and Grandma was pregnant again. Thankfully, 6 years after my dad was born you had a healthy baby girl, my aunt Trina. You stayed there for a few years and that's how my dad and aunt learned french. You knew french already since you were born and grew up in a french province, but it was new to my dad and his sister. Grandma of course refused to learn the language so it must have been lonely for her. As live went on, you were stationed in Nova Scotia, and even Germany as my dad recalls. My dad told me that at one point you were in boarding houses for military families, and there were rats that came in the house out of the toilet. I was told that you killed the rat, flushed it down the toilet, so that ''those other rats know not to come up this toilet''. That actually worked. You found your calling in the air force as a firefighter and put out fires in military airplanes. You had accululated so much vacation time that you ''went on vacation'' when you were 52 years old. By the time you were 55, you had retired at the highest rank, Chief Warrant Officer. You settled in PEI with your wife and daughter. You wisened into old age and watched your kids, grandkids, and great-grandkids grow up. You did wood-working as a hobby and didn't do it for a profit. You could figure out measurements just by looking at a photo of something. You were really talented. Your father's family came from the Ukraine and Poland, and your mother's family was french. You were buried in Pleasant Valley, PEI. 
Rest In Peace
Jean Hallis
1939-2020
Categories: Current Events, Family Time, Life Advice