by: Rev Dr. Stephanie McEndree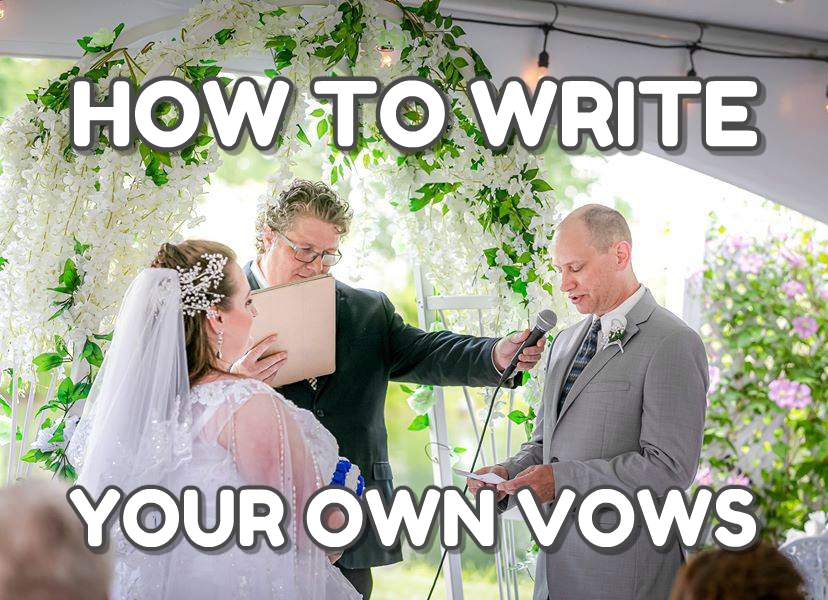 In my experience, it's always better to write your very own vows. I've said vows to my husband three times; once at our wedding where they were bits and pieces of vows I read online I felt I related to. The second, at our handfasting where my husband and I read the traditional celtic vows. And finally, just today where I wrote my very own vows that came from the heart. It's only with the vows from today that I cried saying them, and that they felt truly 100% right. My husband wrote his very own with no pre-written guides at the wedding, and he cried, and never regretted them. I therefore stand strong in my opinion: always go with your very own vows, straight from the heart.
Now some people aren't the best writers, and that's okay. There are many tips that can be used to make your words into beautiful vows, or even just say them the way they are. Here are some tips to help you write vows from your own very heart.
Listen to other people's vows. Choose the style you like the most, and what you love most about what was said. Was it when the bride reminisced about when they first met? Was it when she described their first I love you's? Was it when she described the very essence and depth she feels her partner's love?
Use your own words. This is very important to make them your very own. For example, my cousin's vows to her wife were "You are in my bones Heather Dawn." and her wife's words were "You are in my bones, the tips of my toes to the tips of my fingers." So I went with the parts of me that I felt my husband's love…I said "You are in my heart, my mind, my soul, and my womb where our child will grow, Bart Alan." You see, I described where he was in my being, which turns out were very different places, and had very different meanings. You can do something similar in your vows.
Get fancy. If vocabulary isn't your forte, look up the adjective you want to use on the thesaurus website and search for synonyms of the word you want to say. For example, if you want to say your husband is good to you but want a fancier word…you can use sweet, kind, generous, understanding, compassionate, etc. Go deeper than a general word if you can. Just exactly HOW is he good to you? What does he do that makes your heart sing?
Choose difining moments. When was the time you knew she was the one? When did you have your first adventure together? How did you feel when she proposed to you? These and many more you can use in your vows, and bringing you back to those magical moments on your wedding day, with your future spouse in front of you looking your best in front of all your friends and family, will make your heart burst with joy.
Include your culture. If you want, you can include aspects of yours and your fiancee's cultures. You can speak about the times you first read the Torah together, or how special it was having your fiance at Temple with you. If your spouse converted to marry you, that is also something you can bring up to show how moved you were at their dedication. You can include your spiritual journey together, or quotes such as "couples that pray together stay together."
Following these tips, you are sure to create a masterpiece. Feel free to write many different drafts, even combine them and make something truly unique.
Categories: Marriage Tips, Relationship Advice, Wedding