By: Rev Dr. Stephanie McEndree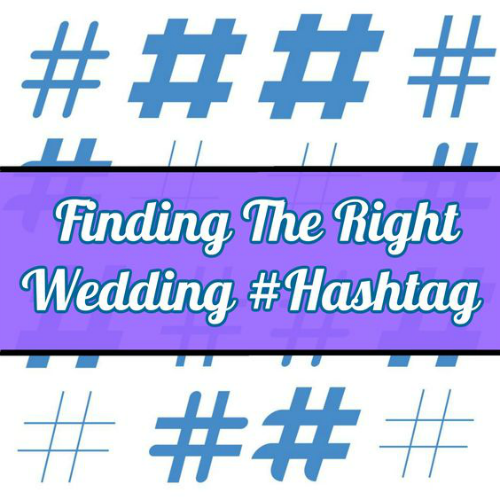 Wedding hashtags are rising in popularity. With the social media generation, it makes finding your wedding-specific posts easier.
Hashtags were created to find specific things you are looking for. Since the hashtag #wedding has millions of posts, it would be hard to dig through those for hours just to find your photos. Professional photographers, venues and family members can use a custom hashtag created by the couple so it's easier to find their posts. Are you ready to find yours?
For those who have tough last names, such as Asian or Russian names, we suggest a hashtag in your own language. Or, use the woman's last name in a hashtag such as this: #RomanovNoMore for those who will take their husband's surname. You can also use generics, such as #MrAndMrsGusenov and such.
Here are some ideas for popular last names.
Combs: #HereCombsTheBride
Murray: #WillYouMurrayMe #GettingMurrayed #WeAreGettingMurrayed
Smith: #SmithenByYou #ForeverSmithen #AlwaysSmithen
Heele: #HeadOverHeeles
Vincent: #WeddingOfTheVincentury
Jones: #JonesingToBeWed
Hall: #HallwaysAndForever #DeckTheHalls
Reede: #ReedeingOurVows
Redd: #YouReddMyMind
Moore: #ILoveYouMoore #MineForeverMoore 
Brown: #BrownWedding
White: #AllDressedInWhite #WhiteDressWedding 
Greene: #GreeneWeddingDay
Day: #ItsOurWeddingDay #DayTimeWedding #DayWeddingTime
Wyatt: #WyattDontWeGetMarried
Parker: #ParkerRightAtTheChapel
Endree: #EndreeIntoMarriage
Bell: #RingTheWeddingBells
Lyons: #ImNotLyons
Dore: #DoreMiWedding
Moss: #MossBeTrueLove
Lachapelle: #GettingMarriedAtLachapelle #HitchedAtLachapelle
Gates: #GatesToMatrimony #GatesToHeaven
Baker: #BakerAWeddingCake
Rider: #RiderOffIntoTheSunset #RiderIntoTheSunset 
Trump: #LoveTrumpsAll
Obama: #ObamaSelfNoMore
Sherman: #ShermanAndWife
Herman: #HerManForever #HermanAndWife
King: #KingAndHisQueen
Morrison: #MorrisonToGetMarried
Paynter: #MarryAPaynter
Lloyd: #PraiseTheLloyd
Lord: #MarriedBeforeTheLord
Dalton: #DalTonsOfLove
Carlton: #CarlTonsOfHappiness
Tobe: #MeantToBe
Tremblay: #ImTremblayingWedding #ImTremblaying
Ramos: #VamosRamos
Miller: #MillerWeddingDay
Love: #LoveIsInTheAir
Black: #BlackTieWedding #BlackSuitWedding
Farmer: #FarmerFreshWedding
Ruiz: #JeezRuizWedding
Gonzales: #GonzaLesGetMarried 
Flores: #SmellTheWeddingFlores
Rodriguez: #RodriguezWhatImGettingMarried
Williams: #WilliamsYouMarryMe
Johnson: #JohnsonNoMore #JohnsonNotLonesome
Anderson: #AndersonTheyLivedHappilyEverAfter
Gahm: #2CanPlayAtThatGahm #GahmOn
Schucks: #AwwSchucks #SchucksToBeSingle
Spratt: #HolySprattrimony
Hines: #HinesByMe
Coppola: #ACoppolaNewlyWeds
Petti: #SammyGetsPetti
Watts: #TurnDownForWatts
Barretter: #ForBarretterOrWorse
Hesstory: #TheRestIsHesstory
Schulte: #ThouSchulteMarry
Perez: #ForThePerezOfOurDays
Sumanny: #SumannyReasonsToMarryYou
Wright: #FoundMrWright #FoundMissWright #FeelsSoWright
M(a)cPherson: #YoureMyMcPherson #YoureMyFavoriteMacPherson
Richards: #ForRichardsOrPoorer #RagsToRichards
Schwartz: #DontThwartTheSchwartz

Jones: #JonesingToBeA(husband's last name) #JonesingToBeHitched
For first names:
Chris & Mary: #MaryChrisMrs
Stephanie & Hugh: #StephanieReasonsToLoveHugh
Evan: #LoveYouEvanMore
Hugh: #HughTakeMyBreathAway #ILoveHugh #WillHughMarryMe
Lockhart: #LockedAndLoaded
Saul: #SaulIEverWantIsYou #SaulIEverWanted
Richard: #ForRichardOrForPoorer
Margaret: #IWillNotMargaretThis
William: #WillYouBeMyBride #WillYouMarryMe
Mei: #YouMeiKissTheBride #YouMaeKissTheBride
Mary: #WillYouMaryMe
Bart: #YoureAPieceOfBart #YoureAWorkOfBart #AlwaysPartOfMyBart #MyLoveMyBartMySoul
Cameron: #CamtWaitToMarryYou #CameronNeedsMaceroons
Zachary: #ZachsWhatImTalkingAbout #ZachsAllFolks
Wanda: #IWandaBeWithYou #IWandaMarryYou
Eli: #EliEverWanted 
Ashley: #AshleyEverAfter #AshleighEverAfter #AshleeEverAfter #AshMeToBeYours #AshMeToMarryYou
The best hashtags for weddings are punny and make use of the words and names used. When common names are used, such as Smith, the wedding year, date or location can make yours more unique. For your own unique hashtag, be sure to email us at livelovemom1@gmail.com or comment below

Categories: Marriage Tips, Relationship Advice, Wedding