by: Stephanie McEndree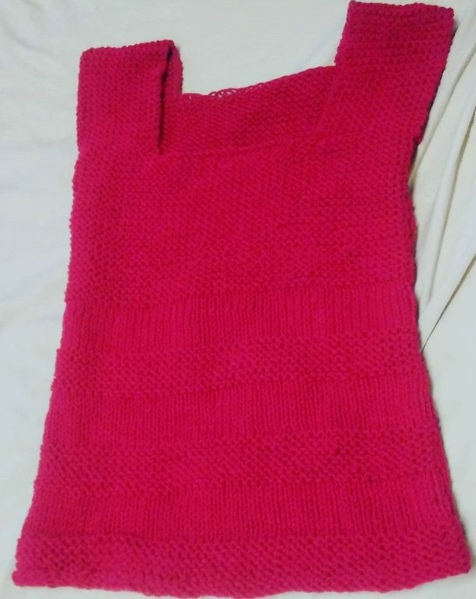 This knitting pattern can either be a size L-XL dress for a child, or a size XS-S tank top for adults. In order to do this pattern, you will need to know the garter stitch, the stockinette stitch, how to cast on, how to cast off, and how to weave in ends. You can use a tapestry or yarn needle to weave in ends, but I tend to use a crochet needle since that's what I have on hand. You can make both sides of this piece the same length so the collar is the same, or you can make one side longer to make the front or back collar more low-cut. This piece is best worn loose, so you can knit it a size up to make it nice and airy during the summer. It's also completely reversible, so you can wear a striped tank or a garter stitch tank all in one piece.
Size: Adult XS or children's L-XL
Guage: 5 stitches = 1 inch
Items needed:
Red Heart Comfort Yarn 1000g in red
Size 11 single point knitting needles
US size 7 crochet needle
Scissors
Stitch holder or another single point knitting needle
Instructions:
Cast on 50 stitches. 
Knit in garter stitch for 6 rows.
Knit in stockinette stitch for 6 rows.
Repeat steps 2 and 3 until piece measures about 15 inches, ending on stockinette stitch.
Knit in garter stitch for about 5 inches, or until piece measures 20 inches.
Knit 15 stitches. Place them in a stitch holder or another knitting needle.
Cast off 20 stitches. 
Knit remaining 15 stitches in garter stitch.
Continue knitting until strap measures 4 inches. 
Cut off the yarn so it measures 5 inches. Weave it in with the crochet needle.
Remove stitch holder and place it on the strap. Join yarn with the future 2nd strap.
Place the knitting needle on the other 15 stitches and stitck in garter stitch for 4 inches.
Knit the 15 stitches of the strap. Cast on 20 stitches.
Remove the stitch holder and place your free needle through the first strap's stitches. Knit them in garter stitch.
Knit in garter stitch for about 5 inches.
Knit in stockinette stitch for 6 rows.
Knit in garter stitch for 6 rows.
Repeat steps 16 and 17 until that side of the piece measures 23 inches.
Bind off. Flip inside out so the striped pattern is facing inwards.
Match up the hem. Sew in the sides, leaving a 4 inch (for a child's dress) to 7 inch hole (for adult tank top) for the arms.
Weave in the ends. Turn inside-out, and your piece is done.
Try on your tank top or put the dress on your child! See how they like it. It's perfect for those hot summer months, and can be worn on top of a long-sleeved cotton shirt during the spring or fall. 
Categories: Knitting Patterns, Homemaking Tips, Homemade