by: Stephanie McEndree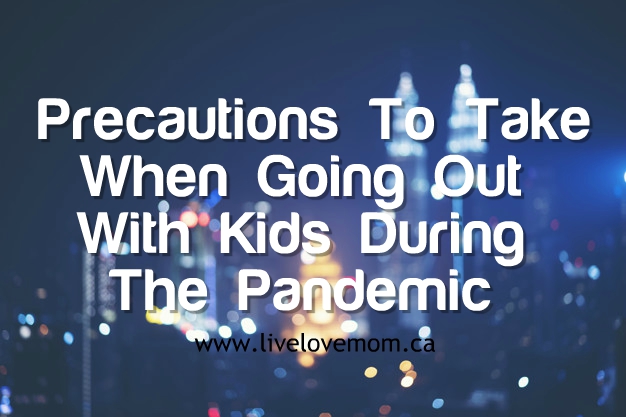 Wear a mask. Have the kids wear a face mask as well as yourself. With coughing, sneezing or even talking launches airborne particles of the virus into the air up to ten feet away, it's better to prevent than to treat. Even if you don't have medical-grade surgical masks or N95 masks, a cloth mask or bandana is better than nothing. 
Wear gloves. Put on gloves on the kids hands as well as your own. Be sure not to touch your face while you have these gloves on. Discard them at the trash can by the grocery store's doors after you leave. This way you avoid cross-contamination on your vehicle and other objects you touch every day.
Social distance. Maintain a distance of at least 6 feet between people at all times. The only exception is the people you live with, and health professionals such as a doctor that has to examine you. There have been lines outside grocery stores before being allowed to go in. Maintain a distance of six feet between those people and yourself and your kids. 
Bring wipes. Use clorox wipes or similar to wipe down shopping carts, as well as door handles and light switches. Not only are you protecting yourself and your family, but you are also protecting others and minimizing the spread of the virus. Remember, baby wipes are not anti-bacterial and contain no anti-viral properties.
Disinfect groceries. When you get home, wash the reusable bags and wipe down grocery boxes and bags. As more and more people are infected every day, it's important to keep things clean. A box of cereal can be touched several times a day per person, so can the milk or juice carton. Keep things on the safe side and wipe it down with a disinfecting wipe.
Wash your hands. Wash their and your hands when you get home. Be sure to use warm water and soap and wash for at least 20 seconds. You can sing songs to help you remember, such as singing ''Happy Birthday''. This is also a great time to teach younger kids proper handwashing techniques and hygiene if you haven't already.
Order online. Some grocery stores offer an online cataloge of groceries that you can order in advance and have them delivered the next day. This is especially useful if you are a single parent or if one of your family members are high risk. 
Got any more suggestions? Comment below!
Categories: Current Events, Parenting Tips, Life Advice