by: Stephanie McEndree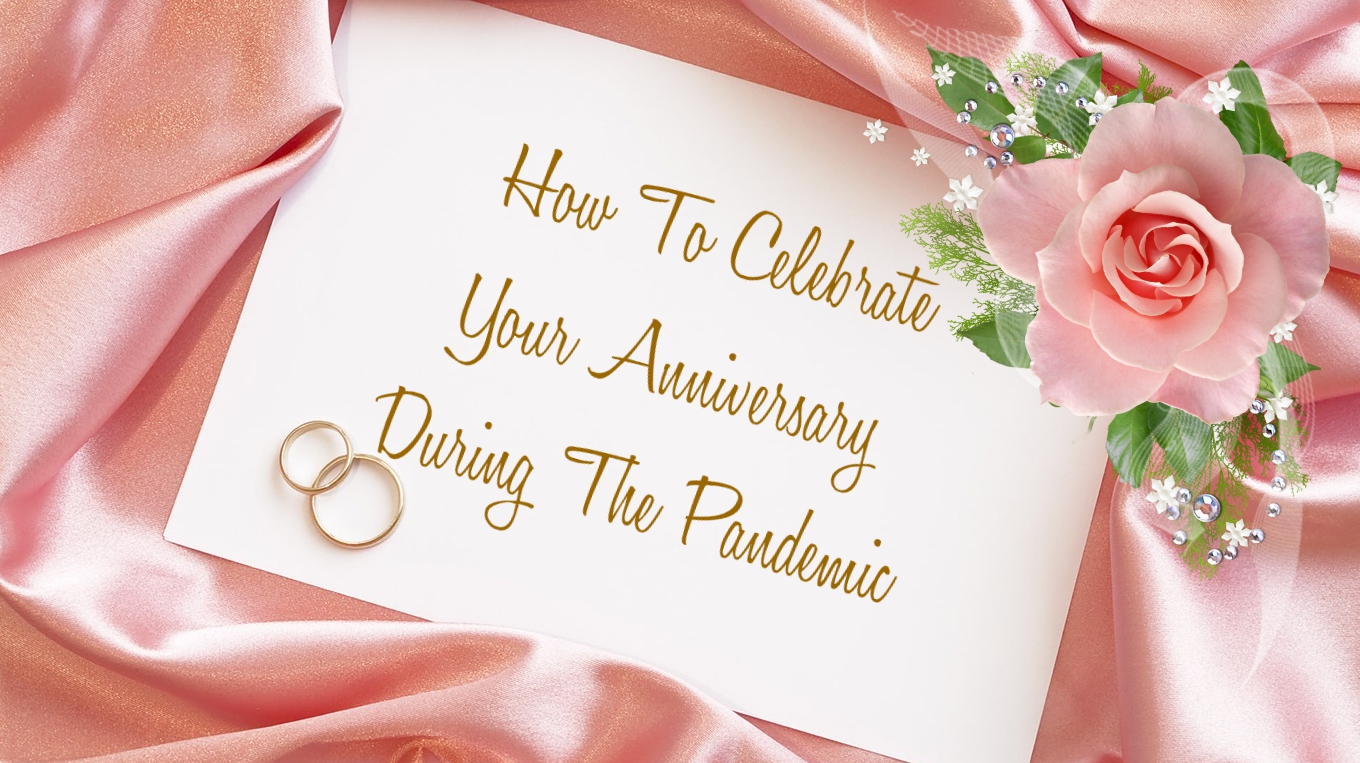 Here are ways to celebrate your wedding or relationship anniversary during the pandemic.
Turn up the music. Turn on the song to your first wedding dance and dance your wedding dance together. See if you can remember the steps off the top of your head, no practicing and no cheating! If you make some mistakes you can laugh about it together.
Cake time. If you saved the top of your wedding cake at the wedding, bust it out and eat it together. If not, ask the bakery to make one like your old wedding cake but in a smaller portion for two. 
Reminisce. Look through your wedding album and flip through your wedding photos. Pick out your favorite moments and memories and chat about them together. Watch your wedding video and honeymoon video if you have them, cuddle up under some blankets and hold hands. 
Break out the bubbly. Have a private toast together and drink champagne. Treat yourselves to mimosas in the morning. Pair your favorite wine with some savory dinner. Light some candles and eat by candle light, and play some soft music if you'd like. 
Order memories. Order some food from the caterer you used at your wedding, bonus if you choose the meal you had on your wedding day. You can have a picnic in your backyard, eat on your patio furniture or even indoors on the living room floor with a blanket. 
Make it fancy. Go out to dinner at your favorite fancy restaurant and order your favorite meal. Bonus if they have dim lighting. 
Write it out. Write a letter about your favorite moments of your first year of marriage. Trade each other's letters and read them.
Renew your vows. Have a small self-officiated ceremony in your backyard, or even in your home. Recite your wedding vows together and add in some new ones. You can even throw in some humorous vows in there such as, you promise to help him look for things that are right in front of him. Have a good laugh together and make it your own.
Make love. Bust out some massage oil, sprinkle rose petals on the bed and in the bath, have a bubble bath together, play some sensual music, light scented candles and make sweet love.
Stay the night at a hotel. Often, brides and grooms stay at a hotel the night of the wedding, or the night before. Go back to that hotel and stay there again to reminisce. If you didn't like that hotel, choose one in town and make it a staycation. Relax, let the staff clean your room for you, and order in some room service and have some spa services if they're available. If you have the cash to spend, splurge for a 5 star hotel with a jaccuzi, hot tub, pool, sauna, gym, fancy restaurant and massage therapy.
Got more ideas? Post them below!
Categories: Current Events, Marriage Tips, Relationship Advice