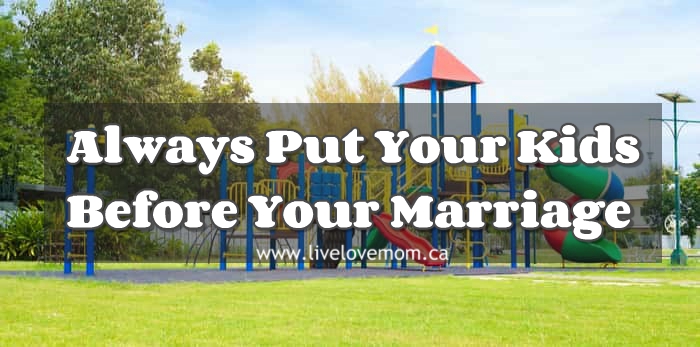 I have heard and seen over and over on social media, the phrase ''put your marriage first always'', and to put their kids in second place. Having been raised in that exact environment, I have to wholeheartily and completely disagree.
As some of you know, I am no longer with my children's father. The relationship was toxic, and I am very thankful that I ended up out of it. If I had stayed in that relationship and stuck to the ''put your relationship first'', then I would maybe still be with him. I would have taught my children that it's okay to stay in a relationship you are unhappy in, and that it's okay to be mistreated by someone. They would have learned that this is how you treat someone that you love, and it would have reflected on their future relationships. Growing up in a toxic environment like that is good for no one, especially the children. Can you imagine growing up in a place where it's tense in the air, mommy is crying, and daddy is yelling? It's not something I wanted for my children, nor for myself. They say, happy mom, happy baby. So I did what I had to do, and I let go for good.
Now, having grown up in an area where my parents prioritized their marriage, I felt second-best during my highest moments. My dad made it clear that my mom was more important to him than me, his own flesh and blood. I remember crying to my grandmother about it. I remember feeling like, no matter what anyone did or what happened, they would stay together. And I was right.
My father started hitting me. My mom, prioritizing her marriage over her kids, stayed in the marriage that entire time. She never left him, she never called therapists or child protective services for help, never even came to comfort me when he was done. She just let it happen. It has affected me very negatively. I harbor a lot of anger not only against my father, but against my mother for not protecting me or leaving. She should have taken me and left. But she loved him too much, and was financially dependent on him. And she learned to put her marriage before anything because in the end, when the kids left the nest, she probably didn't want to be alone. She probably figured she was spending the rest of her life with my father, not me. 
Now as women we are raised that divorce is for losers, that we have to stay in a marriage no matter what. We are accused of not trying hard enough, of giving up too easily, that we should stay for the good of the children. As women are raised and conditioned to believe that being married and staying married is the ultimate goal, men are getting better and better at hiding their abusive tendencies. They wait until after the wedding to show signs of abuse, or they wait until the woman is pregnant, or he has alienated her family and her friends away so she is isolated and completely dependent on him. It's a gradual process, and it is a vicious circle. Women who have been raised in an abusive household will more than likely end up with someone toxic.
I decided to break the cycle. I want better for my children, and I will keep that mentality the rest of my life. Because in the end, could you live with your children hating you? Your children will most likely outlive your spouse, and they are the ones who will take care of you when you get old. They are all that will be left of you when you are gone. Do you really want to send them out into the world with emotional baggage already? You can get a new lover or partner anytime, but you can never replace your child. 
My advice to you, as someone who was raised in an abusive household and someone who had children with someone that was abusive towards me; put your kids first. At the first sign of foul play towards you or your children, run and never look back. Do it for yourself as well as your kids. You and your children deserve to be loved, happy, and most of all safe. Make the right decision.
Categories: Parenting Tips, Current Events, Issues