by: Stephanie McEndree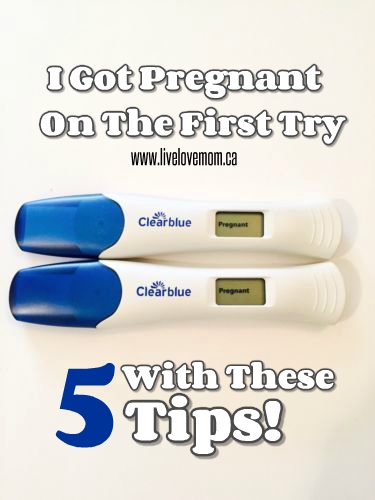 Getting pregnant can take a young, healthy couple up to twleve months. But who wants to wait that long? Here are the tips I used to get pregnant on the first try, not once but twice!
Chart your cycle. There are plenty of free charting websites out there. Personally, I am partial to fertility friend. Record the first day of your period and you will recieve a fertility estimate of the days which you are the most fertile. It will even predict your ovulation day. This way, you know which days you should be having sex to maximize your chances. You should have sex the day before and the day of ovulation.
Use ovulation predictor kits. Never use first morning urine, however, as LH is synthesized in the morning. By peeing on these sticks, the lines will let you know whether you are ovulating or not. If the control line is darker than the test line, then you have not ovulated yet. If the test line is darker than the control line, then you are ovulating and it's time to get busy!
Take prenatal vitamins. You should take these three months before you even start trying to get pregnant. These vitamins prevent neural tube defects, and the folic acid boosts fertility. If you take certain SSRIs, be sure to take 4mg extra of folic acid as well. Be sure to check with your doctor first.
Don't spit. It can be tempting to use lube, water, or even spit as lubricant. Saliva kills sperm, so it's better to avoid using saliva as lube. If you want to have oral sex, wash thoroughly after with soap and water to avoid the sperm dying. If you require lots of foreplay to self-lubricate naturally, I highly suggest lots of kissing and manual stimulation.
Lay still. After the deed is done, put a pillow under your hips and lay still for at least 5 minutes. This gives ample time for the sperm to swim up the cervix and to your waiting egg. Scientifically, it hasn't been proven that more than 5 minutes works, so you can go ahead and get up after 5 minutes.
Looking for a group of like-minded moms where you can discuss and discover without judgement? Join us here: https://www.facebook.com/groups/504139310251519/
Follow us on instagram: http://www.instagram.com/livelovemomofficial
Like us on facebook: http://www.facebook.com/livelovemom
Follow us on pinterest for more! https://www.pinterest.ca/livelovemomofficial/
Categories: Pregnancy, TTC, Life Advice