by: Stephanie McEndree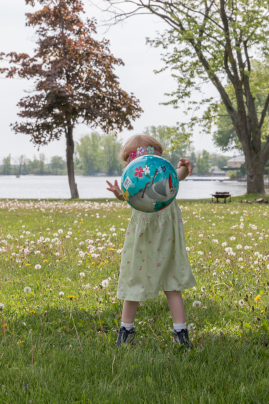 Here are the top twenty activities for kids during all seasons! Different types of activities are listed for variety. Whether you are low income, high income, in the country or in the city, here are some wonderful ways to entertain your children and spend time with them, no matter what the season!
Sports. This is a great idea year-round. It can be as simple as playing soccer in the backyard, to going skiing as a family, or playing basketball at the local gym. Sit down with your children and make a list of all the types of sports they would like to try, or are interested in. Consult your budget, and see what you can come up with!
Seeing animals. Think going to a zoo, or an educational farm. Seeing these creatures up close, and maybe even having the option to hold or pet one, will be thrilling for your little ones. You can even consider taking the children to a butterfly sanctuary or the aquarium.
Park. An idea as old as time, local parks are an easy, free way of entertaining your children. They can run around, slide, swing, and climb to their heart's content while you can watch close by and catch up with your mom friends!
Fruit picking. This is a great idea for summer activities, and early fall. Not only is this very educational in the sense that your children will know more about where food comes from, but you get to take the fruits of your labor home with you!
Seasonal attractions. These vart according to the seasons. Visit a local pumpkin patch and corn maze during the autumn season. Attractions like skiing, snow-boarding, sledding, tubing and more are great pasttimes during the winter.
Fairs, carnivals and parades. Not only do these provide games, but also rides and food. Be sure to bring your camera, you will want to remember the smiles for years to come!
Sidewalk chalk. Provided there is no rain forcasted for that day, get your children some sidewalk chalk so they can create a work of art in your driveway or the sidewalk.
Puddle jumping. This is good for a rainy day, or the day after a downpour. Be sure to have your children wear their raincoat and boots!
Igloos. These can be tough to build, but a fun and collective effort to execute. Parenting hack: if you have a child-sized play house, place it outside and pack it with snow for an igloo-cheat!
Snowmen. Fun to build during the winter, be sure to build it close to your home so rebel teens don't destroy it. Be sure to include the classics like the carrot nose, the hat and scarf!
Snow angels. Just put on your snow pants and plop on the snowy ground and snow-angel away!
Snowball fights. Gentle and without ice, pack a fistful of snow into a snowball and have some fun!
Slushes. Be sure to gather clean snow, and mix in a cup with some juice. There you have your own home-made slush! Bonus points for freshly-squeezed juice from your own fruit.
Leaf pile, good for photos as well as family fun! Try building a shelter with the leaves, and of course throwing leaves around. Afterwards, put the leaves in orange trash bags and color in jack-o-lantern faces with black marker.
Flower picking is great for spring and summer. Open fields often have wild flowers growing everywhere.
Camping can be cheaper during the off-season, like in April or September. You'll need extra blankets, but just build a warm fire and you'll be all set. Don't forget the s'mores!
Fishing in a boat or on mainland is a creative way to get supper as well as spend some relaxation time with the family!
Pinterest art projects. This can include anything from handprint art, hand turkeys, even building your own life-size play-trains, kitchens and homes!
Treasure hunt. Make a treasure map for your children, outlining the backyard. You can bury candy under a leaf pile or even in the ground for the final prize! Bonus if you can get them to use a compass.
Tie dye shirts is a messy yet creative activity to unite together as a family. Keep your souvenire shirts afterwards and wear them with pride!
Want to join a group of like-minded moms? Join us! http://www.facebook.com/groups/504139310251519/
Follow us on instagram for updates and offers. http://www.instagram.com/livelovemomofficial
Like us on facebook for premieres and vlog videos. http://www.facebook.com/livelovemom
Categories: Family Time, Mom Tips, Parenting Tips