by: Stephanie McEndree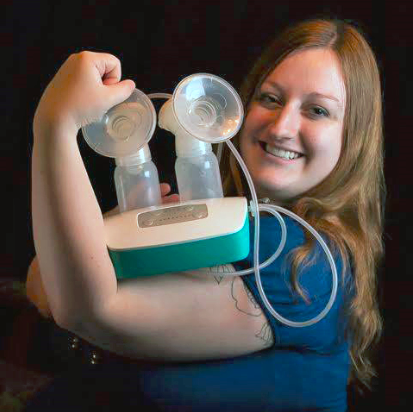 Yes, I am a single mom of two kids that I exclusively pump for. How do I do it? What is my secret? I'll let you in on it.
I only pump twice a day. Once in the morning after my 2 year old is at daycare and my 3 month old is asleep for her morning nap, second time when both of my girls are asleep for the night.
I use a Medela Pump In Style Advanced. This pump is portable as it comes in a backpack, so I can just wear it on my back and move around the house. This is crucial as a single SAHM, as if one or both of my kids wakes up in the morning or evening, I can get up and tend to them without skimping out on my pumping. Since this is a hospital grade pump, it allows me to pump only twice a day without losing my supply!
I use Freemies. Thank goodness there are Freemies compatible with a PISA. I put these suction cups in my bra under my shirt, so it is very discreet! I even went out running errands while pumping!
I have a deep freezer. This helps for storing my extra breastmilk because my regulat freezer is full of food for myself and my kids!
I make about 44 ounces a day. With my 3 month old taking in 35-40 ounces a day that leaves 4-8 extra ounces that I can store in the freezer for long-term storage, the fridge for short-term storage, or to just give to my toddler.
With these things to help me, it is possible to exclusively pump as a single mom!
Want to join a group of like-minded moms? Join us! http://www.facebook.com/groups/504139310251519/
Follow us on instagram for updates and offers. http://www.instagram.com/livelovemomofficial
Like us on facebook for premieres and vlog videos. http://www.facebook.com/livelovemom
Categories: Mom Tips, Parenting Tips, Mom Life