by: Stephanie McEndree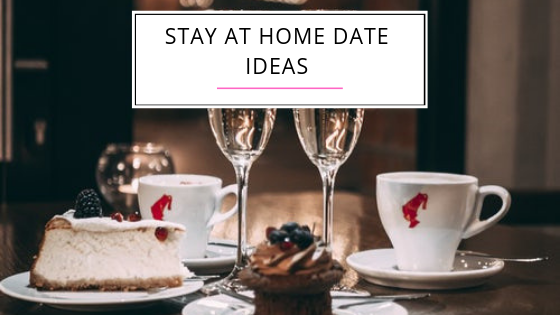 Not everyone has hundreds of dollars to spend on a fancy date. Sometimes we have to stay indoors, such as if a partner is disabled, immuno-compromised or if there is a pandemic. This can make it difficult to find a fun date night to do as a couple in our own home. We've scoured the internet and were able to find quite a few home date ideas for couples. Look through our list and choose which one or ones suits you best. 
Play a board game. Go through your board game stash and pick out one to play. Whether it's monopoly, checkers, LIFE or chess, playing as a couple will be fun.


Play a card game. You can play blackjack together, rummy, go fish, and many other games. You can even do card tricks, or learn some for free on YouTube and put on your own magic show.


Have a candle light meal. Dim the lights, or shut them off altogether and light some candles and eat a nice meal together.


Have a book club for two. Choose a book you have read, or read a book, or listen to an audiobook together. Then, discuss together what you thought of the book, your favorite parts, and what you would change.


Eat take-out to some romantic music. Put on some Barry White or anything romantic and slow, and eat a savory meal together.


Cook dinner together. You can work on the meal together or take turns making a home-cooked meal for one another.


Have a homemade pizza night. Decide which type of pizza you want to make, and look up recipes and choose one. Work together to make a tasty pizza for you both to enjoy.


Have breakfast in bed. You can have brunch foods after sleeping in and munch on some fruit, french toast, sausages, bacon, eggs, pancakes and muffins.


Make dessert together. Whether you have an old favorite or want to try something new, make something sweet, salty or tasty.


Try a new recipe together. There are millions of recipes online, or even on the back of cooking ingredients. Bond over cooking and make one together.


Create a masterpiece and paint. Paint on a canvas, on paper, cardboard, or even your walls if you want a mural style. 


Create an at-home bookstore. You can order books online that you'd like to add to your collection. Check out each other's books and pick the one you would like to read.


Play 20 questions. Get to know your spouse more and ask them questions you'd like to know about them. It can be as simple as knowing their favorite color, or ask them about a childhood memory.


Play indoor mini-golf together. Bust out the golf clubs and golf balls and have a mini-putt in your own home or backyard.


Play indoor croquet together. Don't get too intense with the competition. You can also play in your yard.


Put a puzzle together. You can pick a puzzle with a lot of pieces and see how fast you can finish it accurately.


Make marshmallow guns and have a marshmallow war. This will surely be fun and make memories where you two remember laughing and channeling your inner child.


Have a backyard picnic. You can also have one in your living room if the weather isn't permitting. Pack a picnic basket with yummy foods and go enjoy it on a large blanket.


Snuggle and watch a movie with some popcorn. It's like going out to the movies without the large pricetag, and you get to cuddle.


Cuddle and binge-watch a TV show together. Pick a popular one you haven't watched yet so you can talk about it with friends and family later, and understand the memes circulating the internet about it.


Read a book together. You can read it aloud and take turns, or open it up and let the other know when you are done with the page before turning it. You can also listen to a podcast together or an audiobook.


Do arts and crafts together. There are many gorgeous crafts you can make with household items, even toilet paper rolls can be made into beautiful floral decorations.


Fireplace marshmallow roast. Whether you have an indoor fireplace or an outdoor firepit, roast marshmallows on sticks and eat them together. See how you like your marshmallows done the most.


Camp in your backyard. Pitch a tent in your backyard with sleeping bags and pillows and a cooler and hang out like you're camping.


Teach eachother something. Teach him how to sew and have him teach you how to change a tire, for example. Essential skills are a good thing to prioritize and are very useful.


Have an intimate barbecue and grill your favorite meats. You can make some hamburgers, hot dogs, steak, a fish fry, or grilled brochettes and enjoy the results.


Have a fondue night. Whether it's cheese or chocolate, have a fondue night with your significant other. Use veggies and meats for cheese fondue, and fruits for chocolate fondue.


Have a vinyl listening party for two. You can also listen to old cassette tapes and CDs and relive the good old days.


Take a bubble bath together. Even a shower, being there to wash the other's back reinforces your bond because you're working together and caring for one another.


Create a bucket list together. List things you've always wanted to do, especially as a couple. Write them in the list and plan to do those things together someday.


Listen to an old-time radio show. Whether it's sports or a scary story, it can feel like going back in time.


Try to break a guinness world record. If you don't have the book, you can look it up online. You can each choose one, or pick one together to break together.


Go through old photo albums and walk down memory lane. You can look at photos of when you were kids, wedding albums, your children's baby photos, yearbooks and more. Discuss the circumstances of childhood photos and learn more about each other.


Make a music video to your favorite song. Even if it's just lip-syncing and jamming around being silly, it will make you laugh in the future and you will have fun doing it.


Put on some slow jams and slow-dance in the living room. You can practice a dance routine you had together if you took dance lessons, or how you danced at your wedding. 


Have a friendly cooking competition. Whip up dishes together and see who has the best-tasting one.


Create a code or language to use to send each other coded messages. You can use something like pig latin.


Learn a new language together. Duo Lingo is a good place to learn a new language and you can do it together. Pick a language that natives speak in a country you would like to visit, or where your ancestors came from.


Take a personality test and compare the results. See if you agree with each other's results and how you both are compatible.


Do a scavenger hunt. Choose some items you haven't seen in a while and don't know where they are, and look around the house to find them. You can also choose some items and hide them yourself, and watch your spouse look for them. Take turns and make it fun.


Do a treasure hunt together. Hunt under the cushions and under the couch and beds to find spare change. The one that finds the most wins!


Make a vlog or home video. Whether for personal viewing or for posting on YouTube, make it fun and interesting.


Make a crossword puzzle for each other. You can also find some old newspapers and do those crossword puzzles.


Play twister. Get tangles up with your spouse and laugh about how silly you look as you try to touch the colored dots!


Make your family tree and see how far back you can trace your ancestors. You can probably figure out some surprising things about your family and your ethnicity. I would suggest Ancestry as a site to start out.


Play sudoku. This is especially a good idea for those good with patterns and math. 


Bake something together. Especially something you've never done before. Try to make bread from scratch, for example.


Make ice cream sundaes. Decorate them with chocolate syrup, some sprinkles and cherries and whatever else you like.


Bake a cake or cupcakes. Decorate them together and see how it turns out. 


Have a water balloon fight. This is best done in the backyard to avoid mess, but you can also do it in the garage and rinse your car at the same time if you hit it accidentally.


Have a water gun fight. Fill up those water guns and spray each other! I would stay away from the super-soakers if you are inside however.


Make long-term goals; saving for a house, saving for retirement, plan a vacation. You can make it fun, such as adding yarn to connect steps to make it a reality.


Have the other put together silly outfits and model them for each other. The sillier the better! Pick shoes, a hat, a top, a bottom, a scarf and sunglasses and a coat to make a whole ensemble.


Give each other massages. Grab some lotion or massage oil and relax the tension in your muscles. If you don't know how, there are youtube tutorials that can show you some basic techniques.


Go stargazing outside. You can lay on a blanket outside and look up at the stars. Bonus for watching in August, when there are shooting stars.


If you have more than one wine in the home, create your own little wine-tasting station. Bring out shot glasses and pretend they are those little plastic cups for the wine tasting. Rate them from a 0 to 10 scale and choose your favorite.


Create fancy appetizers such as pigs in a blanket, cheeses, crackers, grapes and cold meats.


Make smores at the fire pit. They can be messy, but they are a delicious snack. You can also tell scary stories by the campfire.


Write the story of how you met and how your relationship evolved from your POV and read your partner's. You can also write each other a love letter.


Make a date night jar together. Grab old popsicle sticks or thumb depressers and write date ideas on it for dates outside of the home.


Make bath bombs. You can make essential oil bath bombs or regular bath bombs. Make them together, and use them together too.


Make soap together. If you are already crafty, you can make soap, shaving cream, lotion, sugar scrubs, salt scrubs and even lip balm. 


Play survivalist. Look up which plants are edible, how to make a fire from scratch, and make a shelter. 


Look up a paint by number canvas and print it out, and create a watercolor painting. 


Scrapbook together. Grab some extra photos and make a great memory book with scraps of cloth, construction paper, glitter, whatever you can find.


Shadowbox important items such as the wedding garter, your first love letters, valentines, etc.


Finger paint together. Get silly! Make a mess! You only live once.


Have kareoke night together. You don't even need the kareoke machine, look up an instrumental version of a song you know on YouTube and play it, and sing. Have fun!


Draw or paint each other. See if you have hidden talents and if not, it will be silly and make each other laugh.


Ask your spouse to answer questions about you, and take turns. See how well you know each other.


Play darts. Be careful not to hurt the wall however, so this would probably be better done outside in your yard.


Play lawn games. You can also play field hockey, soccer, flag football, football or anything you want in your yard.


Have a dance party! Blast some fast-paced music and show off your dance moves. Grab some flashlights and dance with them, turn it into a rave. You can also dress in your halloween costumes and double it as a costume party.


Build a snowman together. This of course works best during the winter. Gather hats, scarves, buttons, carrots and branches to make the faces and arms. You can even make one of each other.


Build an igloo outside. Try to make a snow cave big enough for you to crawl into. 


Make snow angels together. Cover your yard with snow-angels and try to minimize footprints.


Have a snowball fight. Find places to hide ot build a trench and have an all-out war!


Make candles. You can make a candle from melted wax of another candle. You can buy wicks ahead of time before your date happens.


Get some chunky yarn and hand-knit a blanket. You will end up with two large, cozy blankets to snuggle under!


Play a trivia game. Flex your brains and challenge eachother with a trivia game.


Play charades and see how good your silent acting skills are.


Grab some clean snow and make slushies. Mix the clean snow with some fruit juice and have a tasty treat.


Play video games together. If one of you is a gamer, you can introduce your spouse to your game and play together. If you have old gaming systems, play games you used to play as a child and bond.


Try a workout session together. There are workouts on YouTube that are free. Start out small if you're a beginner, and challenge yourself if you're advanced.


Learn something new together. Learn how to knit, how to crochet, new vocabulary, anything you want! Look it up and read about it together or watch videos.


Complete a guided meditation session together. They have lots of videos like this on youtube playing relaxing music where someone guides your meditation. So get comfortable, close your eyes and enjoy.


Do yoga together. It's good for stretching as well as strength-building and toning. Look good and do it together!


If you have a truck, have a tailgate party. Put pillows in the bed, throw blankets in there and watch the clouds. Try to find shapes in them and tell each other who or what clouds look like.


Grab a pair of binoculars and bird-watch from your backyard. For a silly element, you can make some out of empty toilet paper rolls.


Make a birdhouse together. Paint a pre-made wooden one or make one in woodshop if you have one. Fill with bird seed


Garden together. Get some flowers, fruit, veggies or herbs and plant them together. If you already have some, take their seeds and plant them elsewhere.


Make a pillow fort in the living room and go all out. Use regular pillows, throw pillows, even the couch cushions. Turn it into a real castle!


Make a new drink together! You can mix alcohol with mixers, or put some fruit juice and soda together.


Play strip jenga. This should be fun for couples who also like to get frisky.


Play strip poker. This is another good ice-breaker to get a couple in the mood.


Play would you rather. If you need ideas, there are plenty online.


Have a nerf gun fight. Chase each other around the house and find some unique hiding spots.


Have your spouse do your makeup. The result will probably be hilarious! You can also do each other's hair. If your spouse wants to shave their beard or head, do it yourself and buzz in some funny designs before shaving all of it off.


Grab a camera and take portraits of each other. Not only will your spouse see themselves through your eyes, you also get some cool shots you can show off on your LinkedIn profile.


Wash your car in your bathing suit. Have fun with it, have a water fight or suds fight!


Dance in the rain. You can get in your bathing suits, rubber boots and umbrellas and jump in puddles too.


Turn your bedroom into a fancy hotel room. Make oregami towels, put a chocolate on your pillows, make your beds with your best sheets and put a buch of pillows, light scented candles and make the room nice and tidy.


Have an at-home spa date. Do face masks, diffuse some essential oils and sit in a massage chair.


Have an ethnic food night. Cook italian, french, cajun, mexican, whatever you want!


Play interior designer. See if moving your furniture or hanging up some photos can make the house look better.


Pretend you're at a drive-in movie. Use a projector and watch a movie outside.


Have a pillow fight. Grab some soft pillows and have a pillow fight on your bed. Have fun with it!


Have a food fight. You can make it sexy and use dessert foods such as chocolate syrup and whipped cream and lick it off each other afterwards.


If you have a large tub, do some jello or mud wrestling. It'll be easy to clean up afterwards since it's in the bath. You can make bubbles and have a foam party afterwards!


Visit a museum online together. These museums have online tours: The British Museum in London, The Vatican Museum in Vatican City, the Dali Theatre and Museum in Spain, and the Louvre in France.


Decorate ceramic mugs together. If you have the materials, look up how to do it. Paint the mugs and heat them to dry the paint.


Recreate your first or favorite date at home. It may be a challenge but it will be sentimental and sweet.


Take some online dance lessons. YouTube has a lot of free tutorials where you can learn some new dance moves.


Make milkshakes or floats. They are nice treats to enjoy indoors.


Sip hot chocolate, tea or coffee on your patio, balcony or porch. Bonus if you watch the sunrise or sunset together, or if you have a time of year where there is a lot of kite-flying, hot-air balloons or fireworks you can watch at the same time.
That's all folks! Be sure to comment below and let us know if these ideas worked for you, which ones you did, and if you have any other stay-at-home date ideas for couples.
Want to join a group of like-minded moms? Join us! http://www.facebook.com/groups/504139310251519/
Follow us on instagram for updates and offers. http://www.instagram.com/livelovemomofficial
Like us on facebook for premieres and vlog videos. http://www.facebook.com/livelovemom
Categories: Marriage Tips, Relationship Advice, Current Events