by: Rev Dr. Stéphanie McEndree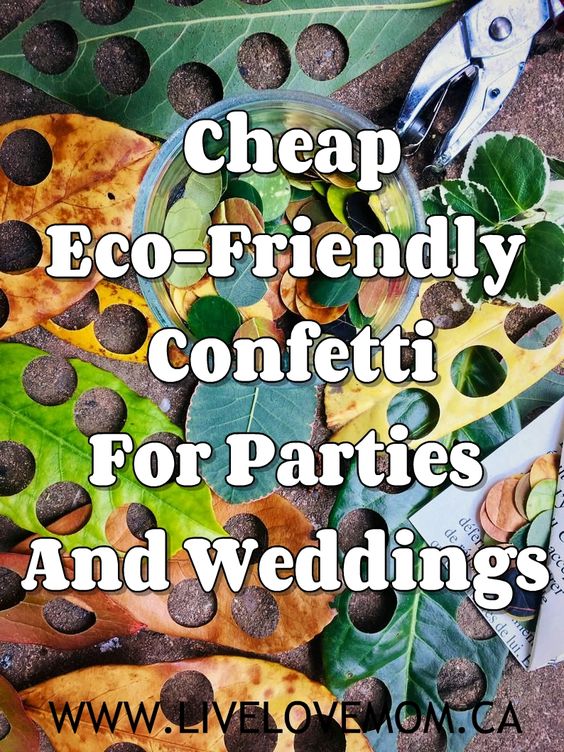 With more and more eco-friendly options available to help us save the planet, it's only fair we do our part. Weddings can be incredibly wasteful with single-use plastics and a "littering" custom such as plastic or paper confetti. Here are some cheap, easy and even free ideas to buy or make your own biodegradable confetti!
Leaf confetti.
This can often be free; simply gather fallen leaves or pick some from your backyard or local park and use your hole-puncher to create a natural, colorful confetti. You can prepare them a few weeks before the wedding and dry the leaves, but store in a dark, dry place to avoid mold growth. You can also do this the day before the wedding so it's fresh and ready to go. You can even use shaped hole punchers to give you more variety in appearance. You can even mix in herb leaves for a naturally healing scent.
Dried flower confetti.
These are easy to DIY or even buy pre-dried. You can buy flowers from the grocery store, pick them from your yard or even pick wildflowers. Dry them and press them, then put them in reusable cloth bags and distribute to guests! You can buy pre-made by the litre. Get at least one handful per guest so they can enjoy throwing it at the newlyweds. Dried flowers are used in pot-purri and always smell amazing. The natural scent of roses or lilacs will be preserved and everyone will smell amazing!
Fresh rose petals.
These are often provided by florists, this is the priciest option. If it's a year before your wedding, consider planting or buying rose bushes to pick your own. They smell great, look great and make for a very classic and romantic exit for the guests. You can choose whichever color you want; baby pink, hot pink, red, white, yellow, and even black or blue. You can also go to the grocery store and get a bunch of flowers a day or two before the wedding and use the petals from them. They are often cheaper than the florist's. 
Small leaves.
These can be gathered from plants or trees with small leaves. There is no need for a hole puncher and you can gather these stress-free the day before your wedding. If you don't recognize poisonous plants such as poison ivy, stick to getting leaves from trees to avoid getting a horrible rash the day before.
Herbs.
You can plant them in the spring and harvest them in the summer! Whether it's basil, rosemary, mint, or sage, the leaves are sure to smell amazing. You can dry them or pluck them fresh a few days before the wedding and have guests throw them. They can even be an alternative to flower petals for the flower girl to sprinkle. These herbs are also calming so everyone will feel zen and serene.
Bird seed.
Leave a feast for the birds and let guests celebrate with you at the same time! You can buy large amounts at your local dollar store. Since rice has been outlawed due to it being harmful for the birds, this will be our feathered friends' favorite option. Be sure to have this thrown in an area where you will not visit again that day, such as the ceremony location as the newlyweds walk back down the aisle as they are newly married. This will avoid birds flocking and bothering any guests or the wedding party. It can also be thrown at the end of the reception as the newlyweds make their getaway to their wedding night.
Lavender.
A calming flower, lavender confetti will smell amazing and help save the planet. Make sure no guest is allergic before ordering or gathering. Make paper cones to hold them with some old sheet music, book pages or newspaper. Lavender does have an effect that can make people drowsy, so be sure to use this at the end of the reception. You don't want your guests retreating home for a nap right after the ceremony!
Flower Petals.
Don't have roses or don't want any? You can go flower-picking in a field and use those petals! Simply go pick the flowers one or two days before the wedding and pull the petals apart from the flowers into little cloth bags so your guests can grab a handful and throw them. You can also do this a few weeks before the wedding and dry the flowers out in the sun for a day and then store the petals in the bags. You can also grow your own flower garden if you have at least a year before your wedding, or if you got engaged in let's say the winter, you plant the flowers in the spring and you marry in the summer. You can have whatever flowers you want for just the price of the seeds and some water to take care of them. If you don't have a yard or a garden, simply pot the flowers and put them on your balcony for some sun or even by the window.
Have any more ideas you'd like to share? Comment below!
Categories: Wedding