Today is a rainy day where I live. My children were bored and I wasn't sure what I could do to entertain them. Then, I was struck with an amazing idea! With Easter coming up, I though it would be great to make chocolates with them!
Here is what you need:
1 large bag of chocolate chips
1 silicone or plastic mold per family member
1 microwave-safe bowl
1 spoon to stir and pour
Popsicle sticks (optional)
Directions:
Place everything on a clean surface, like a kitchen counter or a dining room table with enough room for you and your family.
Open the bag of chocolate chips and pour the contents into the microwave-safe bowl.
Heat the chocolate chips in a microwave for 1 minute increments, stirring with the spoon until the chocolate is melted.
Pour the chocolate into each mold.
Have your children stick the popsicle sticks in the center of the molds.
Place the molds in the fridge and refrigerate until solid.
Serve!
I hope you enjoy making this as much as my child and I did!
Have more food craft ideas for rainy days? Comment below!
 by: Rev Dr. Stéphanie McEndree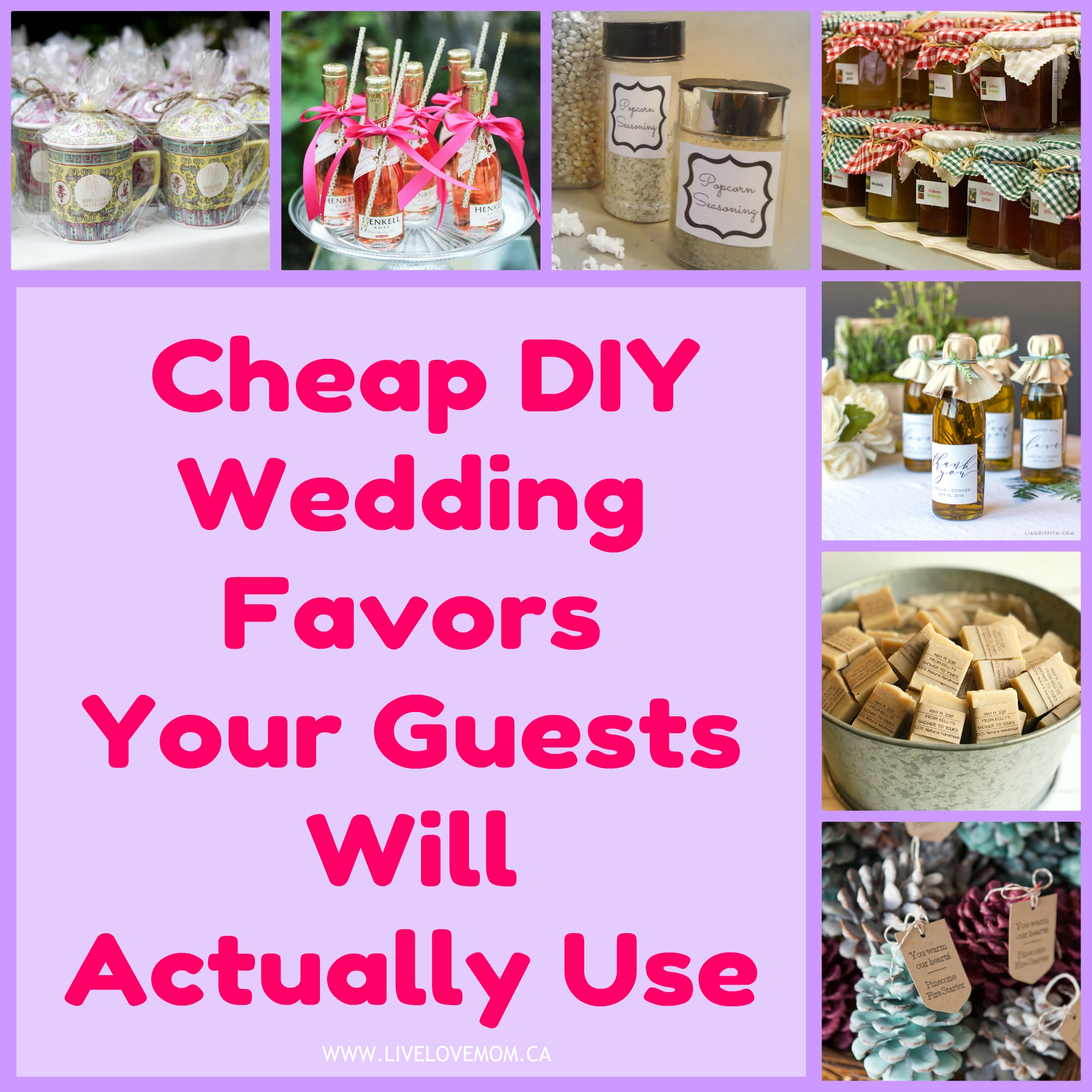 Save money and enjoy crafting as you make your own wedding favors. From edible goods to useful household items, create your own little masterpiece filled with love that your guests will enjoy.
Dry rub. Gather all of your spices and either make your own, or follow an online recipe. This is great because dry spices last years, so you can make them way ahead of time. You can always buy spices at the grocery store.
Ornaments. Most people have a holiday tree they put up during the holidays. You can make an ornament for them to decorate their tree with. This is especially appropriate for weddings in December. Your favors can be as simple as picking pine cones, painting them and tying a ribbon so people can hang it on their trees. You can even add a tag with your wedding date on it, or simply write happy holidays on it.
Sugar scrub. This is great to use as a deep exfoliation for your body. Make them for your guests in small jars or even plastic bags tied with a ribbon.
Salt scrub. Similar to the sugar scrub, salt scrubs can last a while and can be made far ahead of time. With coconut oil and a drop of essential oils, it will keep for a while so your guests can wait for a special moment to use it.
Wine Glasses. If you have too many of these in your own home or shot glasses, you can give them as favors. Use a hot glue-gun to write something personal to you and your future spouse, or even a symbol that means a lot to you two. You can sprinkle some glitter on top of the hot glue before it dries or paint over it.
Coffee Mugs. Plenty of people have plenty of coffee mugs, some that they never use. However, not everyone has enough at home for themselves or for visitors and family memers. If you have too many or you do not mind a trip to the dollar store, you can always buy some. You can also get some plain ones and paint over them in a ceramic shop and make them unique.
Soap. Look up a soap recipe, buy the ingredients and make a nice-smelling gift your guests can use to get clean. Everyone needs soap! Just be sure to ask if anyone has allergies.
Baked goods. Make cookies, brownies, cake pops, rice krispie treats and more. These delicious delights will be consumed in no time!
Keychains. The best keychains are those that include something useful on them, like a tool that can do many things, a bottle-opener, mini flashlight, hand sanitizer, sunscreen, a whistle, or anything useful.
Home-made jam. This is a great idea especially if you have fruit trees or berry plants at home. Make your own easily. Just get some fruit, sugar or stevia, and boil while stirring until it's the consistancy you want. Put in jars and serve!
Alcohol. You can buy mini bottles of different types of alcohol and offer this as favors. They will definitely get used, and the small bottles may even be kept as a souvenir. 
Chocolate-covered pretzels. Follow a recipe. You can always buy pretzels, melt down some chocolate, dip the pretzels inside and freeze them to harden the chocolate.
Tea. Tea bags always come in handy for tea drinkers. If you know your guests are the tea-drinking crowd, you can offer tea bags as favors. You can make these yourself if you have an herbal garden and put dry mint leaves in a sachet. 
Seeds. Grab some seeds from the plants in your backyard and put them in a little burlap pouch and offer these to guests. You can also harvest seeds from a tree in your yard so each guest can plant a tree in your honor.
Coffee. One of the most common beverages people drink in the world, you cannot go wrong with coffee. You can buy a coffee can and scoop some beans in individually sized bags. You can also add in some hot chocolate powder so people can make themselves a nice mocha.
Caramel apples. You can make candy or caramel apples for your guests to devour. They can also be a fun alternative to dessert if you do not particularily like cake to serve your guests. 
Got more to suggest? Comment below!
by: Stephanie McEndree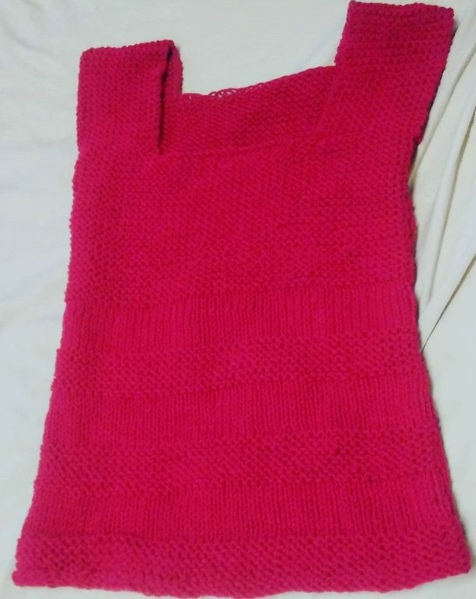 This knitting pattern can either be a size L-XL dress for a child, or a size XS-S tank top for adults. In order to do this pattern, you will need to know the garter stitch, the stockinette stitch, how to cast on, how to cast off, and how to weave in ends. You can use a tapestry or yarn needle to weave in ends, but I tend to use a crochet needle since that's what I have on hand. You can make both sides of this piece the same length so the collar is the same, or you can make one side longer to make the front or back collar more low-cut. This piece is best worn loose, so you can knit it a size up to make it nice and airy during the summer. It's also completely reversible, so you can wear a striped tank or a garter stitch tank all in one piece.
Size: Adult XS or children's L-XL
Guage: 5 stitches = 1 inch
Items needed:
Red Heart Comfort Yarn 1000g in red
Size 11 single point knitting needles
US size 7 crochet needle
Scissors
Stitch holder or another single point knitting needle
Instructions:
Cast on 50 stitches. 
Knit in garter stitch for 6 rows.
Knit in stockinette stitch for 6 rows.
Repeat steps 2 and 3 until piece measures about 15 inches, ending on stockinette stitch.
Knit in garter stitch for about 5 inches, or until piece measures 20 inches.
Knit 15 stitches. Place them in a stitch holder or another knitting needle.
Cast off 20 stitches. 
Knit remaining 15 stitches in garter stitch.
Continue knitting until strap measures 4 inches. 
Cut off the yarn so it measures 5 inches. Weave it in with the crochet needle.
Remove stitch holder and place it on the strap. Join yarn with the future 2nd strap.
Place the knitting needle on the other 15 stitches and stitck in garter stitch for 4 inches.
Knit the 15 stitches of the strap. Cast on 20 stitches.
Remove the stitch holder and place your free needle through the first strap's stitches. Knit them in garter stitch.
Knit in garter stitch for about 5 inches.
Knit in stockinette stitch for 6 rows.
Knit in garter stitch for 6 rows.
Repeat steps 16 and 17 until that side of the piece measures 23 inches.
Bind off. Flip inside out so the striped pattern is facing inwards.
Match up the hem. Sew in the sides, leaving a 4 inch (for a child's dress) to 7 inch hole (for adult tank top) for the arms.
Weave in the ends. Turn inside-out, and your piece is done.
Try on your tank top or put the dress on your child! See how they like it. It's perfect for those hot summer months, and can be worn on top of a long-sleeved cotton shirt during the spring or fall. 
by: Stephanie McEndree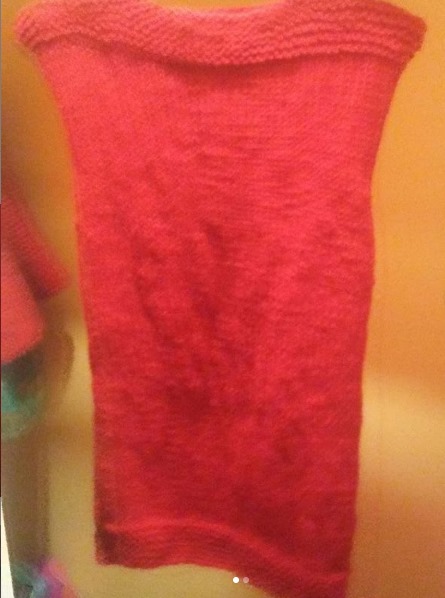 This piece is perfect for beginners wanting to make their first dress. It's not as large as it would be for an adult, so it's a perfect way to start and it's not too much work to where you get discouraged. You need to know how to cast on, bind off, the garter stitch, the stockinette stitch and how to sew. This piece is knit flat, which is also ideal for beginners. Stockinette stitch gives this piece a thinner feel and look, and without sleeves makes it suitible for summer wear. With how loose it is and oversized, it allows the dress to be airy and doesn't let the kids be too hot in it.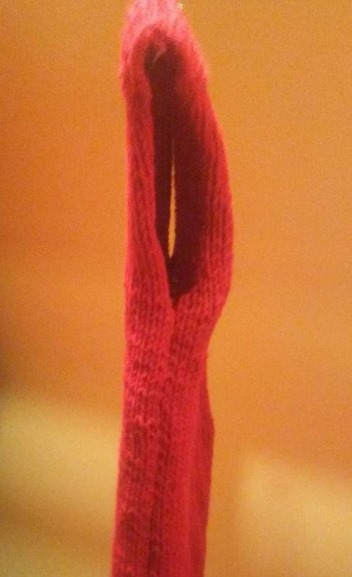 Size: 6-7 years, oversized
Items needed:
-Size 11 single point knitting needles
-Red Heart Comfort 1000g yarn in red, 1 skein
-US size 7 crochet needle
-Scissors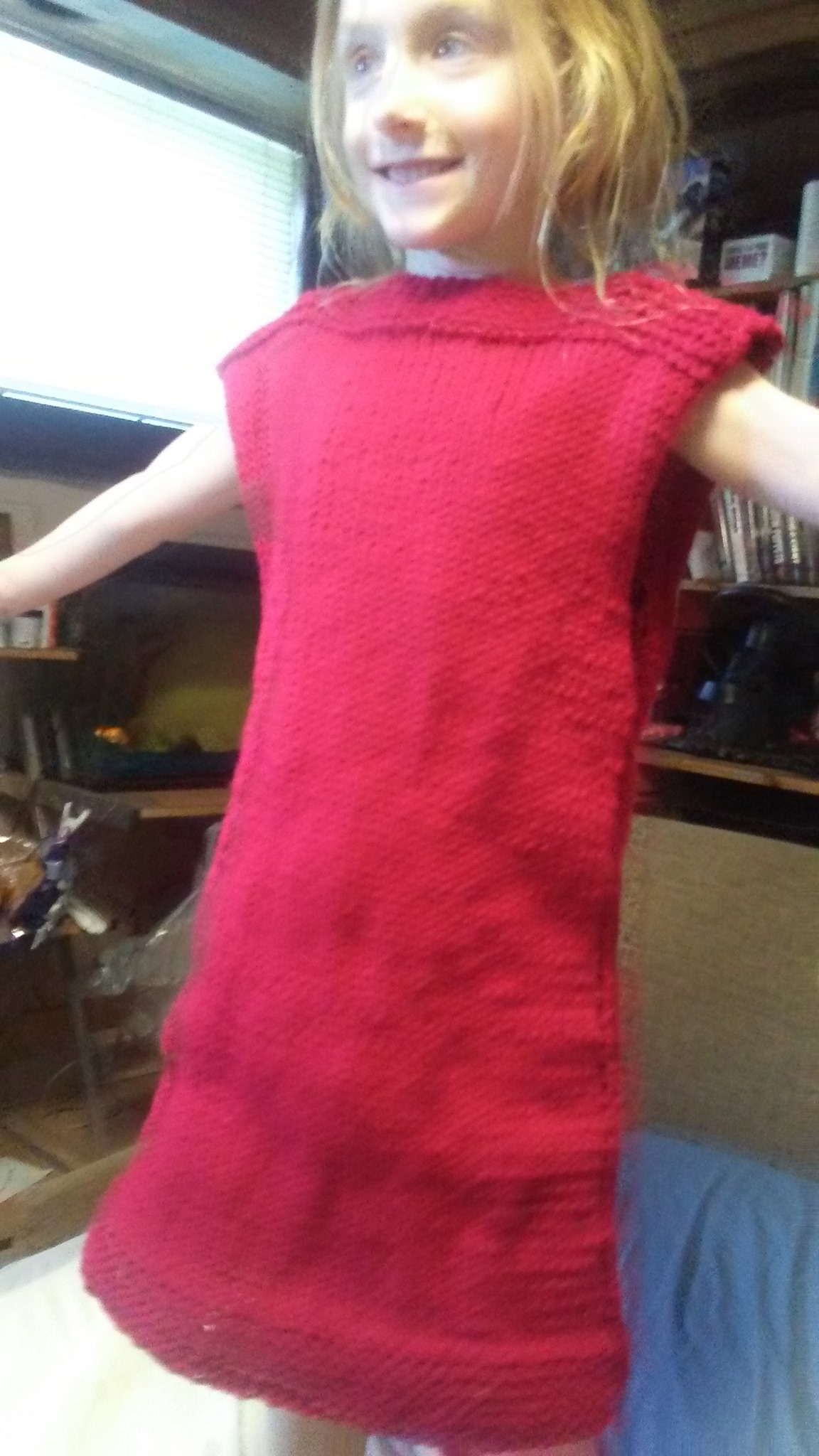 Kntting pattern:
Cast on 50 stitches
Knit rows 1-10 in garter stitch
Knit in stockinette stitch until piece measures about 18 inches
Knit next 10 rows in garter stitch. Piece should measure about 20 inches.
Bind off, cut the yarn with the scissors 5 inches from the piece. The piece will be used to sew in shoulder strap.
Repeat steps 1-5 with 2nd piece.
Turn piece so that the garter stitch sides are facing outwards, and the pattern inwards.
Sew the seams together at the shoulders, at least 4 inches from each side.
Leaving a 4 inch hold from the shoulders for the arms, sew the sides together with a crochet needle. Tie off.
Cut the end of the string about 5 inches from the piece. Sew in ends with a crochet needle.
Turn the piece inside-out, and you have your finished piece.
If you try this pattern, be sure to show us a photo in the comments and how you like the pattern! Personally, this was my first dress! I knew I was good with the garter stitch as I made the sweater, and I wanted to try a different pattern. My husband said he likes the edges on the dress so it gives it a nice pattern and is different from using just the garter stitch. I also like that it's sewn together at the top, since dresses with straps like a tank-top seem to fall off the shoulders of my girls all too often! This way it stays nice and secure so my girls can play hard and still have their dress in place! It fits well below their knees so they will be able to wear it for a long time.
by: Stephanie McEndree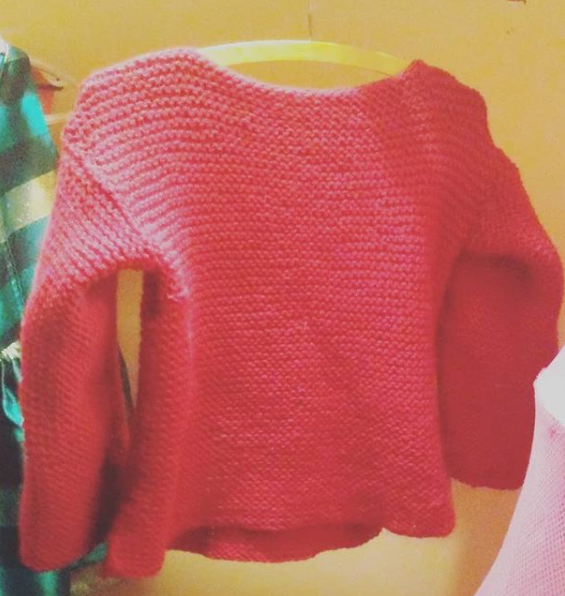 This knitting pattern is made for beginners and is very easy. It's done entirely in garter stitch. Garter stitch is the stitch knitters first learn when they start out knitting. There is no fancy stitch, so it's less time-consuming, and you don't have to worry about what stitch you did last on your row if you get distracted. This oversized sweater is perfect for those chilly autumn or early spring days where your kiddos could use a bit more warmth. It's roomy enough to wear over another shirt, but can also be worn by itself on warm days. Since it's oversized, it's breathable and your child won't overheat.
This is my own take on the https://gina-michele.com/2016/07/super-easy-3-square-childs-sweater-knitting-pattern-2.html" target="_blank">3 Square Child's Sweater by Gina Michele. I wanted to make my first sweater in garder stitch but with sleeves and no turtle neck, so I adapted her pattern to make it my own. I made a larger one than she had listed (since my daughter is a size 6 years), I didn't do the turtleneck and I measured, made and sewed the sleeves all on my own. Shoutout to her for inspiring me to make it my own!
Needed:
Size US 11 straight knitting needles
Crochet needle
Red Heart Comfort Yarn 1000 yards in red, 1 skein
Knitting pattern
Gauge: 3sts = 1 inch
Size 6-7 years, 7-8 years, 8-9 years
For the front and back square:
Cast on 56 (58, 60) sts. Knit in Garter Stitch until piece measures 17 (18, 19) inches. Bind off. Cut off the yarn leaving a string several inches long.
Sew the pieces together at the top 4 inches on each side. Fold over and sew the side seams together, leaving a 7 inch opening for arm holes. Cut off the strings several inches long. Weave in ends with a crochet needle as you would with a yarn needle.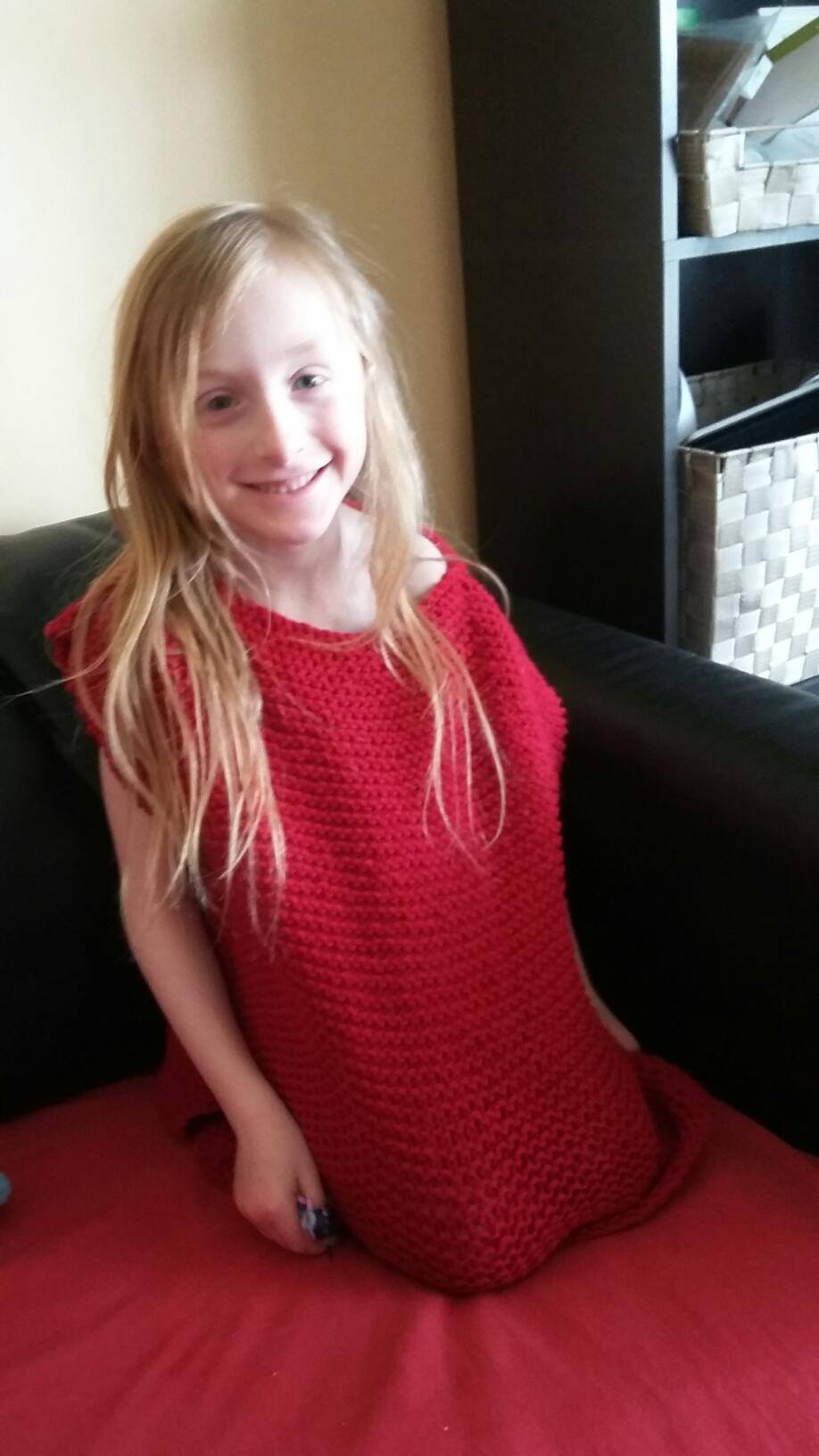 For the sleeves:
Cast on 45 (47, 49) sts. Work in Garter Stitch until the piece measures 14 (16, 18 ) inches. Bind off. Cut off the yarn leaving a string about 24 inches long.
Sew a sleeve's left and right side together with the 24 inch long yarn string. Then, align the sleeve with the arm hole and sew together. Tie off Weave in the end.
Repeat instructions for second sleeve. Turn the sweater inside out and you're done!