By: Rev Dr. Stéphanie Noircent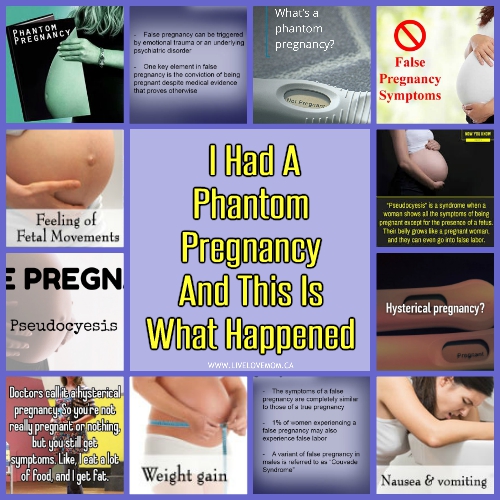 I've had a hysterical pregnancy before. When I was 14 years old I was raped. I was told repeatedly by hospital staff after the rape kit, and my parents that I could be pregnant even though I insisted I wasn't­. Their constant repitition made me believe it, even though the pregnancy test came back negative and my period came.
My body began changing. My belly became bigger, I didn't have my period for a while, my breasts grew, and I even started producing breastmilk. I picked out a name and I dreamt about a baby boy. It wasn't until I had an x-ray done and I asked the person if they could see a baby, that I realized I was never pregnant. She said my uterus was very small so there was no way I could be pregnant, or had been pregnant recently. What else was weird?
About 10 months after my rape, I woke up from a deep sleep to painful cramps and contractions. I knew I wasn't pregnant and couldn't be pregnant, but my body still went through false labor. Luckily it lasted only an hour or so, and not the several hours or days that labor usually lasts. It was pretty scary to wake up in that much pain and not being sure what was going on. Hysterical pregnancies can often be caused due to trauma, and mine was probably my body's traumatic response to the rape. It did feel like a loss, because I did believe I was pregnant because of how drastically my body changed just like pregnancy.
For many years it was hard for me to admit that my pregnancy was hysterical, because I felt shame. I felt as if I was stupid to believe I was pregnant even though I had a negative pregnancy test and my period came. I didn't want people to think I was stupid or crazy. I'm at a place in my life now where I feel comfortable enough to talk about it, because it does happen and it isn't often talked about.
By: Rev Dr. Stéphanie Noircent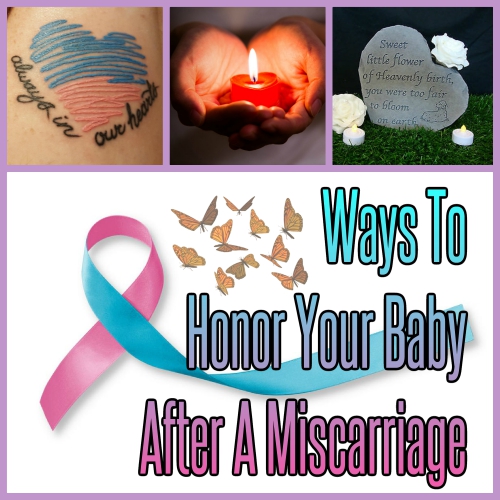 Losing a child, whether your embryo didn't implant at the IVF clinic or they're 70 years old, is the worst thing that can ever happen to anyone and is the worst pain anyone could ever imagine. It goes against the natural order of things. No one should ever have to bury their child. 
Even in 2022, it's still a taboo subject to talk about sometimes. Most people don't know anyone who has said they had a miscarriage, even though 25% of women have had one. It can be hard to know how to grieve or honor your baby's memory. Here are some ideas that should help you mourn. You can choose whichever one you want, no matter how simple it is. 
Light a candle. You can buy a candle and light it with a lighter and send your thoughts to your baby. You can also light one at your local church if you are religious. On National Pregnancy Loss Awareness Day, mothers from all over the world light a candle at 8 pm. You can be one of them too.
Have a memorial. Funeral homes often offer memorial services for a low cost or free of charge for babies lost during pregnancy. You can also host a private one at a park or just with you and your partner. Share in memories of the pregnancy that make you smile, the moment you found out you concieved, and anything else that was a happy time for you. 
Raise money in their honor. You can run a fundraiser or donate to charity in your baby's name. An appropriate charity would also be for survivors of loss, grief counselling, or other children's charities. It's a way to keep your baby's memory alive.
Get a tattoo. You can always get a memorial tattoo for your baby. You can get a miscarriage ribbon, foot prints, their name, their date of birth, a quote, or anything you want. Some mothers want the same tattoo for all of their children, living and passed on, so they get a tattoo of birds sitting on a branch and a baby bird flying away. The baby bird would represent the baby that was miscarried.
Make a memory bear. Whatever clothes you bought for your baby you can have sewn into a memory bear. You can also custom order a bear online and have your baby's name embroidered in it. It's something physical you can hold, kiss and hug. This often helps grieving couples.
Make a time capsule. Put a lock of hair, an ourfit, a rattle, a pair of baby shoes, or anything else you want and place it in a time capsule. You can bury it in your backyard, display it on a shelf or simply keep it nearby.
Get a plaque. You can order a custom memorial plaque for your garden. You can also order a tombstone or urn if your baby was stillborn or died young. This way you can bury your baby or keep their remains close if they were cremated.
Name your baby. It can help to have something to call your baby by. If you don't know the sex, you can always choose a gender-neutral name such as Riley, Dakota, Jordan, Leslie, Angel, Ashley or Rene. 
Lay them to rest. There is an organization called Memorial for the Unborn you can look up. They offer certificates of life, name plates, and more. You can have a place to lay flowers and remember your baby. There are about 18 locations throughout the states. Keep in mind that these places are pro-life, however. If you're outside of the states, you can always start one of your own if that's possible. 
Start a charity. If you want to volunteer your time, you can always start your own non-profit organization. A friend of mine crocheted baby headbands and with every sale, she would donate one to a children's cancer ward in a hospital. Another example is Angel Whispers, who creates angel baby birth certificate keepsakes for grieving parents. You can also just donate the baby items you had gathered for your baby to the needy so less fortunate parents could use the items.
Name something after them. Whether it's your boat, a street, a building or your first living child, you can always name something or someone after them. You'll have a touching story to tell if people ask where the name came from.
Talk about them. It's the best way to keep their memory alive. When parents are asked if they would get rid of the pain they feel from the loss, most of the time they say no. Why? It's all they have left of their child. Most mothers love talking about their babies, it brings them a sense of peace. So talk about your baby.
Plant a tree. A tree planted in their honor is a great idea, it's something you can watch grow like your child would have grown. It can give you something to nurture and take care of like you would have with your baby.
Got any more ideas? Comment below.
By: Rev Dr. Stéphanie Noircent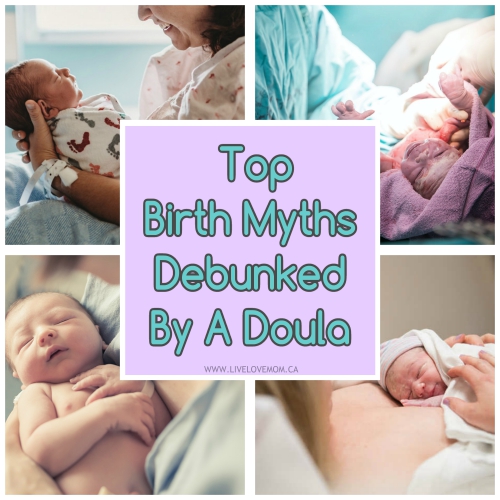 Here are common birth myths dispelled by a birth doula. 
If you are pregnant, you'll probably be told a lot of stories about labour and birth. While some of them might be useful, it's important to remember that your experience will be unique to you. You should always discuss anything you are unsure about with your doctor or midwife. This article looks at some of the common myths you might hear.
Myth: There are natural tricks that will bring on labour
Truth: Although there are many suggestions for ways to bring on labour naturally, there are no proven methods that are guaranteed to work. Some of these methods include:
nipple stimulation
drinking castor oil — although this can also bring on nausea, diarrhoea and vomiting, which can result in dehydration
walking
hypnosis and acupuncture (although both can help with relaxation and pain management during childbirth)
having sex
eating spicy food
You should always consult your doctor or midwife before trying any of these methods.
Myth: Babies stop moving just before you go into labour
Truth: Babies' movements do not increase or decrease just before labour. If at any time you feel your baby is not as active as usual, contact your doctor or midwife who will check that everything is OK.
Myth: Once you have a caesarean, you can't give birth vaginally
Truth: Many women will have the option of having a vaginal birth after a previous caesarean is an option for many women. It can depend on the reasons for your caesarean, and your health during this pregnancy.
Myth: Having an epidural increases your chances of a caesarean
Truth: There are risks and side effects associated with having an epidural for the pain of labour. Epidurals may increase your chances of needing a vacuum or forceps birth, but epidurals don't appear to make a caesarean more likely.
Myth: Mums instantly bond with their baby
Truth: Skin to skin contact between mum and baby soon after birth can help the bonding process, but not all women feel bonded to their baby straight away. It can take time and you shouldn't try to rush or feel like you are doing anything wrong.
Myth: Childbirth is like what you see on TV
Truth: Childbirth on TV and in movies is often very dramatic, suggesting that birth is risky and very painful. It's important to get accurate information about labour and birth from your caregivers. You can also call Pregnancy, Birth and Baby on 1800 882 436 to speak to a maternal child health nurse about what you can expect.
Myth: You must give birth on your back
Truth: You should choose the most comfortable position to give birth. You don't need to be on your back — in fact, it can be helpful to be upright when giving birth. Find out what happens during the second stage of labour.
Myth: You will know when you are in labour
Truth: If you haven't already had a baby, it can be difficult to know when your labour has started. For most healthy women, there is no need to go straight to hospital when labour starts. Ask your midwife or doctor for a number to call for advice if you think you might be in labour.
Myth: You must go to a hospital labour ward to give birth
Truth: Birth centres, which are usually attached to a hospital, and planned home births with registered midwives in attendance are good options for healthy, full-term mothers and babies. Hospital labour wards are the best option for women and babies with certain medical conditions, or those at a higher risk of experiencing problems during birth.
Whichever you choose, make sure you trust your care provider, and be aware that the birth might happen somewhere other than where you planned. Some women plan to give birth in hospital but give birth at home. Some women plan to give birth at home or in a birth centre and need to go to a labour ward.
Myth: Good hips or small babies make for an easier birth
Truth: You may have heard the expression 'good childbearing hips'. In fact, the size of your hips won't tell you much about how easy or hard your birth is likely to be.
A woman's pelvis is not a solid bone. It is made up of ligaments and several bones that are designed to move and loosen as you give birth. Your baby's skull bones are also not fused together yet, which allows for them to fit into and move through the birth canal. There is a condition, however, known as cephalopelvic disproportion, in which a baby's head does not fit through the mother's internal pelvis. Your antenatal care provider will screen for this condition.
Truth: It's also not true that the size of your baby will make birth more or less painful, but the position you are in can make a big difference. Some women find that squatting or being on all fours can be more comfortable than lying down. The position of your baby as they move through the birth canal can also affect how the labour will progress.
If you are concerned about giving birth, speak to your midwife or doctor or call Pregnancy, Birth and Baby on 1800 882 436
by: Rev Dr. Stéphanie McEndree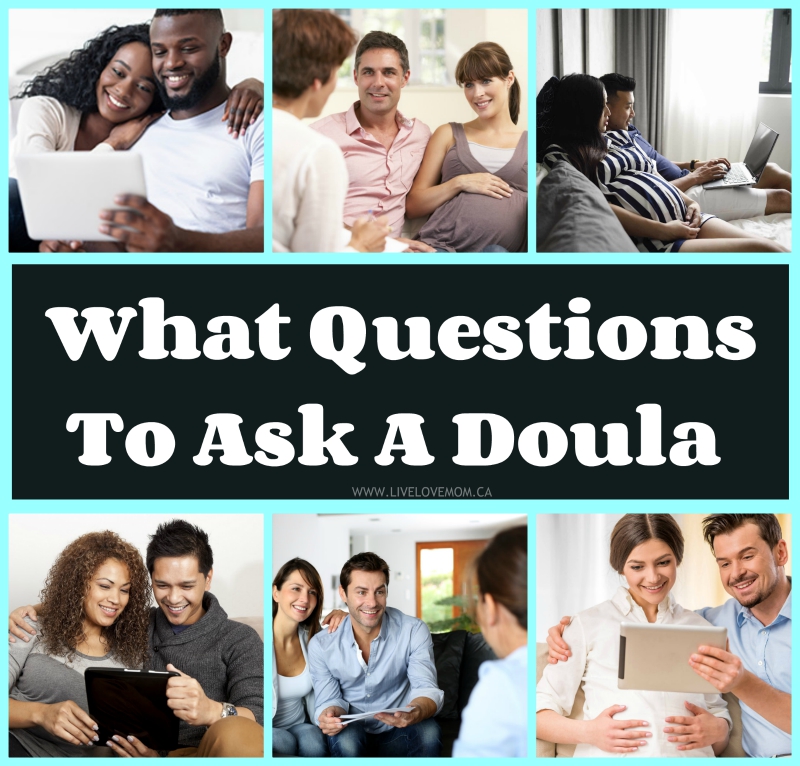 Expectant parents will want to ask questions before hiring a doula, so they can pick one that best suits their wishes. Always choose one that you feel comfortable with and see yourself spending time with her for the upcoming months. Here is a list of questions you should ask doulas.
Are you certified? This is the most important question. You need to make sure that your doula has had formal training and passed her courses.
How many years of experience do you have? You want to get an idea if your doula is fresh out of school with a head full of knowledge, or has worked for years and is a veteran doula. 
What inspired you to become a doula? If you agree or can resonate with her answer, it's always a good sign.
 Do you work as a dyad with another doula? If so, when can I meet her? A dyad is very important, since if your doula cannot make your birth, the other doula will be able to.
Do you offer prenatal courses? Most birth doulas learn prenatal courses and how to offer them in training, so most often they will offer them.
Do you offer breastfeeding support? If you plan on breastfeeding, it's good to have a person who will know what to do and how to support you.
Do you offer postpartum services? This is probably depending on the packages they offer or if they are a birth doula or also a postpartum doula. Be sure to ask.
Do you work with a doctor or a midwife? Depending on who you chose or will choose as your practitioner or midwife, you will want a doula that works with them or with someone with the same job title.
How do you support a laboring mother? Pay attention to her answers and decide if this is the type of support you want for yourself.
Are you always on call? It's best to know how busy your midwife will be and if you can reach her at anytime.
Do you visit mothers before the birth? This way you will know what to expect with your doula during your pregnancy. 
How many births have you attended since you became a doula? A doula could have 6 months of experience but have already attended 50 births. It's an important question to ask to guage her experience.
What kind of packages do you offer? This question prepares you to know what kind of services you can have for which price.
What is your fee? You will know right away whether the doula is in your price range.
How do you relieve mothers' pain during labor? There are many different ways to relieve pain during labor. Find out what this doula does and see if you are comfortable with these methods. 
Have you had clients who had home births? This mostly needs to be asked if you yourself are considering, or have decided on, having a home birth.
What is your philosophy on birth? It's best if the doula's view of birth is similar to your own.
If complications occur, do you accompany clients to the hospital? You don't want a doula that will leave you hanging if you have to go into surgery or anything else.
Do you also offer partner support? If your partner has questions, will he be able to contact the doula as well as yourself?
Do you offer any other services? If you are looking for additional services such as placenta encapsulation, belly casting or more, then it's smart to hire one person.
Have any more questions you've asked or think others would benefit from asking a doula? Comment below!
by: Rev Dr. Stéphanie McEndree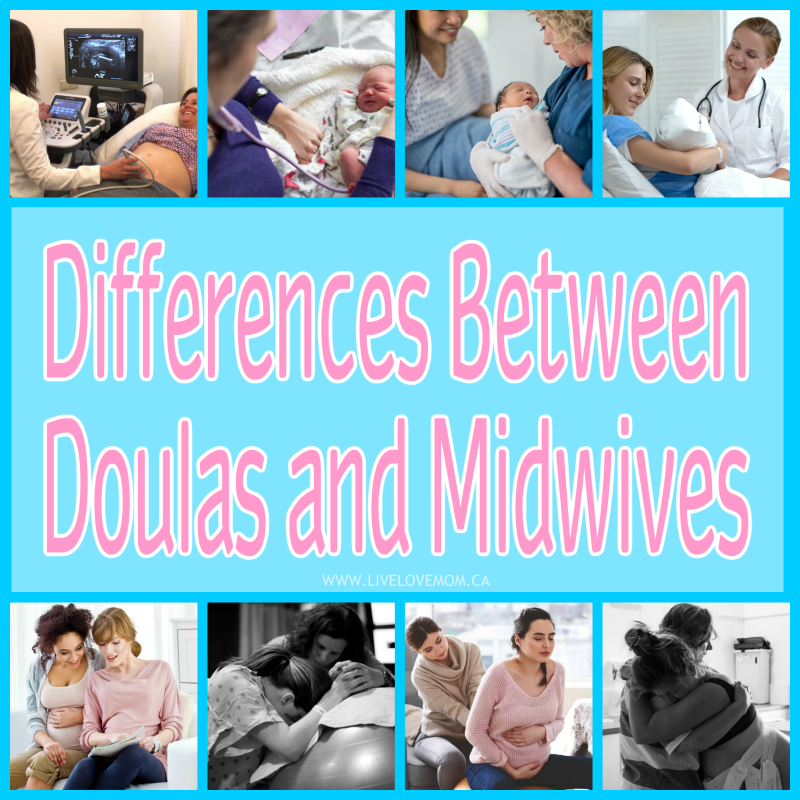 Even in this day and age, people are still getting the two terms confused. Some people believe they are one and the same, and will hire a doula thinking she is a midwife, but at a lower price. This couldn't be further from the truth. Here is how to tell the difference between a doula and a midwife, their jobs, and more.
Midwife.
A midwife is a medical practitioner who has medical training on many things. She knows infant CPR, how to measure the uterus and determine baby's position, monitor the fetal heart rate, preform ultrasounds, and more. She can do cervical checks, prescribe medications and medical procedures, and adds this information into your medical records. She knows how to spot and prevent medical complications in both babies and mothers. She is recognized in the medical community and is just as informed as doctors. She can work in a birth center, a hospital, and even go to your home for you to give birth there. She takes your blood pressure, weighs you, administers urine and blood tests. They are experts in the care of low-risk and healthy pregnancies and mothers. They can also do health checks, such as if you got an episiotomy or c-section, they can tell if the scars are healing properly. They also offer newborn checks and visits up to 6 weeks postpartum. She can also refer you to a nutritionist or OB-GYN if you need it. 
Doula. 
A doula is a support person and is not a medical professional. They are trained for up to a year about pregnancy, birth, postpartum and breastfeeding. A doula will focus on the health of the mother, even after the baby is born. She will ask you questions about your mood and thoughts, and make sure you are healthy. She can inform you on everything you want to know about pregnancy, birth and the postpartum period. She will teach your partner how he can help you and teach pressure points he can use to help your pain during labor. She will encourage you and empower you as a person and as a mother. A doula will give you massage, acupressure, and physical support during labor. She can use many different methods to make you as comfortable as possible during labor. She can even use a TENS machine if you want, and she holds space for you. They don't judge and are your own personal cheerleader. After the birth, they can help you establish a routine as a family and check in with you to see how you are. She sticks around as long as you need her and can prepare meals and do some light housework to lighten your load. She can also watch your newborn so you can shower or get some sleep, or watch your older children so you can get some one-on-one time with your newborn. 
What they have in common.
They both get to know you, your family and your birth preferences. They also both offer prenatal courses and postpartum visits. They can both ask you questions and help you make your birth plan. They are both very well informed on birth, pregnancy, postpartum period and breastfeeding. They can both work in birth centers and have connections and resources in the community. 
Got more to add or any experiences with a midwife or a doula? Comment below!
by: Rev Dr. Stéphanie McEndree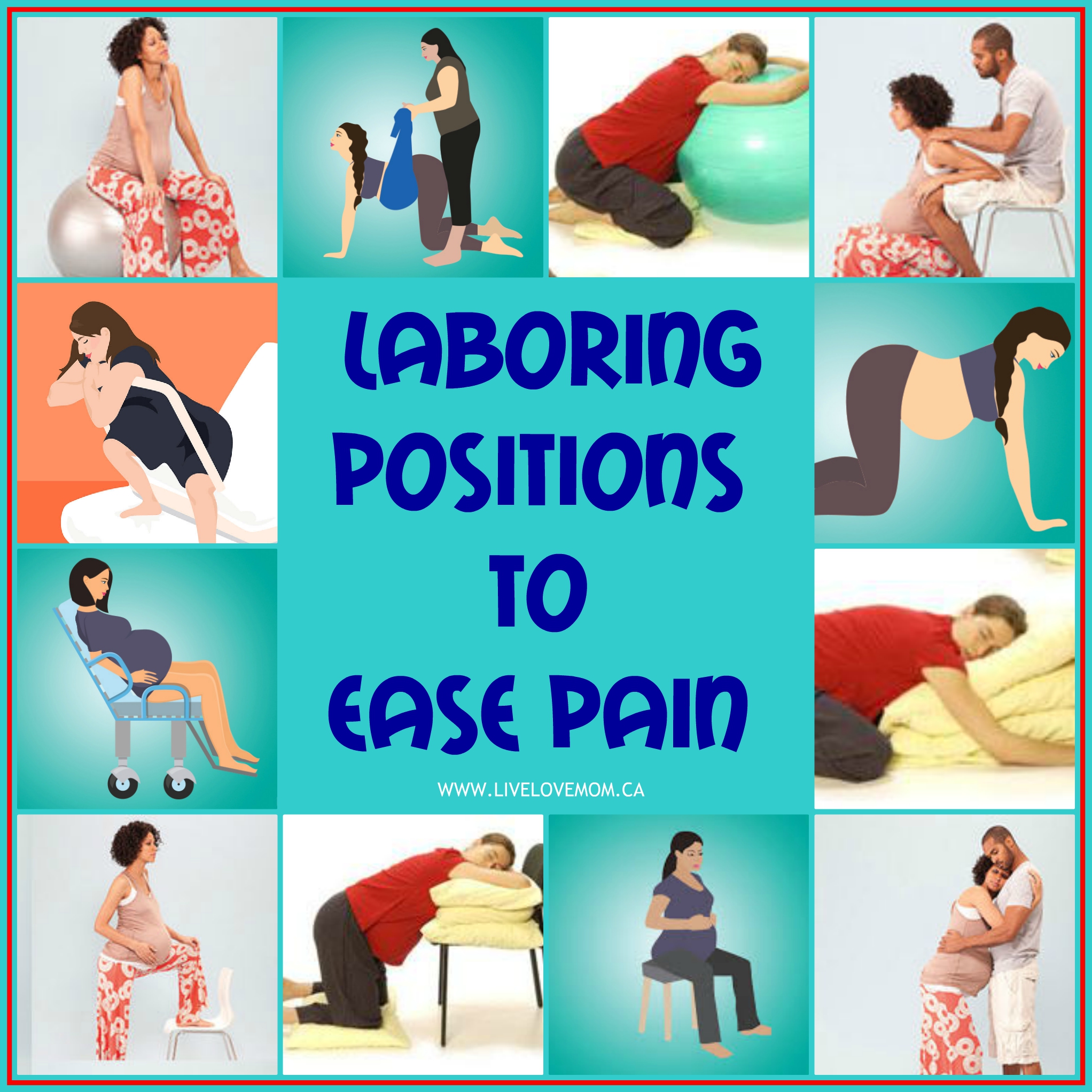 Standing or
walking. There's a great reason to get vertical: It helps you work with gravity, allowing your pelvis to open and your baby to move down into your birth canal. Walking is something you'll be more likely to do early rather than later in labor since it'll be harder to head for the corridors for a few laps once the contractions are coming one right after the other. Standing, however, is something you can do at any point during labor. Leaning against a wall or your partner for support during contractions is best, since it's not that easy to stand up straight when you're getting squeezed down below. Can you stand up and deliver? Gravity aside, that would be tricky — but you can squat (see below).
Rocking. Rocking, either on a chair or swaying back and forth, allows your pelvis to move and encourages the baby to descend (down, baby, down!). And the more upright you are, the more gravity is able to help you out.
Squatting. You'll probably use this position only late in labor or during delivery itself. Like standing, squatting also employs Newton's finest while opening up the pelvis to give your baby more room to move on down. You can use your partner for squatting support (you'll probably be a little wobbly, so you'll need all the support you can get), or you can use a squatting, or birthing, bar, which is often attached to the birthing bed (leaning on the bar will keep your legs from tiring out as you squat).
Sitting. Sitting — in bed, in your partner's arms or on a birthing ball — can ease the pain of contractions and allow gravity to assist in bringing your baby down into the birth canal. Sitting also helps to open up your pelvis, and it's a lot easier than squatting for long periods.
Leaning over or
kneeling. Leaning forward — over a stack of pillows on a bed, for instance — or kneeling over a chair or birthing ball can be super helpful when you have back labor (when the back of the baby's head is pushing against your spine) because it encourages the baby to move forward, taking the pressure off your back. Alternatively, you can lean over your partner's shoulder to relieve some of that pressure.
Hands and knees. Going on all fours is another way to cope more comfortably if you're experiencing back labor. This position allows you to do pelvic tilts for comfort, while giving your partner great access to your back for massage and counterpressure (you'll want it, big time). Many moms like to deliver in this position no matter what kind of labor they're having, since it opens up the pelvis and uses gravity to coax baby down.
Side-lying. Better than lying on your back because it doesn't compress the major veins in your body (which could compromise blood flow to your baby), side lying is a good option if you're too tired for squatting or sitting. Lying on your side also puts your partner in a good position — he'll be better able to put his best massage techniques to use. Side-lying can also be a good delivery position — it can help slow a too-fast birth (yes, there is such a thing), as well as ease the pain of some contractions.
Do any labor positions make childbirth easier? An analysis of medical studies shows that upright positions — standing, walking, squatting and sitting— may shorten the first stage of labor by approximately one hour and 22 minutes. Studies also show that women who spend part of labor in an upright position are less likely to end up with a cesarean delivery.
Don't feel compelled to squat when semi-sitting's doing the trick (and making you less inhibited about pushing). Read up on the different positions ahead of time and even give them a trial run, but remember that until you're actually in labor, you won't know what'll best bring you the relief — or the results — you're looking for.
If you have back labor: Leaning over, kneeling, or getting onto your hands and knees can help relieve the pain that comes from back labor.

by: Rev Dr. Stéphanie McEndree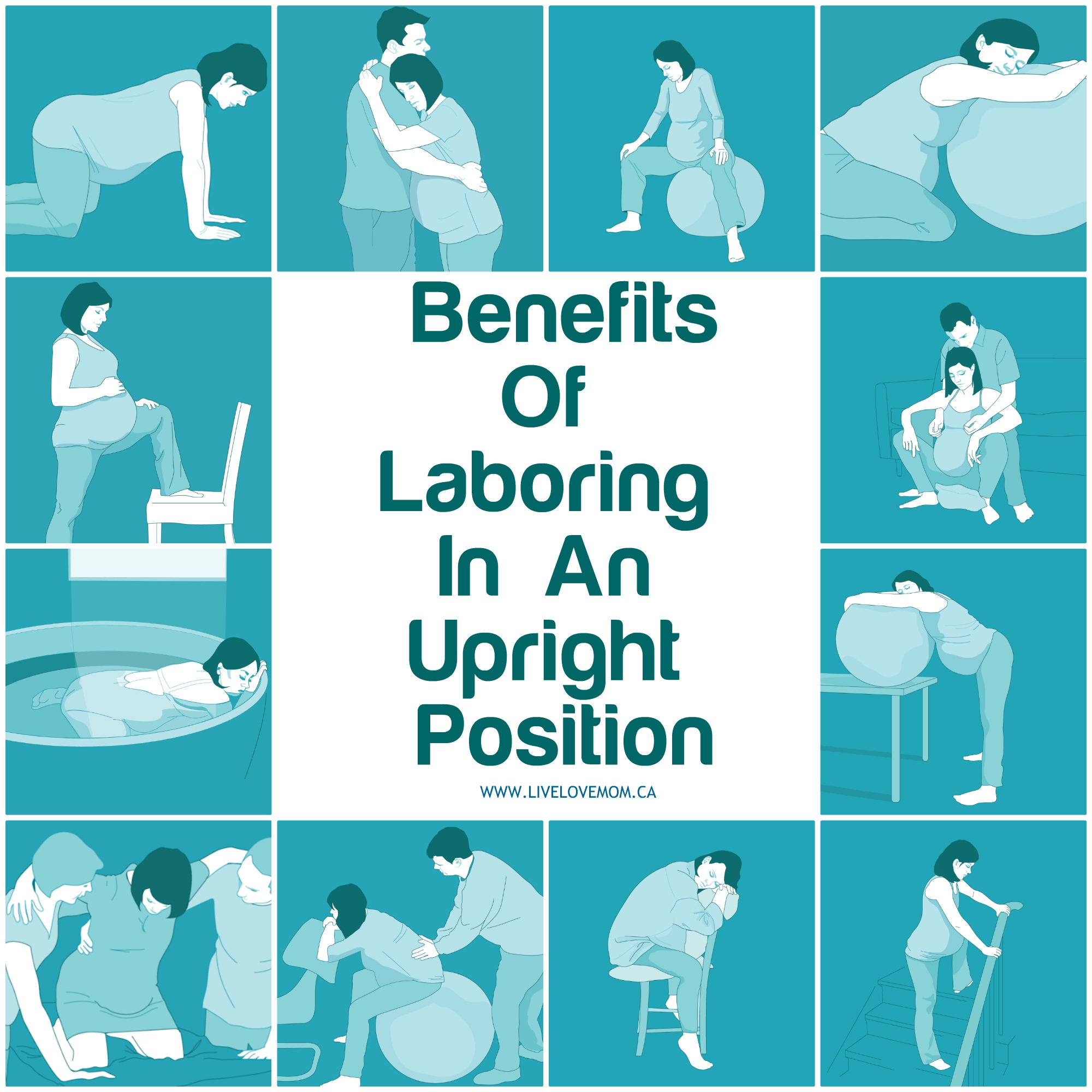 Maybe you've heard mothers rave about how easy their labor was, or how fast their baby's birth was. Maybe some mothers told you how they loved their upright birthing position, or how different their birth was from the last. Maybe you want to fact-check your midwife, doula or medical provider who told you that upright positions are best for labor and delivery. 
After going to school as a doula, we learn many things about pregnancy, birth and the postpartum period. This was one of those things that we learned, and we know to encourage pregnant, laboring and birthing women to do. Here are some facts showing benefits to laboring and giving birth in an upright position, whether it's standing, crouching, sitting, or leaning. 
- In 2017, research revealed that mothers who gave birth in an upright position have a 25% less chance of getting an episiotomy and a 25% decreased chance of needing forceps or a vacuum and a 54% decreased risk of tearing.
- The baby has a 54% less chance of being in distress if it's born while the mother is in an upright position.
- Your contractions are the most effective. Certain preliminary studies have shown that an upright position during labor is just as effective as using pitocin to stimulate contractions.
- The duration of the first stage of labor, where the mother is dilated 3 to 10 centimeters, can be considerably reduced if the mother remains upright, active and mobile.
- It's been proven that an upright birth reduced medical birth assistance by 23% and 21% of episiotomies.
- It's been proven that staying in an upright position reduces the amount of time women are in the second stage of labor, also known as pushing.
- If a woman stays upright during her labor and birth, her chances of getting a cesarian is reduced by 29%.
- Being upright during labor and birth can free up 28% to 30% of room in your pelvis, which leaves room for your baby to be born.
by: Rev Dr. Stéphanie McEndree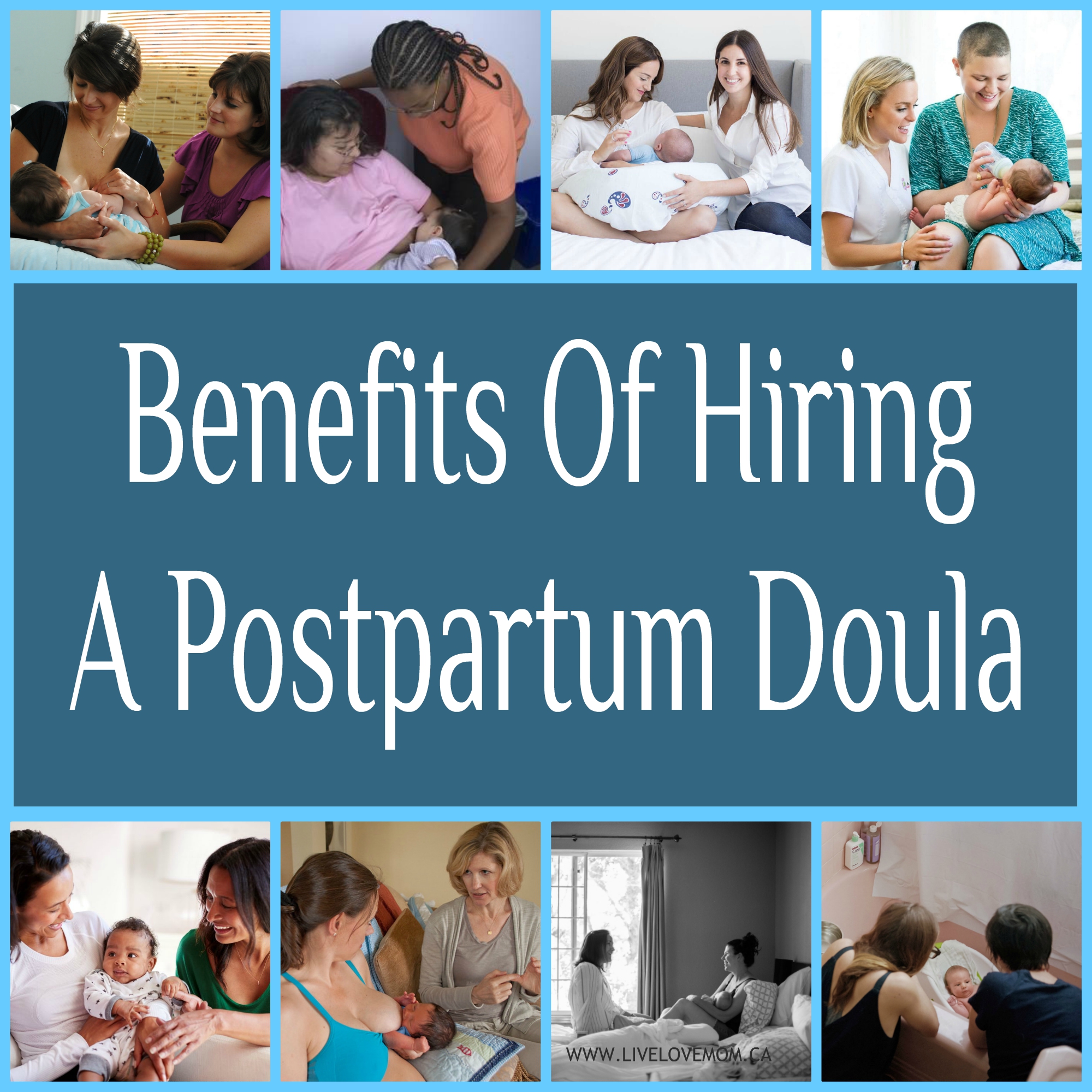 Emotional and physical support needs are at their peak. The mother just had a whole human being exit her body, she will be exhausted, and her body will already be in overdrive to heal her from the birth as well as make milk for the newborn. Dads may feel helpless and have no idea what they can do to help. A postpartum doula will help both of you fit into your new roles as parents and answer any questions or concerns you may have. They even know tricks on how to relieve postpartum pain.
Doulas have you reflect on your birth experience and never impost any judgement or any opinions on you. Whether you had a traumatic birth or the birth of your dreams, a postpartum doula helps you navigate the memories of the birth in a way that's healthy for you. Your doula will be a shoulder for you to cry on or an ear to talk into. She is your village, which is especially useful when you don't have one. Many mothers report having more positive birth outlooks with a postpartum doula.
Having a doula has proven health benefits. Did you know that hiring a postpartum doula actually lowers the chances of parents getting postpartum depression, anxiety and psychosis? Who would have thought! They take care of the whole family; mother, baby, and father too. Not only can doulas allow you to get some much-needed sleep while they care for your child, but they will also make sure that you take good care of yourself. She also knows what to look for in situations where you would need to see your doctor again, such as passing large clots, failure to bond with baby, or constant sadness.
Doulas are all about supporting your choices. All prenatal courses refuse to teach new parents how to bottle-feed their child, even if you have already chosen to do so or have a medical reason for doing so. A doula will have no problem in teaching you how to bottle-feed, which formula may best suit your baby, and how to follow the instructions on the packaging. Doulas are taught and trained using evidence-based research and scientific findings so you can always ask them to help you process decisions you'll have to make so you feel more secure once you make a decision.
Your doula can help you in many different ways, depending on your own personal needs and wants. She can offer you breastfeeding support and information, do some light housework, help you cook and meal-plan, and more. She can even be there during the night while you and your partner get some much-needed sleep. She can also take care of your older children to allow you to have some bonding time with your baby. She can also assist you with newborn care and show you how to bathe your baby and how to change their diapers. She can even do some menu planning, go with you to go grocery shopping, and run errands. She can also do referrals in the community if you want any other services. They are well worth it.
The statitstics prove that it's the way to go. If you have a doula for both the birthing and postpartum period, the benefits are even more numerous. Did you know that you will have a 12% increased chance of having a spontaneous vaginal birth? The breastfeeding success rate also increases, and your labor time gets decreased an average of 40 minutes. Your baby also has a 14% decreased chance of needing to go to the NICU. There are also 34% fewer negative birth experiences with a doula. Mothers will feel more positive about their births, labors, and their postpartum periods. It's easier for parents to bond with their babies and get into a routine.
Got any more benefits to add to this list? Comment below!
by: Rev Dr. Stéphanie McEndree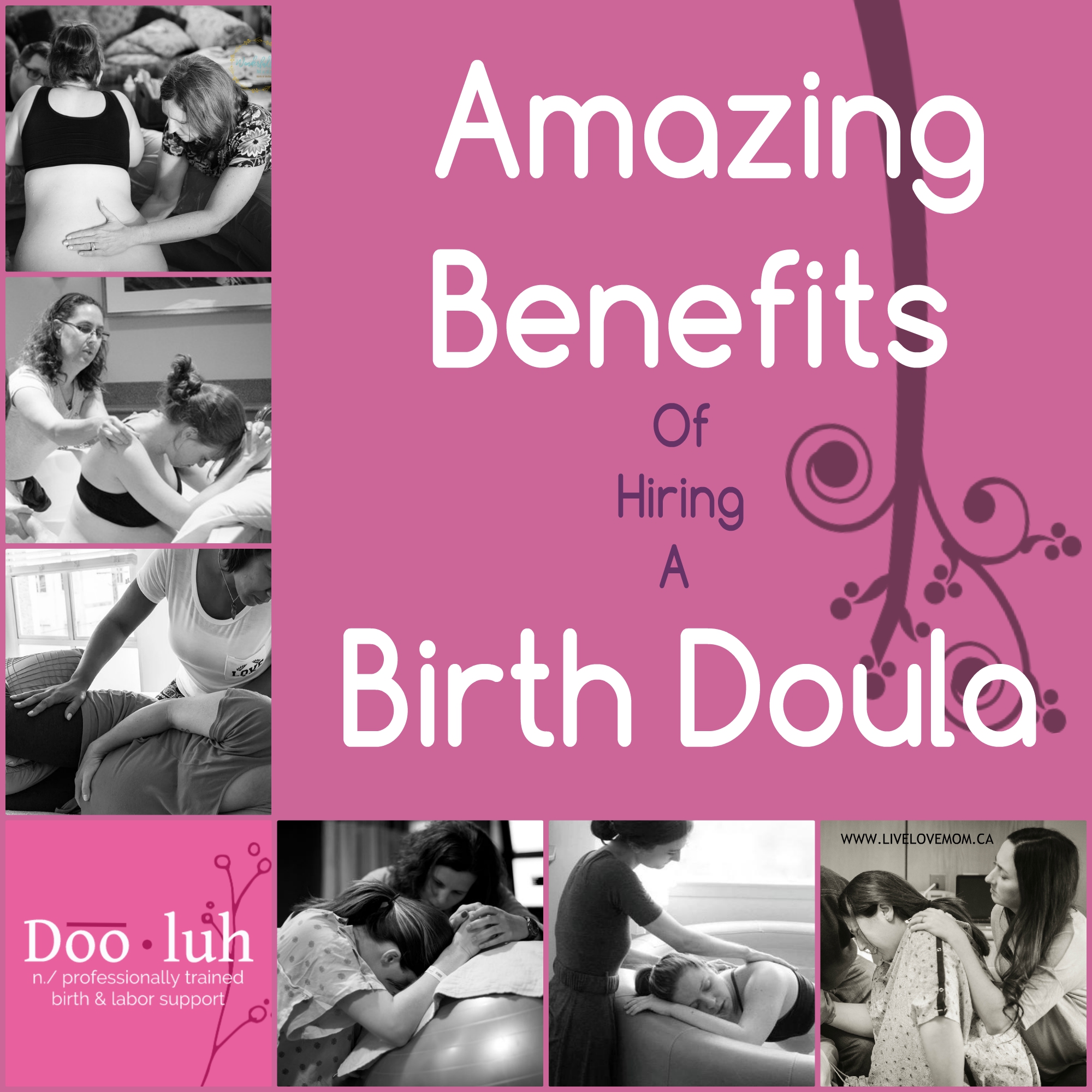 You've read one of our previos posts which lists what a doula is, and frequently asked questions. But, do you know exactly what the benefits of having a birth doula are? Well, you're about to! Adding a doula to your birth team is a decision you will never regret, and will keep reaping the benefits for the rest of your life. Here's why!
The statistics don't lie. According to evidence-based research, people who hire doulas have:
- A 28% less chance of having a c-section
- Are 40% less likely to need pitocin to speed labor
- Are 60% less likely to use an epidural
- Reduced amount of anesthesia and for how long it's used
- Reduction of the use of any type of pain medication
- Higher APGAR scores in newborns
- Woman report being more calm and relaxed during the birth
- Women report a more positive birthing experience
- Fewer births need forceps or vacuum extraction
- Fewer cases of fetal distress
How exactly are all of these benefits possible? Here's how a doula does it.
Doulas offer informational, physical and emotional support. They offer prenatal classes while you're pregnant for you and your partner and teach you exactly how your body, pregnancy and birth works. Doulas also physically support you by providing acupressure, massage, and more for pain relief. They also offer emotional support as they encourage you and empower you to make your own decisions and cheer you on through your labor and birth.
They can help you make your birth plan and choose what's right for you. They explain every procedure possible and what to plan for if things go unexpected. They will help you write your birth plan and support you in whatever choices you make and they will never judge you. If you're giving birth at a birth center or hospital, they also help you make a list of things you will need to pack for the big day. 
They can help your partner figure out what to do during the birth. Some partners are like deer in headlights and have no idea what to do when they see their partner in labor. Your doula will offer various options for your partner to help you during the birth. You will also be able to express what you would like your partner to do, such as show you affection, catch the baby, or cut the umbillical cord, and everything in between. Your doula also works with your partner to meet your needs. They can take turns feeding you ice chips and putting a cold compress on your head or changing the bath water, massage you, and anything else.
They are also called birth coaches and are great for encouragement. They are your own personal cheerleaders. They will remind you that you can do this, and empower you to assert your rights and preferences. They will give you strength when you need it and be someone to lean on when neccessary. They will also usher people out of the room that you have not agreed to be in there, so you can rest assured your nosy neighbors won't be allowed to enter your sacred space if you don't want them to! They're like a night light, they watch over you and ensure that you're well taken care of.
They help the entire family adjust to their new roles. You only have nine months to wrap your head around the fact that you will become parents. A doula helps you prepare for everything, even if it's just making a list of baby items you will need. They can also offer advice to your loved ones on how they can best support you during and after your pregnancy. They can encourage you to maintain a routine once the baby is born and teach you how to breastfeed or bottle-feed, whichever you choose.
Doulas are certified and undergo training so they know what they're doing. They have experience and know how this works, and most of them are parents themselves. Whether they are fresh out of school or have decades of work behind them, each doula is full of knowledge and is excited to help you and your family. They want to give you the best experience of your life and give you space after the birth to bond with your baby and to be a family. 
So what are you waiting for? Hire one today!
.
by: Rev Dr. Stéphanie McEndree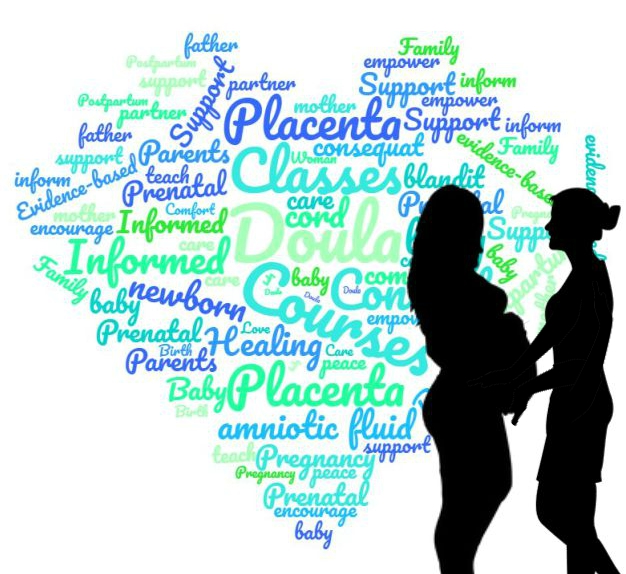 What is a doula?
A doula is someone trained in pregnancy, childbirth, postpartum and breastfeeding who is there to provide support (informational, emotional and physical) to the mother throughout the birth process.
A doula is a woman who provides support to the mother and her partner or single mother that is unconditional. She will listen, and not judge, she is there to help empower you to make the right decisions that are best for you and your baby. A doula is a special part of your incredible journey of birth, doulas create a bond of trust, comfort, knowledge and positive encouragement. A doula is someone that is consistently with you throughout your entire labour, the relationship between you is a bond held together by sincere compassion and trust. A doula has experience recognizing cues, sounds, and facial expressions and is able to respond with the appropriate comfort encouragement.
Doulas generally hold consultations in your home or where you are most comfortable. She helps to remind your partner or support person the tools they learned in prenatal classes and doula consultations.
What does the word "doula" mean?
The word "doula" comes from ancient Greek meaning 'woman caregiver or servant'. Throughout history women have supported other women in their community during the childbirth process, which typically took place at home. Today, professional birth doulas take on this role when mothers are looking for someone to provide the emotional and physical support they need during their birth experience.
Are doulas accepted in hospitals?
Doulas have been working in hospitals for many years and doulas have been cultivating positive relationships with staff at the hospital. Hospitals recognize us as health practitioners. Nurses are often very happy to see a doula since this can mean the client is well educated on birth matters and she has extra support in the delivery and postpartum room.
Do I need a doula if I have a midwife or I am having a home birth?
A midwife has a very different role then a doula. A midwife is your primary care provider she will take care of all your medical needs and has huge responsibilities just as an Obstetrcian does. Her time is spent monitoring the baby, and charting your labour, she is responsible for the health and well being of you and your baby.
Doulas will be there for you often sooner then your midwife to help you through your labour providing labour tools such as massage, breathing techniques, acupressure, doulas will never leave your side unless for a washroom break. A doula is consistent in her care for you and your partner.
If I have a doula, will my husband/partner still be able to participate in the birth?
Absolutely! The doula provides support to both the mother and her partner. She ensures the partner plays a key role in the process, to the extent he/she is comfortable.
What happens if I end up having a cesarean section?
Advocacy is extremely important whether it's a c-section or vaginal delivery. Doulas sometimes are allowed in the operating room for support. When things are moving quickly we can help you to gain perspective of the situation and help to slow things down and take the "emergency" out of a non-emergency situation. Doulas are there to help remind the partners, doctors and nurses of your birth wishes and help to keep the mother calm and relaxed.
Doulas help to facilitate skin to skin after a c-section. This is very important for breastfeeding, bonding, temperature and blood sugar balancing for the baby.
Does a doula replace my nurse? doctor? midwife?
No. Doulas do not replace any medical personnel. Doulas do not perform any medical tests or procedures such as taking blood pressure, temperature, monitoring fetal heart rate, etc. Their role is to provide comfort and support and to make sure the requests of the mother are being met. She can also help with communication between the family and the medical staff. A doula does not make decisions for you, but can assist with making your needs clear to the medical staff.
What are the benefits of a birth doula?
Research has shown that when a birth doula is present, labour tends to be shorter and with fewer complications. Women who use doulas report having more positive feelings about their childbirth experience. Doula assisted births have a reduced need for pitocin to induce labour or any other delivery assistance, such as forceps or vacuum. There is also a reduction in the request for pain medications, epidurals and cesareans when a birth doula is used.
Are doulas licensed?
Most doulas are trained and certified by recognized organizations and attend a program. Be sure you are hiring a certified birth doula by asking for their certification. Some organizations that provide certification in Canada are: CAPPA, CBI, DONA, ICEA, and Birth Arts International.
How do I find a doula?
Any of the above organizations have a search page to locate a doula in your area. When you find some prospects (they are available around your due date), you should meet with each of them and bring along a list of questions. It is important to meet a prospective birth doula in person to make sure you are compatible. Here are some sample questions which should assist you in making your final decision.
by: Stephanie McEndree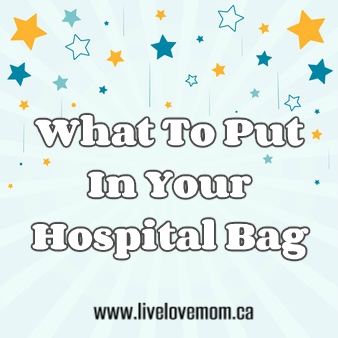 As a mother of two, I know a thing or two about packing a hospital bag, or even a bag for a birth center. It's good to have everything on hand when you're leaving your home to give birth. Pack the comforts of your own home. You can pack up to three days worth of items for a vaginal birth, and about five to seven days worth for a c-section. Here are the essential items I brought with me.
Diapers
Bottles and formula if formula feeding
Nursing bra if breastfeeding
Nipple cream if breastfeeding
Breast pump if breastfeeding
Breast pads if breastfeeding
At least 3 baby outfits per day you'll be away from home; 2 day outfits and pyjamas
6 Recieving blankets, or 2 per day
3 Warm blankets, or 1 per day
3 pairs of socks, or 1 per day
3 pairs of mittens, or 1 per day
Car seat
3 Hats or 1 per day
3 Changes of clothes for mom or 1 per day
Chap stick for mom
Granola bars or other snacking items
Juice bottles or water bottles to stay hydrated
Warm socks for mom
Snacks for dad 
Changes of clothes for dad, 1 per day
Reading materials for dad
Toothbrush & toothpaste for each parent
Camera
Mobile phones
Phone chargers
Camera chargers
Hair brush
Deoderant
Travel-sized shampoo, body wash and conditioner bottles
Winter coats if it's winter
Burp cloths
Old underwear
Adult diapers or maxi overnight postpartum pads
Q-tips
Nail file
iPod for music
Mints for a sugar boost and to freshen breath
Tennis ball for massaging the mom's back
Pyjamas for the parents
Slippers for the parents
Birth plan
Makeup to make you feel better
Can you think of anything else you brought along that helped you? Comment below!